A dramatic saga that had turned into the only newsworthy thing about the Ottawa Senators franchise is now finally over. Most NHL fans knew that the Ottawa rebuild would eventually lead to a trade of Erik Karlsson (Their captain and star defenseman) to a contender with deep pockets. The San Jose Sharks fit the bill, so they will be joined on the ice by one of the most skilled defensemen in the league. Now, the deal comes with a couple strings attached, but it looks like this: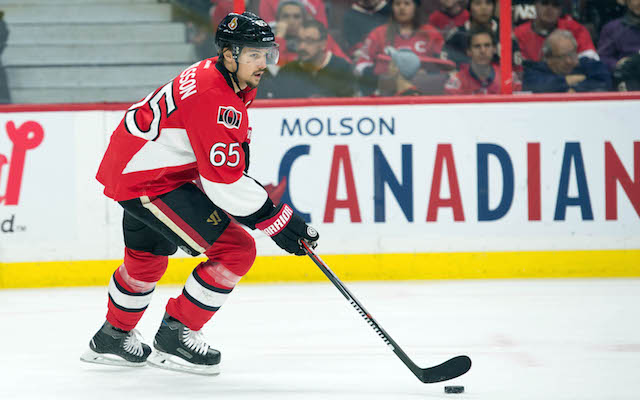 The San Jose Sharks get Erik Karlsson and Francis Perron
The Senators get a 2020 first round pick, a 2019 second round pick, Chris Tierney, Dylan DeMelo, Josh Norris, and Rudolfs Balcers.
The interesting part of this deal is the conditional picks that are involved. If the Sharks sign Karlsson to an extension, they send a 2021 second round pick to the Senators. If the Sharks make it to the Stanley Cup Finals this upcoming season, that second round pick becomes a first-round pick. If Karlsson is flipped to an Eastern Conference foe of the Senators during this upcoming season, then an additional first round pick will go to Ottawa.
Just like any other trade, this trade came with a certain amount of fallout. Sports net.ca described the impact on Karlsson like this:
"He [Karlsson] and wife Melinda have been through an awful lot over the past year. All he's known is the Senators. She's Ottawa to the bone. His preference was Tampa Bay, but there were times he considered the possibility of Dallas and Vegas. The Sharks and Senators spoke on-and-off throughout the process, but it is believed things ramped up during the past two-to-three weeks. It's not a huge surprise there's no immediate extension — Karlsson didn't have a ton of time to process the idea"
They had this to say about the impact of the trade on the Western Conference:
"San Jose's Western Conference rivals were extremely unhappy. The Sharks, already a force, are even better. They like to bet on themselves. Just like with Evander Kane, with Martin Jones, with Brent Burns, with Joe Thornton. All of those players were traded to Silicon Valley. None of them left. It's a great place to live, work and play.
As one exec said, "If you're interested in signing him next summer, it's a lot tougher. Especially coming from a fishbowl"
And the impact on the Senators:
"As for the Senators, there are multiple angles. First, their primary upcoming UFAs: Mark Stone and Matt Duchene. Like Karlsson, they now move from an idea of the future to really understanding the future. Duchene said last week that there weren't any serious talks to that point. There were conversations last summer with Stone, who is not eligible for a new contract until Jan. 1 (although they can talk beforehand). This is going to be a long process. Does this change their thinking?"
There are many perspectives on this trade, but one thing is for sure: The Sharks will be a tough team to beat during this upcoming season.