As the season draws closer (23 days from the regular season opener), teams are looking to start setting their rotations. An interesting statement was made by Rockets head coach Mike D'Antoni earlier this week, about how they will dole out minutes at the forward positions. He said he does not really want to play PJ Tucker and Carmelo Anthony many minutes together.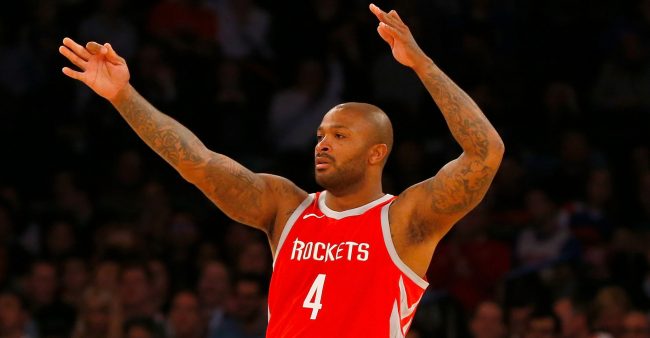 Interesting Thoughts
This is problematic for both of these guys. Tucker became a starter during the postseason last year and was a major catalyst for the team's success. Carmelo Anthony has never come off the bench and has refused in the past to accept such a role. Tucker is their best defensive player, while Anthony is instantly the best front-court scorer on this team. With Carmelo not willing to come of the bench, it would mean James Ennis starting over PJ Tucker, which would undoubtedly bring them down a rung on the ladder.
D'Antoni had this to say about Ennis
"He will be taking a ton of threes this year, but that should not mean he is deserving of starting."
Most ideally, Tucker and Anthony should be on the floor together, in large part because of how efficient a rebounder Tucker is for a 6'6 player, and how Anthony can change any game by hitting a few jumpers. It is not likely that Melo is going to fall any farther this year than he did last year in OKC. He fits better with this offense, and is playing with one of his best friends in Chris Paul.
What's Left
Unfortunately, this leaves Gerald Green in a tough spot. He came in as a lights out shooter and tough perimeter defender last year, and now he has been usurped by the new additions. If the team really wanted to bring Anthony off the bench (which I do not think they should), then consider Gerald Green as the two starting wings. That gives you terrific floor spacing, and you know exactly what both players can do based on what you saw from them last year.

Interesting Decisions in Houston
The departure of Trevor Ariza ended up being a good thing for this team, surprisingly. He shot the ball horribly in the Warriors series, and Anthony is a player who, given the same shots Ariza had, will knock at least a few of them down. It is very hard to see this group of players missing 27 threes in a row in a win-or-go-home game. With all of the depth they have, between these four forwards, and Marquese Chriss, who could play a little power forward, they are set for the year.
The primary reason D'Antoni probably doesn't want to have Tucker and Anthony in together must stem from the fact that both guys play their best ball as a power forward in today's game. But that should not hold them back. PJ could play SF on offense and PF on D, and Melo PF on offense, and SF on defense. Problem solved.