While the teams do not know each other very well, each team has replaced their head coaches since the last meeting as well as much of their rosters, but nonetheless, each team looks to bring similar skills to the table, suffocating defenses and a powerful rushing attack.
So far the spread is set at only 3 points, giving the Titans three points to cover. I really don't see this one being early that close.
Eagles at Titans Odds
Spread: Philadelphia Eagles -3
Total: 42
Eagles at Titans Head to Head
The two teams have not faced each other much recently. One would have to go back to 2010 in order to gather a three-game sample. The Eagles were not nearly as dominant back then as we seem to think they are now. Tennessee has defeated them in tow of the past three meetings, and in somewhat of a dominant fashion. In 2014, the Eagles defeated the Titans 43-24, but that came after losing to the Titans by a combined score of 32-68 in their two meetings prior.
Eagles vs. Titans Stats
So far this season, Philadelphia's offense has struggled more than we would have expected. Nick Foles came in as the Super Bowl MVP, but has stumbled to keep the momentum going for the team. Now that Carson Wentz is back under center for the team, expect the passing yards to increase.
To this point, the Eagles stack up as the 9th best defense and the 11th best rushing attack in football. 19th in total offense, and 20th overall in passing yardage, but as I said, expect those numbers to increase. They are effective at controlling the ball and securing turnovers to give their offense more chances.
The Titans, on the other hand, stand pat at a similar 12th in overall defense, 10th in rushing, but are a lousy 29th overall in offensive production out of a total 32 teams. They also rank 29th in passing yards. Both teams run the ball effectively, but the Eagles have, by far, the better defensive line.
Eagles vs. Titans News
The Titans looked pretty mediocre last week putting up only 9 points. There are very few NFL teams that you can win against without reaching double digits. Unfortunately for them, the Eagles are not one of those teams. Carson Wentz looked adequate against the Colts and getting Jordan Matthews back may be a nice shot in the arm while Alshon Jeffery is away.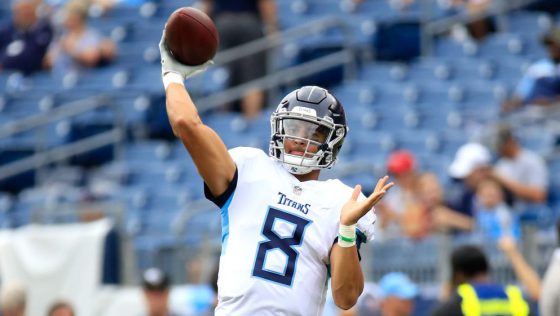 Eagles vs. Titans Predictions
I expect Carson Wentz to get in a rhythm early and often. The Titans started Blaine Gabbert last week due to nerve damage in Marcus Mariota's elbow, even though Mariota ended up playing in the game to secure the victory. That is not a good sign against an overpowering pass rush like the Eagles. The Titans also has not faced an offensive line like the Eagles to this point in the season. Look for the Eagles to dominate both sides of the line of scrimmage and march to a blowout victory in this one.