Los Angeles Kings right winger Dustin Brown is injured and will miss an indefinite amount of games. He apparently took a puck off of his finger after an Anze Kopitar shot. The Kings already have some injuries hampering their lineup: Forward Jonny Brodzinski has a shoulder injury, rendering him out indefinitely to begin the season, and prospect Gabriel Vilardi has what is described as an "Ongoing back issue" and is also out indefinitely. Thus, the team and its fans do not know when they will have their team back.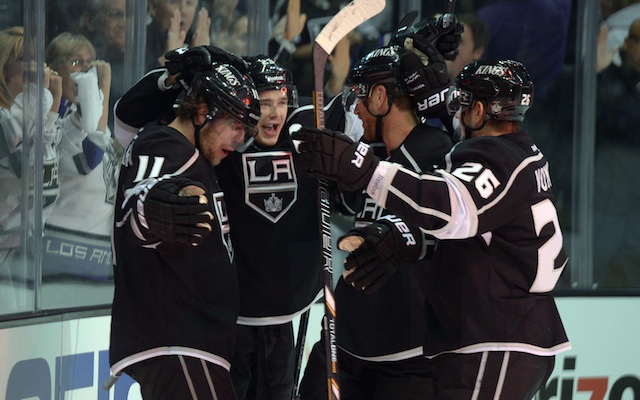 The Los Angeles Times described the impact on the team:
"Brown's absence creates a void at top line right wing, next to Kopitar. Coach John Stevens has said Ilya Kovalchuk can play either the left or right side, and he could move back up to the top line. The injury likely factors into the final roster cut Tuesday as forwards Austin Wagner, Jaret Anderson-Dolan, Matt Luff and Emerson Etem remain in camp. Michael Amadio was penciled in at third-line center before Saturday."
Brown Keeps on Rolling
Brown's stats had been down since 2011-12, when he had 54 points en route to a Stanley Cup. In 2012-13, he put up 29 points followed by 27 in 2013-14 (Another Stanley Cup). The struggles continued the next few years: in 2014-15, he scored 27 points, during the 2015-16 season, he scored 28. This lack of production was so significant that he was forced to cede his captaincy to Kopitar. His offensive production ramped up after that, as he scored 36 points during the 2016-17 season.
Then, this past year, he was able to contribute 61 points. This has to feel like a very unfortunate break for the Kings, as they are losing a player who was just starting to contribute a lot again, even to the point of being the second-leading scorer on the team (Behind Kopitar, who had 92 points, and in front of Drew Doughty, who had 60)
Prior to this, Brown had been a model of consistency and stamina for the organization. Since making the lineup in 2005, he has missed only 18 games and never more than 4 in a season. This is made more remarkable by the fact that he often is a leader in the NHL in hits and penalties.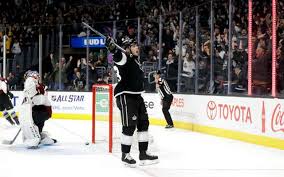 Background of Brown
The Ithaca, New York native played hockey at Ithaca High School for 2 years. After that, he was drafted into the Ontario Hockey League in 2001 by the Guelph Storm. After two very productive seasons, he was drafted 13th overall by the Kings in the 2003 NHL Entry Draft. In just his third season, he was moved to the top line (Where he began playing with Kopitar, when Kopitar was a rookie). He immediately contributed 46 points, then followed with the 60 point season as mentioned before.
Dustin Brown has been a fixture in the Los Angeles Kings' lineup for a decade and a half, barely missing any games. It will be interesting to see how the team reacts to playing without Brown for the first significant amount of time since he moved into the lineup.