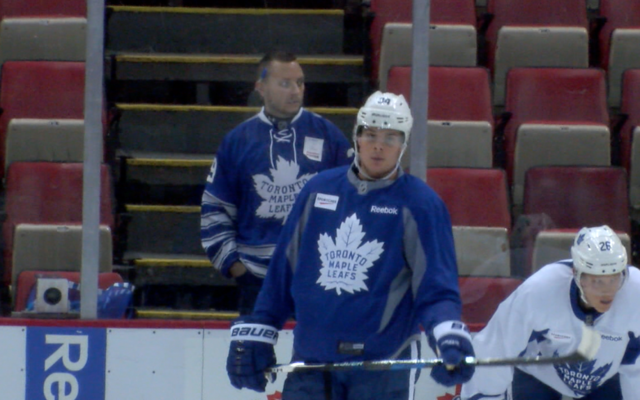 When you think of hockey's current superstars, what are the first names that come to mind? Chances are the casual fan will still say Crosby and Ovechkin. The diehards will dig a little deeper but think of names like McDavid, Stamkos and Kane.
But there is a player in just his third season, playing for one of the truly iconic franchises in the sport, who after two very productive seasons is off to a start that could propel him to his first Hart Trophy. It's time for Auston Matthews to officially enter the conversation as one of the NHL's superstars.
Background
In Canada, there are millions of kids who dream of being drafted by the Toronto Maple Leafs. They are a proud and historic franchise, one of just two Original Six franchises who reside in Canada (Montreal). But Matthews had a slightly different path to Toronto than nearly everyone who has ever worn the blue and white.
Matthews is American, and grew up in Scottsdale, Arizona. It was in Scottsdale- an incredibly non-traditional hockey market- where he learned to play the sport and developed a passion for it after watching the then-Phoenix Coyotes.
After turning down the chance to play in the Western Hockey League up in Canada, Matthews instead chose the junior United States Hockey League. It was there where he started to catch the attention of NHL scouts. In his second year while playing on the U.S. National U18 team, he led the league in scoring with 116 points, beating the previous record on 102 set by Patrick Kane.
Since he missed the age cutoff for the 2015 NHL Draft by two days, Matthews chose to spend his last year of junior age playing professionally, signing a one-year deal with the ZSC Lions of the Swiss National League A. He led the Lions in scoring and finished 10th in the league overall. Finally, in June of 2016, his NHL dreams came true. The Maple Leafs selected Matthews with the first overall pick, becoming the first American since Kane in 2007 to be taken number one.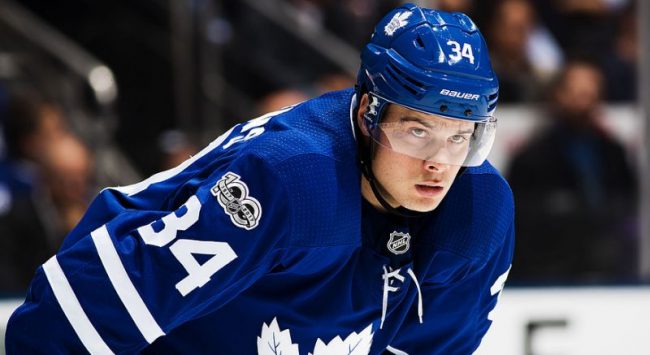 Career
It is very normal for rookies to get off to slow starts as they become accustomed to the fast-paced, physical style of the NHL. But Matthews was not your average rookie, and his arrival into the league was nothing short of spectacular. In his first career game, the 19 year old from Scottsdale scored four goals, the most in a debut in modern NHL history. He would go on to score 40 goals, record 29 assists, and win the Calder Trophy for the league's rookie of the year, while also leading Toronto to the playoffs for the first time in a full season since 2004.
A concussion and shoulder injury kept Matthew sidelined for a few games in his sophomore campaign. However he still finished with respectable numbers, tallying 34 goals and 29 assists in just 62 games, averaging just around a point per game. The Leafs qualified for the playoffs once again.
After the 2017-18 season, the Maple Leafs shocked the hockey world by signing Islanders forward John Tavares to a seven-year, $77 million contract. Tavares had a much different path than Matthews did, growing up in Ontario, Canada as a die-hard Maple Leafs fan. He was a star in Canadian Juniors before being drafted first overall by New York in 2009.
With the 5-time All Star Tavares signing in Toronto, the Leafs entered this season with enormous hype. After four games, they have lived up to the raised expectations. Tavares has been great, with six goals on the young season. Defenseman Morgan Reilly has also had a fast start, netting two goals and dishing out eight assists. Mitch Marner and Patrick Marleau are also having productive seasons.
But even with a team full of players producing at a high level, Matthews is at the center of it all. The third-year star already has seven goals, which leads the league, in addition to three assists. He has scored twice in three of his four games, with the Maple Leafs averaging five goals a game. Two of his goals also came on the power play, where he has helped Toronto reach a 50% conversion rate, leading the league.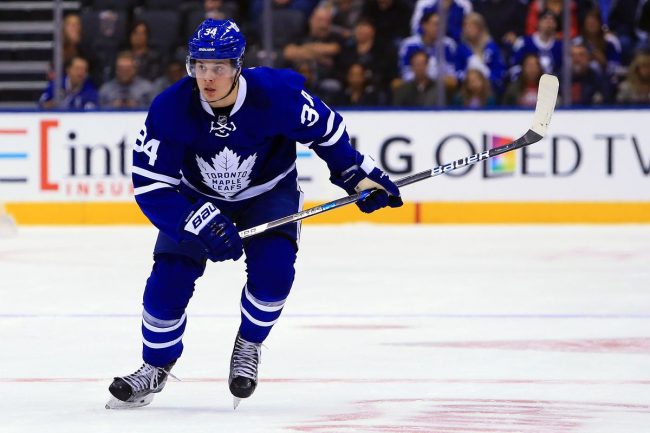 Future
Already on pace for career highs all across the board, Matthews is entering the running for the league's most valuable player. His size, speed, strength, and skill are obvious to anyone watching him play. With an MVP-level season, it's very possible for Toronto to be one of the final teams left skating, and even winning their first Stanley Cup since 1967.
With a superstar like Matthews in tow, that championship is well-within reach. And should they win the Cup this year, who knows how many more they can get? Matthews is only 21 years old after all, and as crazy as it may seem, his best years have yet to come.
Matthews and the first place Maple Leafs are in Detroit taking on the Red Wings tonight at 7:30 p.m. EST. They follow that game with a huge test on Saturday as they head to Washington to face off against Alex Ovechkin and the defending champion Capitals.