Well, that is all she wrote on the career of Richard Allen Jefferson. Known as RJ to all of his peers (peep the tattoo on his right arm), a long and storied career has finally come to an end after seventeen seasons. After an impressive career at the University of Arizona, he was selected by the Rockets with the #13 pick in the 2001 draft and shipped immediately to the NJ Nets.
New Jersey is the place where Jefferson spent seven seasons, and without a doubt he had his prime years there. His first two seasons in the league he was part of a squad that made it to the NBA Finals– still the only appearances in franchise history. He didn't have much of a three-point shot yet, but he was a regular bucket-getter and somebody who was admired for his athleticism.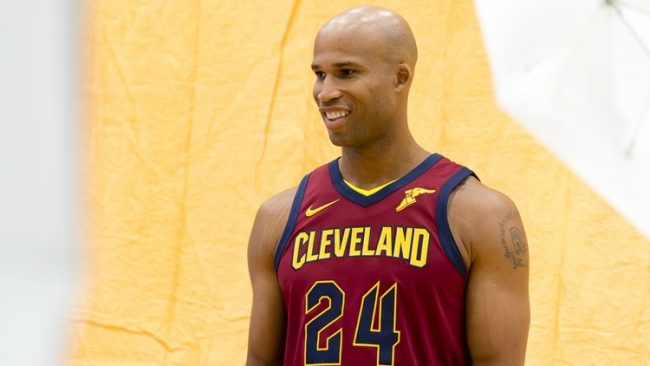 He averaged 22+ points twice there, and formed quite the trio with Jason Kidd and Vince Carter, despite the three of them having very little playoff success together. After arguably his best season with the team in 2007-08, the team shipped him to Milwaukee for Bobby Simmons and Yi Jianlian. RJ would average 19.6 points per game in his lone season in Milwaukee, before spending the next 2.5 years as a Spurs starter. From there, he was traded to the Warriors, where he was a reserve forward for Mark Jackson's squad.
He was the starting small forward in Utah in 2013-14, before signing on to take a reserve role in Dallas for 2014-15. Then, he joined LBJ, Kyrie, and K-Love in Cleveland, and despite averaging 5.5 points per game, played a huge role for them. He is most known from his time there for throwing down a massive jam over Klay Thompson on Christmas Day. He served as a terrific mentor for their younger guys and made a well-known podcast called Road-Trippin with Channing Frye, both of whom went to Arizona.
After his time in Cleveland was up (two seasons w/ CLE), he took on a role in Denver where he'd solely mentor, and hardly touch the floor. He played in 20 games, averaging just 8.2 minutes per contest. It would be the only time in his career he wore a # that did not end in a 4. He wore #24 in six cities, #44 in Golden State, and then #22 in Denver. It looked very weird to see him in that uniform, as many players look odd in their uni with their final team. Not as weird as Hakeem in Toronto or Ewing in Seattle/Orlando, but still weird.
Career stats for RJ:
Games played: 1,181 (809 starts)
PTS: 14,904 pts
RBS: 4,720
ASTS: 2,420
STLS: 787
BLKS: 347
FG%: 46.4
FT%: 76.8
3PM: 1,042
3PT%: 37.6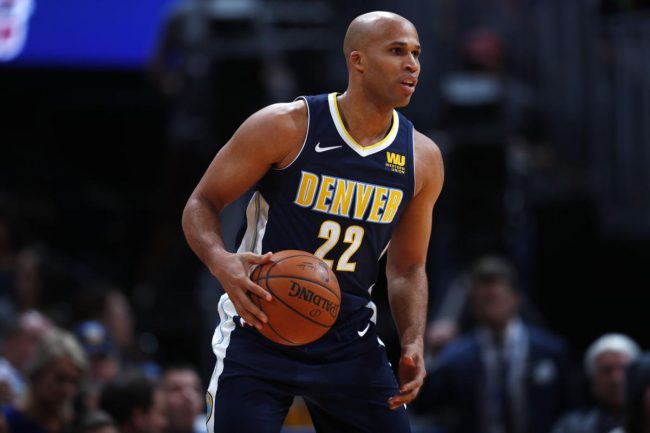 Thank you, Richard Jefferson, for the memories. There is hardly any doubt that we will see him get a full-time podcast to host, and become more social media savvy in his retirement now that he has an Instagram. Happy trails.