It has been a decent start for the Clippers, but the poor offensive play from their starting backcourt has got to worry them. Pat Bev is in a contract year, while Bradley has another year on his contract after this one. The center spot has also been a position of weakness. It is clearly Tobias' team.
For Houston, they will be without James Harden, who just suffered a hamstring injury, but will be getting CP3 back from his short suspension. This is major because watching this team without both of those guys would be tough.
The moneyline on the Clippers is at +135 and at -155 for the Rockets.
Clippers at Rockets Odds
Spread: HOU -3.5
O/U: 218.5
Clippers at Rockets Stats
As mentioned above, Tobias has been leading this bunch of guys this year. He is averaging a team-best 23.5 points and 8.5 rebounds per contest. He's also shooting 49.3% from the floor and has been able to get to his spots whenever he wants. Montrezl Harrell is averaging 2.3 blocks per game and has brought an endless amount of athleticism to the lineup. A healthy Gallinari is averaging 21.5 points per game so far and living up to the promise of his expensive contract.
James Harden had been averaging 28.5 points and nine assists per game while healthy, but with him out, there's a major void to fill. Carmelo is averaging around 12 points on 40% shooting, but they could really use more from him. Eric Gordon is averaging 15.5 points per game off the bench, a player they will really need to step up tonight. 15 pts, 9 rbs, and 1.75 blocks per game have Clint Capela contributing big this year.
Clippers at Rockets News
We need to remember the epic fight these teams had last year after the game. Players going after each other into opposing locker rooms, the secret tunnel that led there, and all of the craziness. It is unlikely that we'll see that again, but this should still be a very intriguing matchup between two teams who have players that have played for both sides (Beverley, Paul, and Mbah a Moute)
Houston is very lucky to be getting CP3 back now that Harden is out, but they are not at all home free. LA prevents a tough matchup so they will need their wing players to step up. For the Clippers, we'll be keeping our eyes on Shai Gilgeous-Alexander and his continued improvement.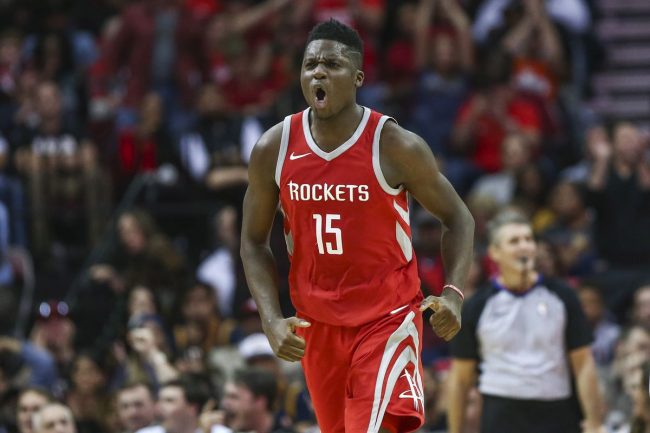 Clippers at Rockets Predictions
Be sure to bet LAC +3.5 in this one. They are going to come to play on this night, and the Harden-less Rockets will not cover their small 3.5-point spread.
A monster 35-point performance from Tobias Harris will help to lead the way for the guys tonight. Gortat will post his first LA double-double and the rest will follow suit.
Take the Clippers in this one +3.5.