Since the offseason acquisition of John Tavares, the Maple Leafs have been considered one of the favorites to hoist the Stanley Cup. Through 12 games, the Leafs have delivered on those lofty expectations, going 8-4-0 and sitting in first place in both the Atlantic Division and Eastern Conference.
But now a true test awaits Toronto, as star forward Auston Matthews has been ruled out for the next month due to a shoulder injury. Without arguably their top player, Tavares and the rest of the blue sweaters will have to shoulder the load and continue their early-season success.
The Injury
Last Saturday night, Matthews was checked hard by Jets defenseman Jacob Trouba. The legal yet bone-crushing hit sent Matthews immediately to the bench and then inside the tunnel. He was not seen on the ice again before Toronto announced the severity of his injury.
"It's frustrating," Matthews told reporters in Toronto on Monday.
"There's not much you can do. It sucks. It's part of the game. I'm going to work as hard as I can to get back as soon as possible and feeling back to myself."
This is not the first time Matthews has hurt his shoulder after being on the wrong end of a big hit. Back in February, Matthews was sandwiched by two Islanders players, knocking him out of the game. Matthews said this latest injury is similar to the one in February, which also cost him four weeks and 10 missed games. Toronto has 15 games scheduled over the next four weeks.
In the 10 games Matthews missed, Toronto was a respectable 5-3-2. And that was before the addition of Tavares to their lineup. But once again, the Maple Leafs will be up to the task of replacing one of the game's brightest young stars.
Picking Up The Slack
So how do you replace 10 goals and six assists in your lineup? It certainly won't be an easy task for this Maple Leafs team that has already dropped their first game without Matthews, a 3-1 loss to the Flames.
The first move was to shift Tavares up to the first line. Anchoring the first line in New York for his entire career, it should be a fairly seamless adjustment for Tavares in the first year of his 7-year deal.
Tavares is second on the team behind Matthews with seven goals to go along with six assists. He will try to continue his strong season with new linemates Zach Hyman and Kasperi Kapanen.
With Tavares moving up, that also includes a promotion for longtime Leaf Nazem Kadri. Kadri has seven points playing predominantly on the third line, but a team-low -7 plus-minus. His defense will have to improve as he faces a lot of the assignments Matthews or Tavares have to normally face. He will also be initially tasked with taking Matthews' spot on the first power play unit.
Toronto will also depend more than ever on the production of Mitch Marner and Morgan Rielly. Marner is tied for the team lead in points with Matthews, dishing out 12 assists while netting four goals. Rielly, a defenseman, has the same amount of goals and just one fewer assist than Marner. The two young stars, along with Tavares and Kadri, will be relied on to continue Toronto's fast-paced, explosive offense that is ranked fifth in goals per game and second in power play percentage.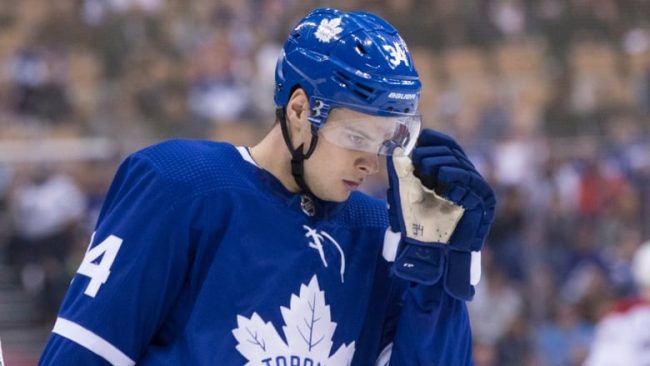 And then there's William Nylander. Nylander, a 22-year old wing who last year reached a career-high in points with 61, is a restricted free agent who is holding out for a new, long-term contract with Toronto. The return of Nylander, especially with Matthews now on the shelf, should be especially appealing to the Maple Leafs and may incentivize them to work on a deal.
Should the team pick up the lost production, they will be in very good shape to continue their Cup run when Matthews comes back. However, if the depth is lacking and scoring is hard to come by, Matthews could return to a situation where he is responsible for getting the Leafs back in playoff contention.
After a 3-1 loss to Calgary on Monday, the Maple Leafs remain in Toronto for a home game against the Stars this Thursday. Then they hit the road for a big game in Pittsburgh against Sidney Crosby and the Penguins.