After being 4-0 once upon a time, the Pels have lost back-to-back games with Anthony Davis out of the lineup, as they have clearly missed him. Nikola Mirotic has seen his production drop off a bit in these two games.  With Elfrid Payton also out, the team is reeling a bit.
The Warriors, on the other hand, keep casually breaking records. Klay Thompson started the year 5/36 from three before launching 24 threes in 27 minutes, and hitting an all-time best 14 of them. Only a splash brother is capable of such a historic explosion, truthfully. Now 7-1 and with their shooters all doing their thing, they could be 8-1 in just a second.
Pelicans at Warriors Odds
Spread: Golden State Warriors -10
O/U: 234
The moneyline on the Pelicans is at +550, while it is at -833 for the Warriors.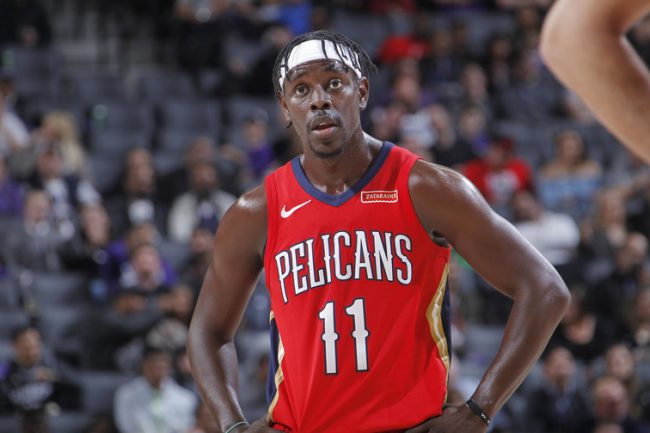 Pelicans at Warriors Stats
When AD has been the lineup, this team has not yet lost. He is averaging 27.3 points, 13.3 rebounds, 2.5 steals, and 3.8 blocks per game, dominating in just about every category. Nikola Mirotic is right behind him at around 23 points and 9.5 boards per game, with 6th man Julius Randle averaging around 18 points and eight rebounds in about 23 mins a night.
Klay's scoring average jumped 5 points up to around 20.0 per game, as he trails KD (28.3) and Steph (32.5) still. Draymond is leading the way with 8.1 assists per game, and everything is working well for this team. Alfonzo McKinnie is averaging six points and four rebounds in thirteen minutes a night after being one of the final guys to make the roster. What a pleasant surprise.
Pelicans at Warriors News
As long as Davis is out of the lineup, we will be looking at New Orleans to see if they can remain a contender without him. The answer would be a no to most. The team is built around his ability to do some of everything, and when you take him out of the offense, only Jrue Holiday can really create his own shot, and he's been a bit shy so far this year. Health is the number one thing with this team.
For Golden State, it will be about who dominates the scoring tonight. It was all Klay last game, after it was all about Steph two games ago. Then there's obviously KD, who you could argue is just as effective s shooter as either guy. How on earth did Golden State end up with all three?!
Pelicans at Warriors Predictions
It's tough to pick in favor of the Pels with AD likely out and PG Elfrid Payton also sitting. So it will be a 4-0 start turning into a 4-3 record now. Randle and Mirotic can only do so much.
It's hard to predict who will break out from Golden State from game to game, but look for Durant to lead the way in scoring with Klay right behind him. Dubs win. Bet the Warriors -10 over the Pelicans.