It was an offseason of change for the New York Islanders. After a second consecutive season-ending without a postseason berth, the Islanders hired Lou Lamoriello, the longtime general manager for the Devils and most recently the Maple Leafs, as their new GM. Lamoriello, in turn, hired Barry Trotz as the next head coach, who last year won a Stanley Cup coaching the Capitals.
But new leadership wasn't enough to convince star center and captain John Tavares to return to New York. Tavares, an unrestricted free agent, signed a seven-year, $77 million contract with the Maple Leafs, his hometown team. Without Tavares, and with a change in both coaching and the front office, many felt that the Islanders were going to be entering a long, painful rebuild.
Fast forward to November 2nd, where after 12 games the Islanders are 7-4-1, winning their fourth straight game yesterday in a shootout victory against the Penguins. New York is now tied with Pittsburgh with 15 points, good for first place in the Metropolitan Division. Can this Islanders team, who before the season was destined for the draft lottery, ride their momentum to the postseason?
Dominant First Line
For many years, Tavares was the center and anchor of the Islanders first line. With him gone, rather than making a play to replace him with other big names, Lamoriello counted on the players already on the roster to step up and grab the opportunity.
So far, that player has been Brock Nelson. Nelson, 27, has played his whole career with the Islanders, dating back to 2013. While always a second or third line guy, Nelson was the pick to center the first line and has delivered. He is first on the team with six goals and fourth on the team with eight points.
Surrounding Nelson is a pair of other career Islanders. Anders Lee, 28, made his debut back in 2013. Lee, who was named the new captain after Tavares' departure, has become a phenomenal goal-scorer, scoring a career-high 40 goals last season and 34 the year before that. So far, Lee has five goals and seven assists, second and third on the team respectively. He is also leading the team in power play goals as well as shots on goal.
On the right side is 29-year-old Josh Bailey. Making his Islanders debut back in 2008, Bailey has been in the consistent 25-40 point range for the duration of his career. It wasn't until two years when the right wing pushed his career-high in points to 56, following that up with 71 points last season. This year, he's on pace for another career-high, leading the team with 13 points (three goals, 10 assists).
Early on, this trio has become one of the best lines in the NHL. If these three can continue their steady production, it will unquestionably keep the Islanders squarely in the mix and make the pain of losing Tavares a little more bearable.
Group Effort
While having a good first line is important, winning in hockey requires strong play from all 19 guys on the ice. So far, the Islanders have been deeper than many expected, and a big reason why they're in first place.
It has been another strong season for Matthew Barzal. The Calder Trophy winner last season, given to the league's top rookie, the 21-year-old has continued to show elite playmaking ability with a team-leading 11 assists after 63 assists last year. Paired with Jordan Eberle and Anthony Beauvillier, the Barzal-led second line has shown some real offensive prowess, although defense may be a concern (all three have the worst plus-minuses on the team).
The Islanders have a ton of veterans rounding out their bottom-six. New acquisitions Valtteri Filppula and Leo Komarov joined the former All Star Andrew Ladd, while once again the tough and gritty fourth line of Casey Cizikas, Matt Martin, and Cal Clutterbuck has created trouble for opposing teams.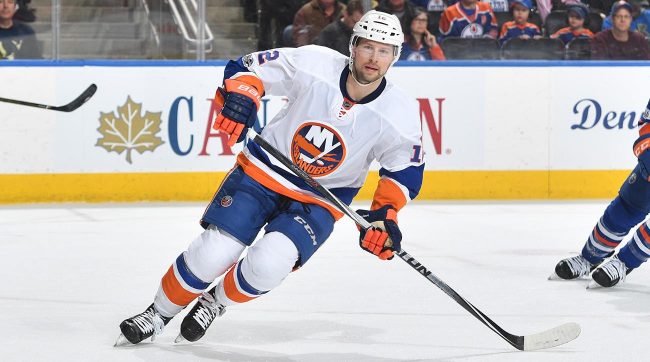 Defensively, New York has in the past relied on Nick Leddy and Johhny Boychuk to carry them. While still getting solid seasons from both, several other defensemen are playing well. Ryan Pulock and Scott Mayfield lead the d-man group with five points. Meanwhile, Thomas Hickey has been a stud on the defensive end, earning just one point but leading the team in plus-minus while being paired with Mayfield.
In the crease, the Islanders have split time between newcomer Robin Lehner and returning goaltender Thomas Greiss. Lehner is 4-2-1, with a 2.45 GAA and respectable .928 save percentage. Meanwhile, Greiss is 3-2-0, with a 2.18 GAA and .934 save percentage. Both goalies have two wins during the team's most recent win streak.
With a legitimate first line, quality depth, and a defense-goaltending combination that is fifth best in goals against per game, the Islanders have shattered many people's preseason prediction of them being one of the league's worst teams. Add in the new GM and coach, both Stanley Cup champions, and the Islanders could very well be on their way back to the postseason.
Tonight, the Islanders will look to make it five wins in a row when they host the Devils. Then they welcome the Canadiens into town before heading down to Florida for a road-trip against the Lightning and Panthers.