Two of the bottom feeders in the NFL will meet in week 10. The Jets struggled to hold off the Dolphins, and the Bills were blown away by the Bears at home last week, but they each have an opportunity to right the ship in this contest. The two teams both struggle with turnovers so look for a defensive duel here. At 2-7 and 3-6 respectively, neither tam will likely be making any noise come playoff time, but they will make plenty of noise against each other in this one.
Bills vs. Jets Odds
Spread: New York Jets -8
Total: 37
Bills vs. Jets Head to Head
The two teams see a lot of each other, being in the same division and all. In their last three meetings, the Jets hold the tiebreaker, winning last November 34 – 21. Before that, the Bills defeated the Jets by a score of 21 – 12 in their first meeting of last fall. Before that, the Jets crushed the Bills with a 30 -10 victory in January of 2017. It is hard to believe that just last year Tyrod Taylor was leading the Bills into the playoffs, but alas, the ways of the NFL.
Bills vs. Jets Stats
The Bills offer the worst overall passing attack. Couple that with the 23rd ranked rushing attack and the product, the worst overall offense in the league. The Jets stand at a comparable 29th best offense including a 28th best passing attack and 16th best rushing game. The Bills get the nod on defense though, coming in as the 3rd best defense in the league according to yards given up. The Jets' defense, what has been a staple of Todd Bowles' teams, comes in at 16th best. Neither team is dominant, but both should be entertaining to watch.
Bills vs. Jets News
Nathan Peterman continues to be the Bills starter and continues to throw critical interceptions. One of those interceptions came off of a tip at the line and ended in the endzone for the Bears. Costly mistakes continue to haunt the woeful Bills. Meanwhile, the Jets continue to trod through their games, despite their offense looking tired and uninspired. The Jets held in until their last chances were squandered by the Dolphins last week, but failed to reach the end zone even once in the contest.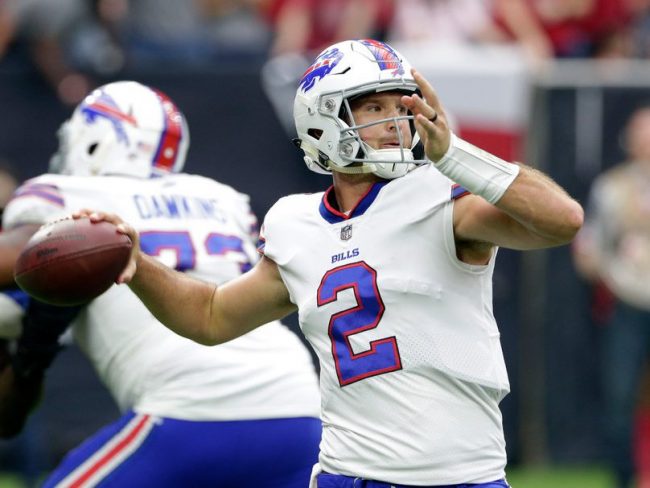 Bills vs. Jets Predictions
I'll take the Jets to win, but the Bills to cover. A divisional game always comes with ratcheted pressure and the Jets look sluggish on offense, while the Bills have a history of playing well following blowouts. I'll take the Bills to hang in there until a last minute drive to win it by Sam Darnold. I'll take the Jets in a final score of 20 – 17. Bet on the Bills to cover.