A 4-1 win against the Blue Jackets on Saturday wasn't enough to prevent the Kings from making a big change. The following day, Los Angeles fired coach John Stevens as well as assistant coach Don Nachbaur. Stevens made it just 13 games into his second season as the head coach, going 4-8-1 and tied with the Panthers for the fewest points in the NHL.
The struggling Kings will look to bounce back following a disastrous first month of the season. It's still very early, but interim head coach Willie Desjardins and the rest of the team have their work cut out for them.
Offensive Woes
Back in 2012 and 2014, when the Kings won the Stanley Cup, they were a deep, physical and skilled team. In 2018, several members of the championship core are still in place, but failing to come anywhere close to their past success. As a result, the Kings rank dead last in the NHL with 28 goals in 13 games, a goals per game average of just 2.2. They're also an underwhelming 26th in power play percentage, converting with the extra man just 14.9% of the time.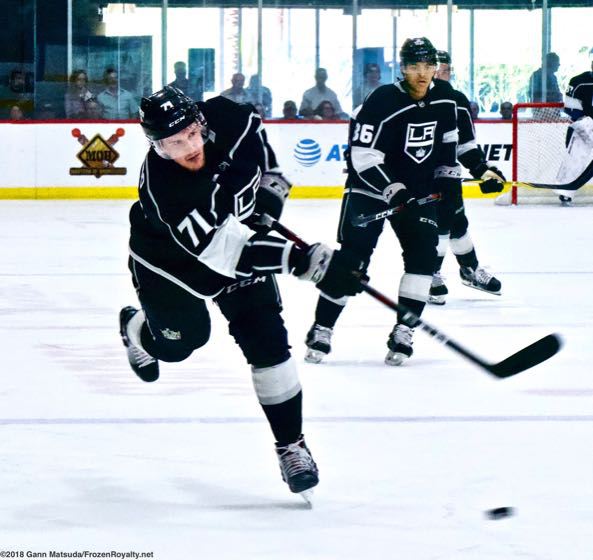 Center and captain Anze Kopitar, just one year removed from being a Finalist for the Hart Trophy, has just six points in 12 games. Dustin Brown has four points, albeit in just three games after being injured for most of the year. Trevor Lewis has two points, while Kyle Clifford has a single point through the season.
Even the famous "That 70's Line" is struggling. A hit from the Kings' Stanley Cup season in 2014, the line consists of center Jeff Carter (#77), left wing Tanner Pearson (#70), and right wing Tyler Toffoli (#73). With all three playing together in every game this season, Carter is third on the team with nine points, and Toffoli has seven. Meanwhile, Pearson has just one point, a single assist, 13 games into the season.
Fortunately, the Kings are getting decent seasons from Drew Doughty and newcomer Ilya Kovalchuk. Doughty has a goal and nine assists, while the former All Star Kovalchuk has four goals and seven assists, leading the team in points and tied with Carter and Kopitar for the lead in goals.
Desjardins' Plan
Desjardins coached the Canucks from 2014 through 2017, his first head-coaching job in the NHL. Not wanting to return to the NHL for anything less than a head coaching job, general manager Rob Blake called Desjardins last week with an offer to take over for Stevens and be the interim head coach for the rest of the season and possibly beyond.
"Coming in here, it's a great situation," Desjardins said.
"I think there's lots to work with. Sometimes you have situations where you don't have much of a chance to be successful. They've got a lot of good pieces here. There's some really quality people within this team, some high-end guys."
Desjardins, at least initially, will lean on assistant coach Dave Lowry and use the same schemes as Stevens in an attempt to get better results from the group of struggling players. It will start with passion and energy, something that has been lacking from this group since opening night.
"It's rather apparent that you can't be successful in this league, or in life in general, if you don't have the emotion and the passion," Kings defenseman Alec Martinez said. "That's what we've learned this week."
While Desjardins attempts the reignite a team that has lost its scoring touch, he will also be saddled with the job of fixing a defense. One of the great defensive teams in all of hockey as recently as last season, Los Angeles has already allowed 45 goals, ranking 23rd in the league with a 3.5 GAA.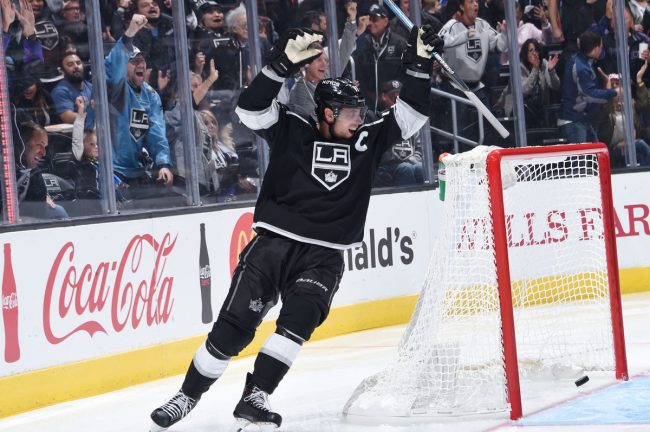 He will also have to win without the help of star goaltender Jonathan Quick. After starting just four games, Quick underwent surgery at the end of October to repair a torn meniscus, which will keep him out for at least the next couple of months. In the interim, Jack Campbell and Peter Budaj will be the goalies who will try to right the ship that is sinking further and further down.
The Kings continue their long home stand tonight when the Ducks come to the Staples Center for the first edition of the "Freeway Faceoff" this season. Then they will welcome the Wild, Flames and Maple Leafs into town before hitting the road once again.