When the Blackhawks fired head coach Joel Quenneville and replaced him with 33-year old Jeremy Colliton on Tuesday, it sent shockwaves through the NHL. Firing a three-time Cup champion and the second-winningest coach in league history in favor of the youngest coach in the league was a bold move by an organization whose decade-long championship window was all but sealed shut.
In Colliton's debut, the Blackhawks fell to the Hurricanes 4-3, giving up three goals in the first 16 minutes and extending their losing streak to six. As Chicago tries to salvage their season, it will take a big effort from an inexperienced roster and some very creative offseason maneuvering to put the Blackhawks back in the playoff picture.
On-Ice Struggles
The Blackhawks missed the playoffs last season for the first time since 2007-08, one season before Quenneville was hired as the coach. This season, after a decent start, the wheels have come off during their losing streak.
In their last six games, Chicago has been outscored 26-12, losing all but one game in regulation. On the season, the Blackhawks are only 19th in average goals per game but 29th in power play percentage, as well as 29th in goals against.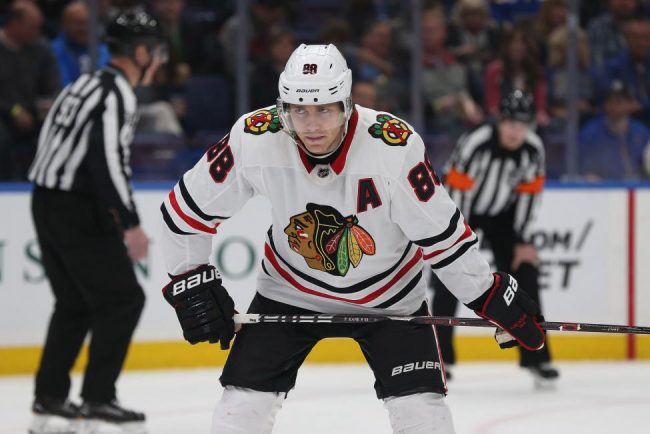 Despite another strong season from Patrick Kane, as well as good starts from Jonathan Toews and Alex DeBrincat, the rest of the team find themselves struggling on both ends. Veterans Artem Anisimov, Brandon Saad, and newcomer Chris Kunitz have all had tough starts. Young bottom-six forwards like David Kampf and John Hayden have talent but are having a hard time adjusting to the NHL level.
Defensively, where the Hawks struggle most, Duncan Keith is doing his best to carry a group that, besides Brent Seabrook, has very little NHL experience. To get a better idea, the four young defensemen on Chicago have a combined plus-minus of -13. Meanwhile, Seabrook is even, while Keith is +4.
In net, the Hawks welcomed Corey Crawford back after he battled a serious case of vertigo-like symptoms last season. So far the time off has shown in Crawford's game, as he is just 3-5-0 with a goals-against average of 3.07. Backup Cam Ward has been worse, with a record of 3-2-3 and a GAA of nearly 4.00.
Bowman's Challenge
Winning Stanley Cups is the ultimate goal, and general manager Stan Bowman was the architect of all three Blackhawks championships in the last decade. But in a salary cap sport, it's arguably more difficult to keep your good players than it is to find them.
Throughout the last 10 years, the Blackhawks have been a team built around Toews and Kane. The two faces of the franchise will likely be life-long Blackhawks, as both are under contract through 2024 and each brings a cap hit of $10.5 million a season. Keith and Seabrook are each considered cornerstone players as well, as both of them are wrapped up long-term, with Keith signed through 2024 and Seabrook signed through 2025.
Those four players will earn over $33 million this season. Add in another $10.5 million with the long-term deals for Saad and Anisimov, as well as another $6 million for Crawford, and you'll see that seven players on the Blackhawks roster will make just under $50 million. That's about 64% of the salary cap, which the NHL has set at about $78 million.
The long-term money dedicated to those seven players has forced the Blackhawks to trade young, promising players who played major roles in their Cup victories. Players like Andrew Shaw, Artemi Panarin, Teuvo Teravainen, Nicklas Hjalmarsson, Nick Leddy, Johnny Oduya, Dustin Byfuglien, Ryan Hartman, and many others have all been cap casualties, traded out of Chicago so Bowman could keep the Hawks under the salary cap.
Even with a new coach in place, the Hawks will still face some difficult financial decisions. Forward Nick Schmaltz is an upcoming restricted free agent. DeBrincat will be an RFA in two seasons, while Jan Rutta and Marcus Kruger will both hit unrestricted free agency next offseason. As long as the seven big veteran contracts are in place, it will be difficult to offer the money necessary to retain those players.
The course of action may be to work out a trade involving Seabrook, Saad or Anisimov. The Hawks did something very similar this past offseason with the contract of Marian Hossa, trading his rights to Arizona along with Vinnie Hinostroza. A trade of any of those three could happen, but may require Chicago to part with some valuable assets, whether it's Schmaltz or a young defenseman like Henri Jokiharju, just to get a deal done.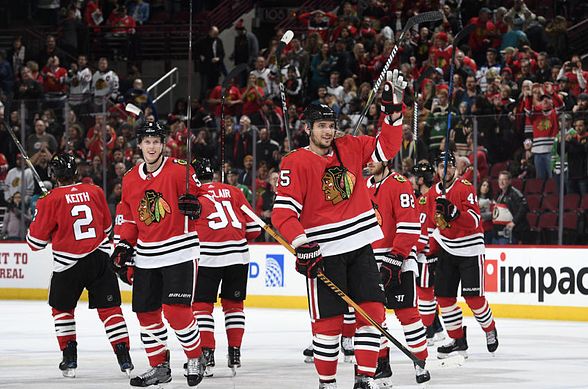 While the Cup window may be closed for now, Kane and Toews are still playing at an All-Star level, which gives the Blackhawks a chance to compete every night. But the pressure will be on the front office to build a roster around the high-priced stars and get back to relevancy as soon as possible.
Next up for the Blackhawks (6-7-3), they go on the road for a Saturday afternoon game against the Flyers. Them they had south for a game in Carolina against the Hurricanes, before returning home for their fourth game of the season against the Blues.