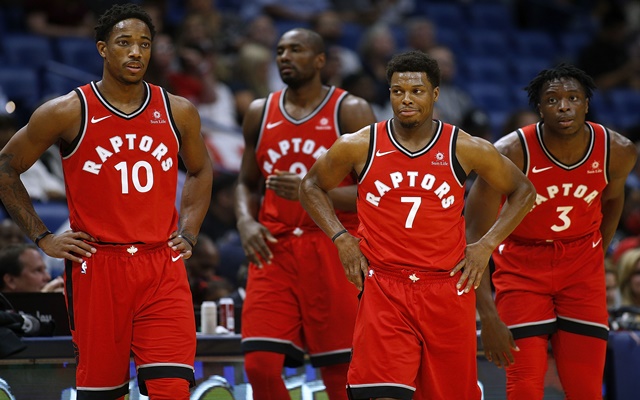 After another postseason appearance, this time as a 1-seed, the Toronto Raptors were decisively knocked out by LeBron James and the Cavaliers for the third consecutive year. Even after five straight playoff appearances, the Raptors were unhappy with their run of postseason disappointments, firing head coach Dwane Casey and replacing him with assistant Nick Nurse. In addition, longtime Raptor DeMar DeRozan was traded in a deal that sent perennial All Star Kawhi Leonard to Toronto.
So far, the new coach and new star have led the Raptors to a remarkable start. After the 114-105 win over the Kings on Wednesday, Toronto is 11-1, sitting atop the Eastern Conference and leading the NBA in winning percentage. With LeBron out west, it's very conceivable to think the Raptors are setting themselves up as the new kings of the East.
Kawhi's Impact
Leonard, a former Finals MVP with the Spurs, has taken to his new city and team quite well. But there was some doubt initially whether the disgruntled star would even want to play for the Raptors.
Missing nearly all of last season in San Antonio with an injury and a holdout due to his displeasure with the Spurs' treatment of the injury, the All Star demanded a trade this offseason. With rumors that Leonard wanted to be traded to his hometown of Los Angeles, he was instead traded to Toronto, along with Danny Green, in exchange for DeRozan and Jakob Poeltl.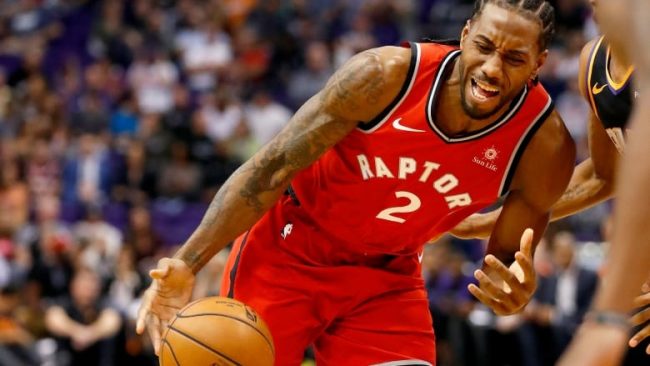 At first, some were wondering if Kawhi would report to Toronto since they weren't one of his top choices. But he did, and he has not ruled out the possibility of signing in Toronto long-term. Leonard is a free agent at the end of the season, and while many think Los Angeles will still be his ultimate destination, players like Paul George have been traded as rentals and ended up signing long-term deals with their current team.
With his new team, Leonard leads the Raptors with 26.0 points per game, 8.0 rebounds per game, and 1.8 steals per game. He is also shooting just under 50% from the field, about 44% from three-point distance, and 90% from the free throw line.
After being off the court for nearly a whole season, Leonard has returned to the high caliber of play he showcased in San Antonio. Should Toronto continue to lead the East, a strong season from Leonard may put him near the top of the MVP conversation.
Group Effort
As good as Leonard has been, the Raptors have been cautious with Leonard's time on the court, only playing him in eight of the 12 games this season. So how is Toronto still 11-1 without their best player on the court for a third of their games?
It starts with Kyle Lowry, the point guard who along with DeRozan formed one of the best backcourts in the NBA. Lowry has had an exceptional season, leading the league is assists per game with 11.3, a full two assists higher than second-place Chris Paul. He is also second on the team in points per game with 17.8 and second behind Kawhi in steals per game with 1.67.
Lowry's play-making benefits big men Serge Ibaka, Pascal Siakam, and Jonas Valanciunas. Ibaka is averaging nearly 18 points and 8 rebounds per game, while the 24-year old Siakam is enjoying a breakout season in the starting lineup, averaging 12.5 and 7.0 rebounds per game. Valanciunas, the long-time center for Toronto who now comes off of the bench, is also averaging over 13 points and 7 rebounds a game in roughly 19 minutes on the floor.
Toronto is also deep with talent on the wings. New acquisition Green, along with O.G. Anunoby and C.J. Miles, have played prominent roles this season on both ends of the court. In addition, backup point guards Fred VanVleet and Delon Wright have proven more than capable of running Nurse's offense when Lowry is on the bench.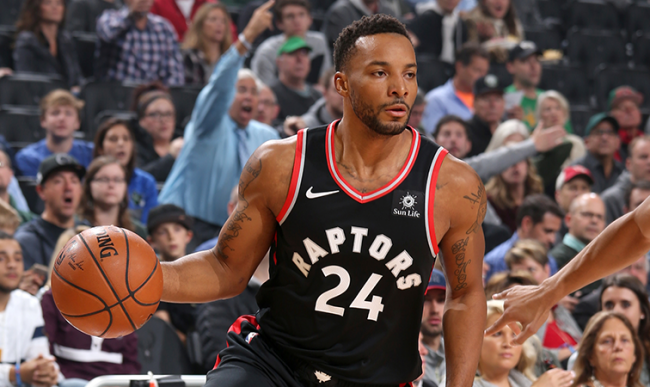 As a group, Toronto is 7th in points per game, 10th in rebounds per game, 7th in assists per game, and 8th in points allowed per game. They are also top 10 in point differential, field goal percentage, free throw percentage, and turnover rate.
With their only loss of the season coming against the Bucks and without Leonard, the Raptors have already proven that their bold offseason moves would improve the team. But as has been the case in Toronto for the last few years, just getting to the playoffs isn't enough. It will take a healthy Leonard, along with Lowry, Ibaka, and the rest of a deep, talented group of players, to knock off the other top teams in the East and secure the franchise's first ever trip to the NBA Finals.
The Raptors return to action on Saturday when they host the Knicks. Then they stay at home for games against the Pelicans and Pistons, before embarking on a four-game road trip which starts in Boston against the Celtics.