Going into the season, the Boston Celtics were considered the clear favorites to win the Eastern Conference. If Boston couldn't get it done, perhaps the 76ers were the next team up. Even the Raptors were getting some preseason love following a one-seed last season. But there's a fourth team in the East who has scored more points than all, allowed fewer points than most, and features one of the game's superstars and frontrunners for MVP.
Look no further than Milwaukee, where Giannis Antetokounmpo and the Bucks are playing like a team poised to go to the NBA Finals. Will Milwaukee surprise everyone and carry their red-hot start into June, or will the previously-mentioned Celtics, Sixers, and Raptors take control of the East after all?
Putting the "Buck" in Buckets
Last year, the Bucks offense averaged 106.5 points a night, a middling 15th in the NBA. The mediocre season cost Jason Kidd his job on January 22nd, as interim Joe Prunty took over and led the Bucks to a quick first-round exit against the Celtics.
This year, under new head coach Mike Budenholzer, Milwaukee's offense has exploded. The Bucks now lead the league in points per game with 121.1, a full 2.5 points more than the second place Warriors. Their 48.6 field goal percentage is second in the NBA behind Golden State, and their 37.3% three-point shooting is in the top five.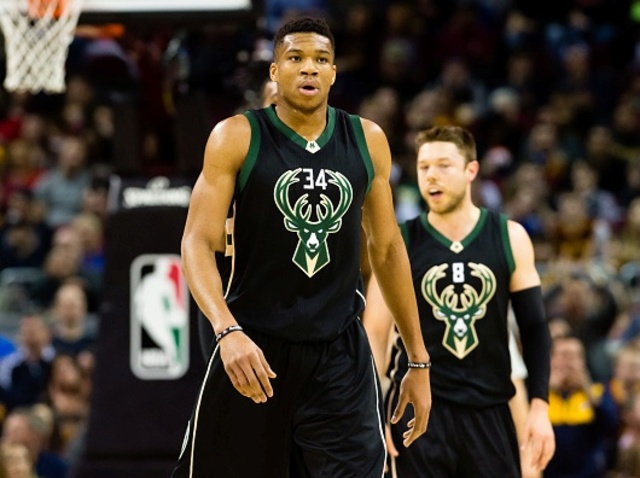 This high-powered offense, of course, starts with Antetokounmpo, a.k.a. "The Greek Freak." The 23-year old set a career-high last season in points and is picking up right where he left off, averaging 25.6 PPG on nearly 56% shooting. At 6'11'', the "Freak" controls the offense and pushes the tempo for the number one scoring team in the NBA.
But it's hardly just Giannis who does all the scoring for Milwaukee. The four other starters, Khris Middleton, Eric Bledsoe, Malcolm Brogdon, and Brook Lopez, are all averaging double figures. Additionally, the Bucks also have six players who come off of the bench averaging more than five points a game.
A "D"-per look
With every passing season in the NBA, less and less teams are playing defense. 10 years ago, only one team gave up an average of over 110 points in a game. This year, 17 teams are giving up over 110 points. While Milwaukee is just barely on the outside of that list averaging 109.7 points allowed, they have displayed enough of a defensive identity that will be essential to win a championship.
Milwaukee may be allowing a good amount of points, but there are two things you have to consider. One, the Bucks are scoring an average of 11.4 points more that they give up, which is by far and away the biggest differential in the NBA. At the pace Milwaukee plays at and the points they score, it makes sense that other teams would score their fair share as well, but usually not enough to be competitive.
Two, the Bucks are holding their opponents to 43.3% shooting, which is second-best in the NBA. Even more impressive is that Milwaukee, due to their fast pace, is allowing the most field goal attempts per game. So while teams are getting plenty of shots off and inevitably scoring, Milwaukee is doing a great job of limiting the quality chances and forcing teams into poor, contested shots.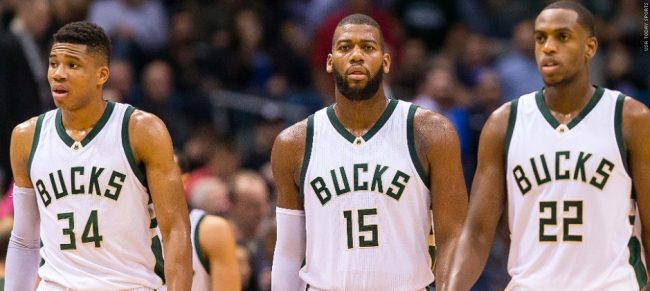 Another testament to the strong defense of Budenholzer's Bucks is rebounding; no team in basketball is rebounding on the defensive end better. Milwaukee is grabbing an average of 41.1 defensive rebounds per game, nearly two more than the next-highest team. They also lead the NBA with an average of 7.7 total rebounds more than their opponents. Even in an age of three-point shooting and minimal defense, rebounds lead to more possessions, which lead to points, which lead to wins.
An MVP candidate in Antetokounmpo leading a first-place offense and a dominant defense in an Eastern Conference that is up for grabs. Everything needed for the Bucks to be considered a contender is there. Now all that's left to do…is to do it.
The Bucks continue their home-stand on Monday against the Nuggets. That will be the first of four home games for Milwaukee next week, as they will also welcome the Trail Blazers, Suns, and Spurs.