Monday night is a rematch of the 2016 NFC wild-card game between the Minnesota Vikings and the Seattle Seahawks. The good news for the Vikings is that they no longer have Blair Walsh as their kicker to shank game-winning field goals. With all jokes aside, this is set to be one of the best games of Week 14. The Vikings are 6-5-1 and 1.5 games behind the Chicago Bears in the NFC North, while the Seahawks seek a wild-card berth with a 7-5 record.
Vikings vs. Seahawks Odds
Seattle is currently a 3-point favorite at home this week and look to build off their 3-2 record at home. The Seahawks enter this week winners of three-straight games thanks to a much-improved offensive line and running game. Minnesota is 2-3-1 on the road this season and coming off a 24-10 loss to the New England Patriots.
Spread: Seattle -3
Total: 45.5
Vikings vs. Seahawks Head to Head
Russell Wilson finished with 185 yards and 4 TD's against the 49ers in Week 13. The crazy thing is Wilson completed just 11-of-18 pass attempts, as he continues to play at a very high level. Former Cardinals receiver Jaron Brown finished with 3 catches for 67 yards and 2 TD's. Wilson can really spread the ball all over the field, but the main beneficiary has been Tyler Lockett who has 9 TD catches on 44 catches and 713 receiving yards this season. A huge thanks can go to this offensive line that is giving Wilson enough time in the pocket and opening holes for Chris Carson and Rashaad Penny to plunge through. The icing on the cake against the 49ers was when Bobby Wagner intercepted Nick Mullens and returned it for a 98-yard touchdown. While this team revamps their "legion of boom", they continue to make plays on the defensive side of the ball.
Vikings vs. Seahawks Stats
It was a slow game for Cousins and company against the Patriots last week. Cousins finished the game completing 32 of his 44 pass attempts for 201 yards, 1 TD and 2 INT's. Dalvin Cook ran the ball well with 9 carries for 84 yards, but just not enough volume. Adam Thielen saved his afternoon with a 5-yard touchdown reception and finished with 5 catches for 28 yards. The fact that Nick Mullens was able to pass for 414 yards against the Seahawks gives us hope that Cousins will be able to throw against this defense. Cousins ranks 6th in passing yards (3,490), while Adam Thielen ranks 2nd in receiving yards (1,166). The key to the Vikings beating the Seahawks is getting to the quarterback with that elite defensive pass rush at their disposal.
Vikings vs. Seahawks News
Chris Carson exited Week 13 with a dislocated finger, but there never appeared to be much concern. "He came out fine in the game other than his finger, and it should be OK," Carroll said. "He should be able to play."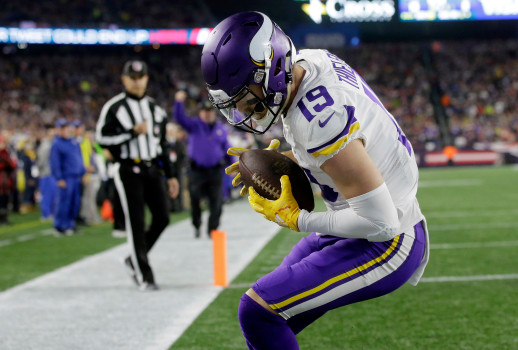 Vikings vs. Seahawks Predictions
Seattle is one of the hottest teams in the league right now and we expect that to continue against the Vikings in Week 14. We're taking the Seahawks 31-16 in this game.