The Miami Dolphins will be taking on the Minnesota Vikings in Week 15, as both teams enter must-win territory in order to sneak into the playoffs with a wildcard spot. The Dolphins helped their case, as they went to 7-6 on the season following the miraculous victory they pulled off against the New England Patriots. The Vikings currently sit at 6-6-1 following their loss on Monday night to the Seahawks and need a lot to go in their favor to make the playoffs.
Dolphins vs. Vikings Odds
The Vikings can hopefully bounce back this week playing at home following back-to-back road losses. Minnesota is favored -7 this week over the Dolphins and will host a Dolphins team that has won two straight with Ryan Tannehill back under center.
Spread: Vikings -7
Total: 44
Dolphins vs. Vikings Head to Head
Tannehill remains one of the most underrated quarterbacks in the entire league. He's missed a good amount of time due to injury but ranks amongst the league's best when he does suit up for the Dolphins. He currently ranks 5th in the NFL with a QB rating of 105.7, 3rdin TD% at 8.1, 9thin yards per attempt at 8, 8th in adjusted yards at 8.3 and 12thin completion % at 67%. It's easy to be forgotten in this league when you play in the same division as Tom Brady and miss time with injuries, but this Dolphins team is so much scarier with him back healthy and playing well.
For this Vikings team, it's been nothing short of a disappointing season. They decided to go out and sign Kirk Cousins to a massive 3-year, $84 million contract, thinking that an upgrade at the QB position would place them in a pristine position to make a run at a Super Bowl. While Cousins serves as an upgrade over Case Keenum, this team has to upgrade and play better on the offensive line.
Dolphins vs. Vikings Stats
Cousins on the season has completed 70.6% of his passes for 3,698 passing yards and has a 24:9 TD to INT ratio. News broke out Tuesday morning that the team fired OC John DeFilippo. The final straw was Monday night's loss to the Seahawks in which Minnesota didn't score until deep into garbage time. The Vikings currently rank 17th in total yards (354.4), 8th in passing yards (269), 30th in rushing yards (85.4), 20th in points (21.7) and 22nd in 3rddown % (37.7). Adam Thielen continues to lead this team in receiving as he ranks 3rdin the league with 1,236 yards, only trailing Julio Jones (1,429) and Tyreek Hill (1,258).
Dolphins vs. Vikings News
The Vikings have promoted QB's coach Kevin Stefanski to offensive coordinator. Considering coach Mike Zimmer's recent comments, Stefanski will likely lean on the running game a bit more than DeFilippo did this season.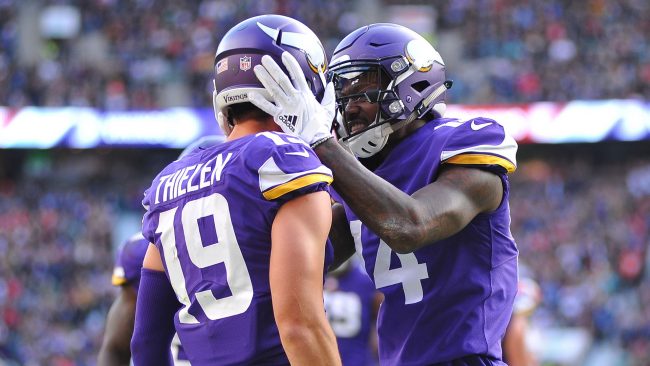 Dolphins vs. Vikings Predictions
Despite Miami's huge comeback last week, we're taking the Vikings this week at home 29-14.