The Philadelphia Eagles head into the season finale with their playoff hopes still intact, but they don't control their own destiny. Philadelphia must beat the Washington Redskins in this game and hope that the Minnesota Vikings lose to the Chicago Bears. The Eagles have won four of their last five games to improve their record to 8-7 on the season. Philadelphia is hoping to sneak into the NFC Playoff field as the sixth seed to defend their Super Bowl title. The Redskins have lost five of their last six games to fall to just 7-8 on the season. Washington will miss out on the 2018 postseason after starting the season with a 5-2 record.
Redskins vs. Eagles Odds
The Philadelphia Eagles are a 7.0 point favorite over the Washington Redskins in the season finale. The over/under for total points is set at 42.0
Spread: Eagles -7
Total: 42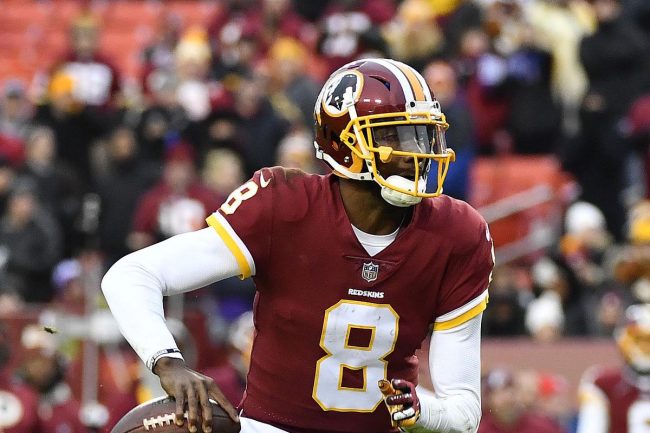 Redskins vs. Eagles Head to Head
Philadelphia was able to beat the Redskins by a score of 28-13 earlier this season. The Eagles have won three straight games against Washington dating back to last season.
Redskins vs. Eagles Stats
The Redskins feature one of the worst offenses in the NFL, averaging just 18.7 points per game. Washington quarterbacks have thrown for just 16 touchdowns this season while throwing 14 interceptions. Running back Adrian Peterson has run for 1.042 yards this season but is averaging less than 70 yards per game. The Redskins defense has racked up 43 sacks this season in limiting opponents to just 22.3 points per game.
Philadelphia has struggled to find a consistent rushing attack all season, averaging just 96.1 rushing yards per game. Quarterback Nick Foles has thrown for 290 yards per game in his four starts this season. Tight end Zach Ertz has caught 113 passes for 1,148 yards and eight touchdowns this season. The Eagles defense is giving up 23.2 points per game this season.
Redskins vs. Eagles News
Eagles coach Doug Pederson has made it clear that Nick Foles is healthy enough to start in week 17 after taking a big hit against the Houston Texans. Ertz set a new NFL record last week for the most receptions by a tight end in a single season. Quarterback Carson Wentz is unavailable for this game but could be available if the Eagles reach the playoffs.
The Washington Redskins recently released safety D.J. Swearinger after he called out his defensive coordinator following week 16. Washington also placed tight end Jordan Reed on injured reserve this week, officially ending his 2018 season.
Redskins vs. Eagles Predictions
Injuries derailed what looked like a promising season for the Washington Redskins, and they are limping into the season finale. The Redskins would love to end the Eagles season in week 17, but they just don't have the offensive weapons to get the job done. Philadelphia has been playing great of late, and they will do their part in keeping their postseason hopes alive with a big win. Bet the Eagles -7.0 over the Washington Redskins.