In what was the wildest game of the NBA season to date, the Spurs downed OKC in 2OT, 154-147 on Thursday night. Now the scene shifts to the Chesapeake Energy Arena. We saw players setting career-highs left and right, Steven Adams battling through injuries to stay in the game in the final moments, and a three-point clinic for the ages. What more could we have asked for?
THIS. This is what we asked for! The teams get to duel again in their very next game. And while it could be very likely that they score a whole lot less than last game, seeing two teams play each other on their first game after they put on a show that everybody loves, is the best-case scenario. Let's do it.
The moneyline on the Spurs is +180, while it is at -240 for the Thunder.
Spurs @ Thunder Odds
Spread: OKC -5.5
O/U: 224.5 (OVER!!!)
Spurs @ Thunder Stats
Spurs: LaMarcus Aldridge became just the third player 33 or older to score 56+ points in a game when he dominated the Thunder on Thursday. He became the first guy since Shaq to score as many, without making use of the three ball. Derrick White (23-5-8) had the best game of his pro career, while Marco Belinelli, Patty Mills, and Davis Bertans just came reigning in the three balls at a rate we haven't seen. The team made their first 14 attempts from beyond the arc, while DeRozan, who struggled with his shot, finished with 16-8-11
Thunder: Russell Westbrook nearly accomplished a feat we have only seen once in NBA history: a 30-assist game. He tied for the 7th most in a game with various players, with the 24 he had. He had a 24-13-24 line for the game. PG scored 30, while Jerami Grant added a career-best 25 points, to go with 12 rebounds. Terrance Ferguson knocked down seven threes, including one to tie the game late in the game's final quarter. He shot as well as we have ever seen him, and perhaps, that is why Billy Donovan starts him.
Spurs @ Thunder H2H
This is the second meeting in three days, and the teams will also meet one more time on March 2 to finish their matchups out.
Spurs @ Thunder News
Steven Adams is likely to play tonight, despite the ankle injury Thursday. His toughness is something that this team does not take for granted, and is a big part of both their identity and swagger-level.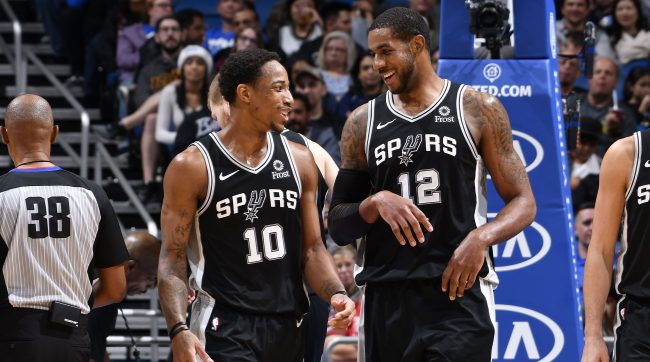 Spurs @ Thunder Predictions
We will not have over 300 combined points scored this time, but the game will be close again. OKC is trying to snap out of a three-game losing streak, while the Spurs look to keep it rolling.
Russell Westbrook will have another triple-double, while PG adds 25. Aldridge will follow his 56-point night up with a 26-point night. Bet OKC -5.5, as they badly need a W. It's coming here.