It has been a very up-and-down year for the Spurs, with a loss against the Raptors in their last outing a few nights ago. Kawhi Leonard took it away from DeRozan and took it to the rim for what would prove to be the game-winning slam. The Kings and Lakers are both hoping to climb into the playoff picture, and the Spurs are one of the teams standing in their way. They have the talent, but can they win enough games?
No matter how bad their record is, the Knicks are never going to be an easy win for a team if the game is at MSG. They always pack a crowd, with fans ready to cheer from the tip. They do have some talent remaining on this roster, with a lot of young guys getting big minutes. The plan is to cash in big this free agency with multiple max-contract players while combining that with the potential #1 pick in the draft. For now, keep on losing.
Spurs @ Knicks Odds
Spread: SAS -8.5
O/U: 221.5 (Under)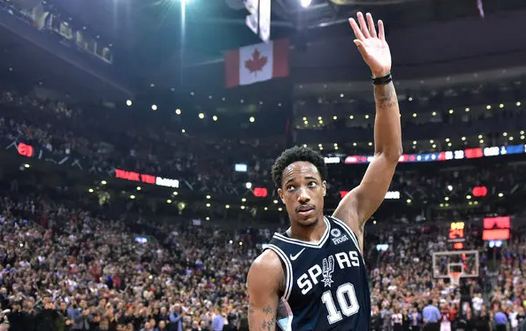 Spurs @ Knicks Stats
Spurs: They have the #13 scoring defense and #16 scoring defense in the NBA, but hope to move higher in both categories. DeMar DeRozan is leading the team with 21.4 points per game, and 6.1 assists per as well. He did not make the All-Star Game, but his teammate LaMarcus Aldridge did. He's posting 21 points, nine boards, and three assists a game, continuing to show that he can perform at a high level. The two of them will take this team as far as they can go, and tonight, that is pretty far.
Knicks: Dennis Smith Jr. has impressed in his time here thus far, and in the team's last game, threw down such a vicious hammer, you could not help but drop your jaw. He has been making plays and keeping them pretty close in games. His buddy DeAndre is also averaging 12 points and 12 boards while shooting 73% (!!!!!!!) from the foul line. Those two are the best guys on the team, with Kevin Knox in a serious funk. They need him to bust out of it asap.
Spurs @ Knicks H2H
This is the first of two meetings between the teams.
Spurs @ Knicks News
DeAndre Jordan (ankle) is unlikely to play tonight, so we might get a taste of Henry Ellenson on a 10-day contract in this one.
Spurs @ Knicks Predictions
Be sure to bet SAS -8.5. While the Garden is always packed and exciting, it does not mean that the Knicks are going to be able to feed off that for the win. DSJ is going to have a big game, but it won't help them.
DeRozan will finish with 25-5-5, while Patty Mills adds 20 off the bench to help lead the Spurs to their 34th win of the season!