Boston is coming off a few very impressive wins in a row headed into this contest. They dominated the Warriors, who they beat by 30. They followed that performance up with a thrilling win over the Kings, who they defeated on a last-second shot from none other than Gordon Hayward. They have had guys shuffled in and out of the lineup thanks to injuries, but at the end of the day, this team is a serious force to be reckoned with when healthy.
LA, on the other hand, has done nothing but struggle. Since beating Boston in their last meeting on the Rondo buzzer beater, they have gone just 2-7. And this is probably the worst stretch we have ever seen from a LeBron James-led team this late in a season. And it's truly unfortunate that they won't be headed too far this year. Their playoff hopes have been all but dashed, as nothing has gone as planned.
Celtics @ Lakers Odds
Spread: BOS -4
O/U: 224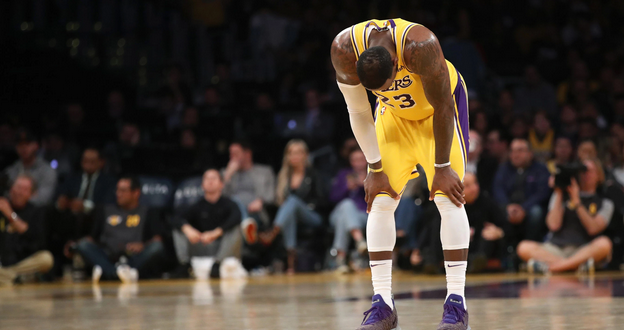 Celtics @ Lakers Stats
Celtics: For all the hate and slander they get from fans, Boston has the #4 scoring defense in the league. Their offense, however, has dropped down to #16, and it is going to have to improve. Kyrie is averaging 24-5-7 and shooting almost 50% from the floor. Jayson Tatum is scoring 16 points per game to date, and he is doing an impressive job thus far of making big plays. Marcus Smart's energy though might be the only thing keeping them in a lot of their games though, as he has proved invaluable. They could use Gordon Hayward's clutch ability once more.
Lakers: Now that LeBron has passed MJ on the scoring list, all that is left is trying to go on one of the most improbable runs in NBA history to try and qualify for the playoffs. LeBron has posted fantastic stats as we have grown accustomed to him doing, but with Lonzo out things haven't been easy. They could be without BOTH Kuzma and Ingram tonight, though that will be determined closer to game time. They NEED JaVale McGee to dominate the game down low.
Celtics @ Lakers H2H
When these teams met a month ago, the game was wild. It was back and forth all night, with LeBron knocking down clutch threes, and Kyrie as always making big plays. But it was Rajon Rondo who got the last laugh. Off a LeBron miss, the ball caromed out to him, and he hit a short jumper as time expired to give LA the 129-128 win.
Celtics @ Lakers News
Kyle Kuzma (ankle) is likely out for the Lakers, while Brandon Ingram (shoulder) is questionable. No injuries to report for Boston.
Celtics @ Lakers Predictions
Be sure to bet LAL +4! You have to believe that LeBron wants to show Kyrie that he can get it done when he needs the win this badly. The Lakers will keep this one close.