Golden State is looking to gain a hold on the #1 seed after the Nuggets have dropped consecutive games. Getting the job done and coming away victorious tonight could do a lot for them. This is another chance to show the world that they are the NBA's top team, as Steph and Klay have been raining in the three balls. Kevin Durant has forgotten how to miss shots, as his game has continued to be terrific in what could be his Warriors farewell.
Minnesota is still extremely short-handed, with Luol Deng having now been out for multiple weeks. D-Rose got shut down two weeks ago along with Jeff Teague, allowing Tyus Jones to have all the free reigns to run the offense. Josh Okogie's game has improved as the season has gone on, while Karl-Anthony Towns is having a year for the ages by a big man. It's been fun watching OSU rookie Keita Bates-Diop grow up with more minutes and opportunities.
Warriors @ Wolves Odds
Spread: GS -9.5
O/U: 230
Warriors @ Wolves Stats
Warriors: Golden State has had their dominant moments this year as they always do, and though it has been a down year for Draymond, his impact in regards to ball movement and defense continues to be felt. They are the #2 scoring team in the NBA, trailing only Milwaukee in that category. They are shooting the third-best percentage in the entire NBA in three-point percentage. They also shoot the second-highest percentage on two's, and in all, are leading the NBA in field-goal percentage. As if that's a surprise.
Wolves: He will likely not get a single vote for the award, but Karl-Anthony Towns has been effective and reached all new highs this year, dominating game after game. He's averaged 25 points and 13 boards this year, while dishing out three assists, blocking two shots, and making 52% of shots, including 40% from deep. They have been effective with Tyus Jones running point, but injuries look like they will end up cutting Luol Deng's campaign very short. It's good to see Andrew Wiggins making plays.
Warriors @ Wolves H2H
This will be the fourth and final meeting between the two teams. Thus far, it has been Golden State winning each of the first three meetings, as they now attempt to go for the season sweep. This is a team with championship aspirations for the fifth year in a row, while the Wolves hope to finish strong under Ryan Saunders, giving him a chance to keep his job beyond the season.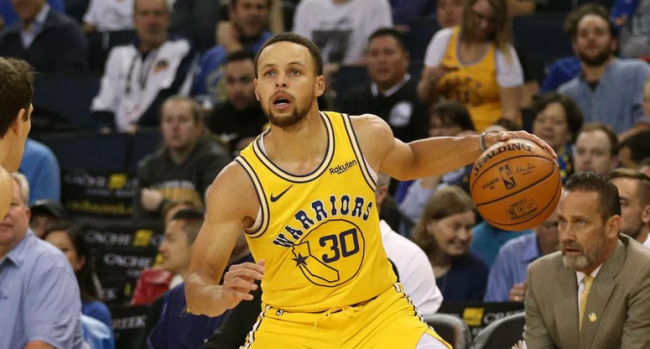 Warriors @ Wolves Predictions
Be sure to bet MIN +9.5! This game is going to be a close one, and you heard it here first. Tyus Jones will record a points-assists double-double, while KAT goes absolutely nuts with 45 points KD's 35 and Klay's 30 will not be enough to help the Warriors blow out their opponents.