A slow offensive start doomed the Raptors in this one, as they spent the whole game playing catch-up. Once more, it seemed that only two players were able to be consistent on offense, in Kawhi and Siakam. Danny Green was missing open shots left and right, while the tight bench rotation was unable to contribute while on the floor. With the series shifting to Philly, the Raptors have to get their act together.
Bench scoring was huge for the Sixers, as they had two of their backups score in double-figures. It wasn't a ton, but with Mike Scott out, it was enough. With the starting lineup being as talented as it is here, you never know on a game-to-game basis who the leader on a given night will be. It's hard to say if they will be able to retain their starting five, but it is as good as any in the conference.
Raptors vs. Sixers Odds
Spread: TOR -1
O/U: 216.5
Moneyline: TOR -120, PHI +102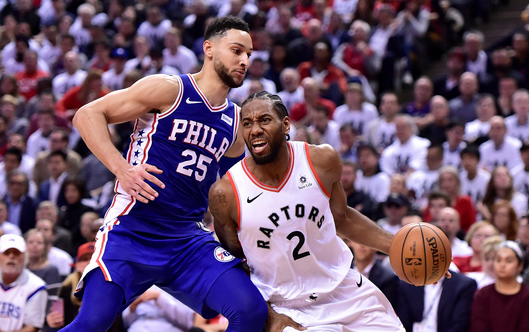 Raptors vs. Sixers Stats
Raptors: Toronto's defense was sensational last game, in that they were +10 in turnovers, and allowed just 94 points. They held the Sixers to just 30/76 shooting, good for 39.5%. Kawhi Leonard went off again for 35. Though he struggled at times, Siakam stepped up late and finished with 21. Kyle Lowry scored 20 points in 42 minutes. That was it. Marc Gasol had just five points and has not been able to score against Embiid. Danny Green missed four WIDE OPEN threes in the game (he had just three points), including the game-tying shot with 32 seconds left. He has to be better.
Sixers: Though they could not make a shot for the life of the last game, they got it done at the charity stripe. Philly made 24 of 26 free throws, and they needed every single one. Jimmy Butler stepped up in a big way, adding 30-11-5 in 43 minutes of action. The next-leading scorer was James Ennis III with 13 off the bench. Simmons scored six. Tobias had nine. Redick had 11. Embiid only had 12 points and two hoops the whole contest. Again, you never know which Sixers play will be the key coming in to a game.
Raptors vs. Sixers H2H
This is just the second time that these teams have ever met in the postseason. In 2001, they met in the Eastern Conference semifinals, with Allen Iverson leading his Sixers to a series win in seven games. This series is looking like it may shape up as their previous one did. The Atlantic division rivals are not separated by much.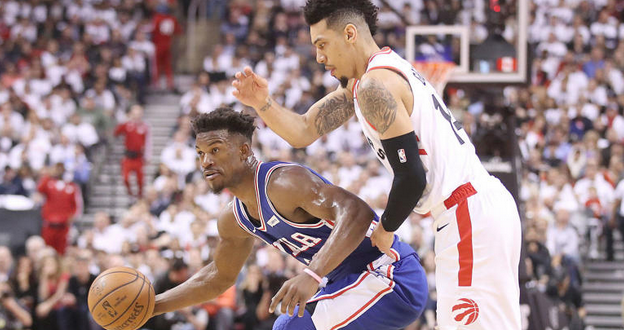 Raptors vs. Sixers Predictions
Make sure you bet PHI +1! The Sixers will be taking a 2-1 lead on Toronto with this win, Embiid and Simmons will both play better, and Toronto's lack of role-player production will cost them again. Book it.