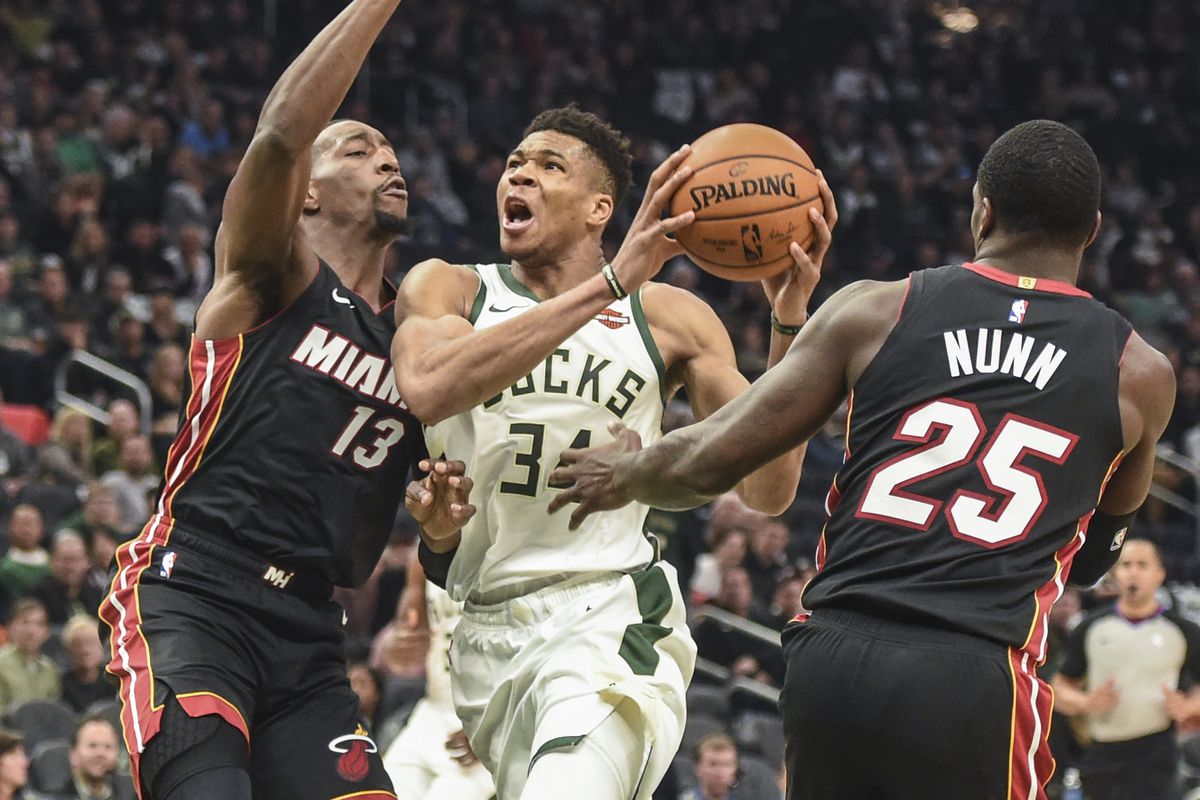 With fellow All-Star Khris Middleton sidelined with a neck issue, Giannis Antetokounmpo has somehow raised his game to another level and the reigning MVP looks to help his Milwaukee Bucks stay hot when they visit the Miami Heat on Monday. Antetokounmpo recorded the first 40-20 game of his career with 41 points and 20 rebounds in Sunday's 93-85 win at Charlotte.
"His footwork and his shooting is just getting better and better," Bucks coach Mike Budenholzer told reporters of Antetokounmpo after the team's sixth straight victory. "His play out of the post is getting better and better. He's finding open people, open cutters, open shooters and he's scoring when he's playing one on one. He's Giannis." The Heat have put together back-to-back wins for the first time since Feb. 1-3 with Saturday's 116-113 win over Brooklyn in the third of a five-game homestand. Kendrick Nunn led seven players in double figures with 21 points on 9-of-14 shooting as Miami improved to 25-4 at home. "I'm encouraged by the two games. They're not perfect games, but competition isn't," coach Erik Spoelstra told reporters. "It's not supposed to be, but the way we responded to the adversity was a good sign."
ABOUT THE BUCKS (52-8): Antetokounmpo on Sunday became the first player with a 40-20 effort in a game in which his team scored fewer than 100 points since Chris Webber in 2001. He is averaging 36.5 points on 62.5 percent shooting in the last two games without Middleton while the rest of the team's starters have combined to shoot 31.4 percent. Point guard Eric Bledsoe, the team's third-ranked scorer at 15.4 points per game, is 4-of-14 from the floor with a total of 11 points in those two contests.
ABOUT THE HEAT (38-22): Goran Dragic (19 points, 10 assists) and Bam Adebayo (16 points, 12 rebounds) had double-doubles against the Nets as Miami did just enough to survive a close finish, something it didn't do all that often during a recent 2-7 swoon. "If we win, I have no problem going through these growing pains, it's as simple as that," Adebayo told the media. "Winning cures anything – it cures everything I'd say." All-Star Jimmy Butler chipped in 16 points and eight assists Saturday after scoring 26 in a win over Dallas the previous night.
Season Update
The Miami Heat have looked like a very good basketball team in the Eastern Conference so far this season. The Heat have a 38-22 record which explains why they are in possession of first place in the Southeast Division. In addition, Miami is currently the fourth seed in the conference standings so it has virtually clinched a playoff spot already. The Heat also enter this game in decent form as they have won each of their last two games while only covering the spread once. Now, the Heat will be looking to get themselves another victory in front of their home fans. Luckily, Miami has a 25-4 record at home this season so it has looked really sharp all season long at the American Airlines Arena.
The Bucks are essentially assured of top seed before the playoffs begin. However what happens if they don't reach the NBA Finals? Just bear with me in a mind game. Any team that takes down the Bucks juggernaut in post-season action will reduce the chances of Antetokounmpo signing an extension. Not eliminate, but produce a degree of uncertainty. For Antetokounmpo family matters. His question is what can the Heat do for his family, not what he can for the Heat. If Miami sputters and winds up with a sixth seed, and then gets knocked out in the first round, the Heat don't look like good providers. But that's just one factor, because other issues come into play in decision-making.
Milwaukee Bucks at Miami Heat Head to Head
The Heat and the Milwaukee Bucks have played 113 games in the regular season with 69 victories for the Heat and 44 for the Bucks. Miami defeated the Bucks 131-126 on Oct. 26, 2019 after staging a fourth-quarter rally to send the game into overtime. Justise Winslow not Jinny Butler played 40 minutes with team-leading plus 16 stat.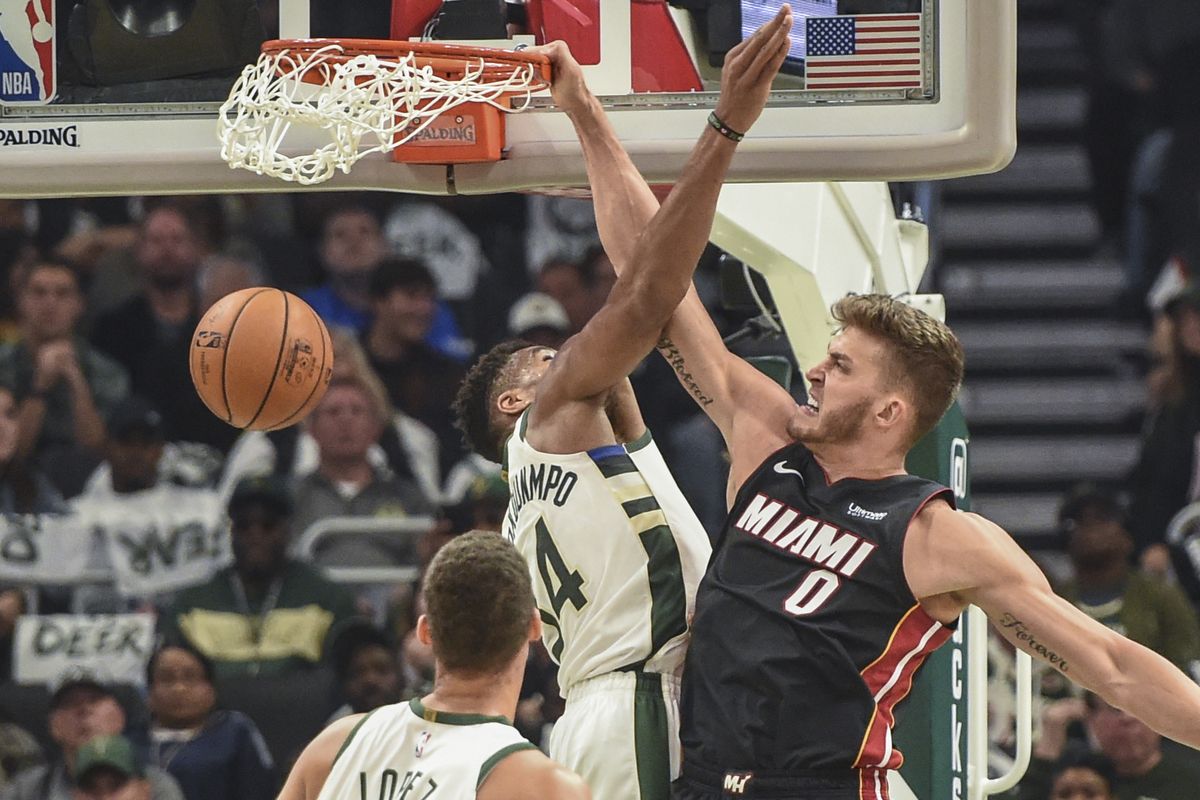 Milwaukee Bucks at Miami Heat Stats
The Miami Heat look for a win after splitting their last eight games. The Miami Heat are averaging 112.8 points on 47 percent shooting and allowing 109.5 points on 44.8 percent shooting. Jimmy Butler is averaging 20.5 points and 6.8 rebounds while Goran Dragic is averaging 16.3 points and 5.1 assists. Bam Adebayo is the third double-digit scorer and Kendrick Nunn is dishing 3.5 assists. The Miami Heat are shooting 38 percent from beyond the arc and 77.9 percent from the free throw line. The Miami Heat are allowing 34.3 percent shooting from deep and are grabbing 44.8 rebounds per game. The Miami Heat have won four of their last five home games.
The Milwaukee Bucks look for a win to build on their six-game winning streak. The Milwaukee Bucks are averaging 120 points on 48.2 percent shooting and allowing 107.2 points on 41.1 percent shooting. Giannis Antetokounmpo is averaging 29.7 points and 13.7 rebounds while Khris Middleton is averaging 21.1 points and 6.3 rebounds. Eric Bledsoe is the third double-digit scorer and Brook Lopez is grabbing 4.4 rebounds. The Milwaukee Bucks are shooting 36.3 percent from beyond the arc and 74.1 percent from the free throw line. The Milwaukee Bucks are allowing 35.7 percent shooting from deep and are grabbing 52 rebounds per game. The Milwaukee Bucks have won four straight road games.
Milwaukee Bucks at Miami Heat News
Missing players Bucks: Kyle Korver (Back) is out.
Missing players Heat: Meyers Leonard (Ankle) and Tyler Herro (Ankle) are out indefinitely.
Milwaukee Bucks at Miami Heat Odds
Spread: -2,5 Bucks
O/U: N/A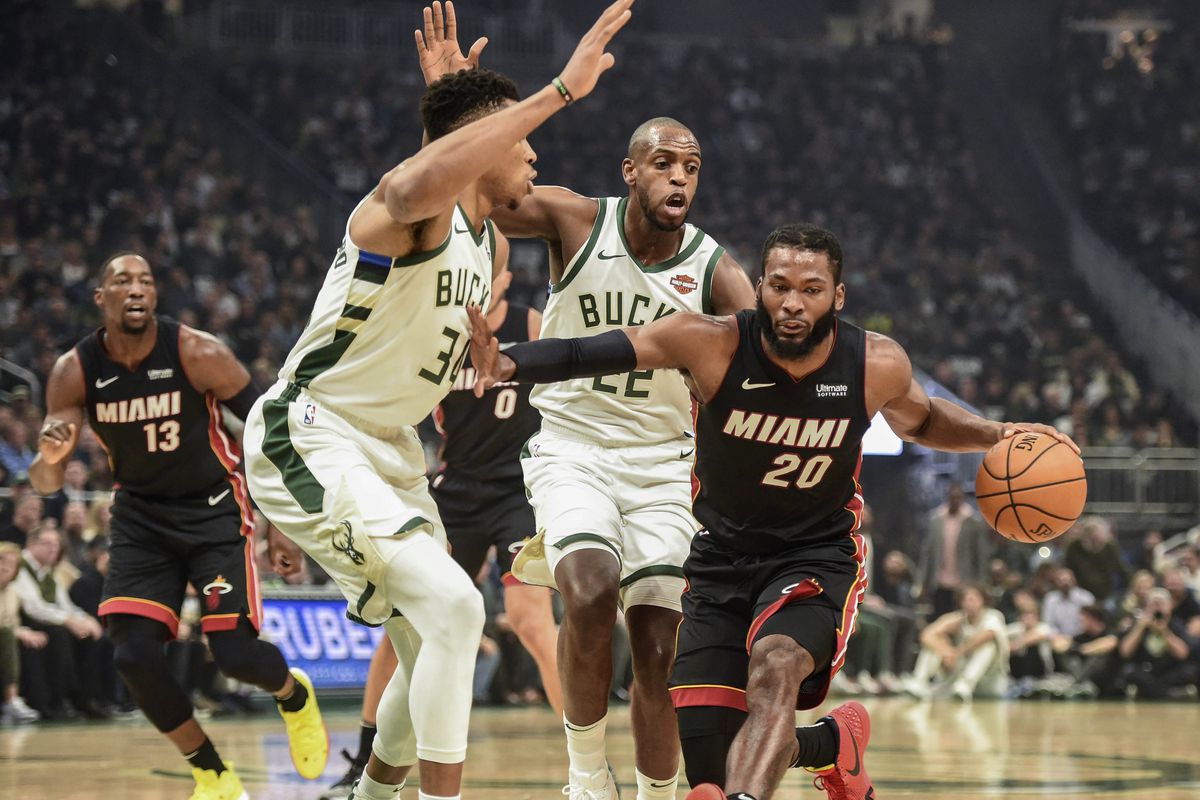 Milwaukee Bucks at Miami Heat Predictions
The Milwaukee Bucks have been the most consistent team in the league and don't get these sort of spreads often, so it's probably a good idea to take advantage of it while you can. However, the Miami Heat have the rest advantage in this contest, and they've been one of the better home teams in the league where they win by an average of 10 points and are 19-9-1 against the spread. The Heat also beat the Bucks on the road earlier this year without Jimmy Butler. Give me the Heat and the free bucket based on their home dominance.