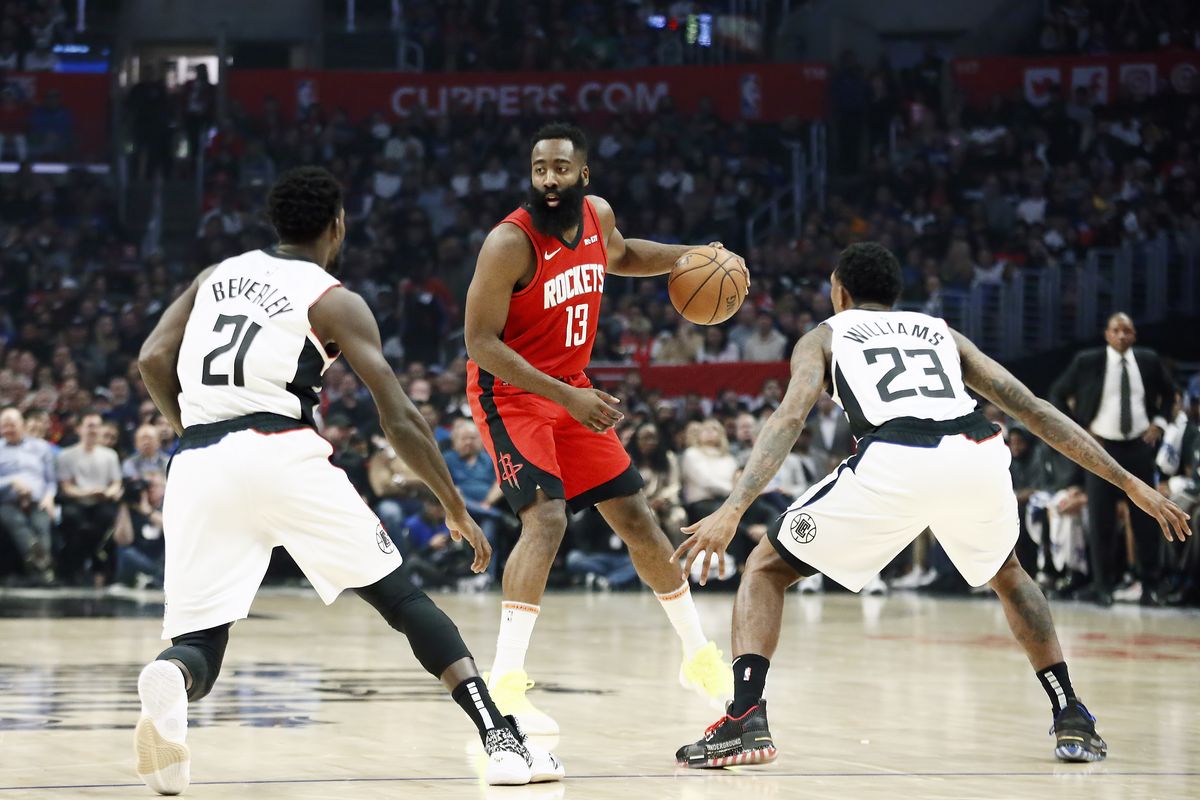 The Los Angeles Clippers aim to post their sixth consecutive victory when they visit the Houston Rockets on Thursday. The Clippers recorded four double-digit triumphs during the streak, including Tuesday's 109-94 road win over the Oklahoma City Thunder.
All-Star Game MVP Kawhi Leonard scored 25 points in Tuesday's win over the Thunder but said he is unsure if the winning streak has the Clippers playing close to their potential. "I don't know because I don't know what our potential is," Leonard told reporters. "You never know how good a team can be. But we're going to strive to be the best team we can. We're not complacent, we want to keep getting better and hopefully reach the goal." Houston had a six-game winning streak halted when it sustained a disappointing 125-123 road loss to the New York Knicks on Monday. "Can't take games like this lightly," star point guard Russell Westbrook told reporters. "It's the NBA. Everybody goes out and competes. You've got to be ready to play."
ABOUT THE CLIPPERS (42-19): Keeping forward Paul George healthy for the stretch run is a key desire and he is averaging 21.3 points over the past three games after having 16 versus the Thunder. George had offseason surgeries on both shoulders and has dealt with multiple hamstring injuries while being limited to just 39 games. "Our whole thing is just getting ready and being ready for the playoffs," coach Doc Rivers said. "And for (George), he's just missed so much. You can see him picking up for sure. I think he still has conditioning to do, which is so late in the season to be saying that, but with his injuries and the type of injuries he's had, he's not been able to run. So the last four or five games, you can see it."
ABOUT THE ROCKETS (39-21): Houston resides in fourth place in the Western Conference and stands 2 1/2 games behind the second-place Clippers, so this contest rates as a big one. A bounce-back effort is certainly needed after the showing against the Knicks in which the club let the game get away despite 35 points and eight assists from All-Star guard James Harden, "We weren't consistent with our defensive principles throughout the course of the game and we paid for it," Harden said afterward. "Simple."
Season Update
The Clippers are one of the few teams that can match up with Houston's small ball approach. With Patrick Beverley, Lou Williams, Landry Shamet, Paul George, Kawhi Leonard, and Marcus Morris, LA has the guys that can play this style. Reggie Jackson and Ja Mychal Green can also be plugged into this lineup. It should make for a fun ending if the game is close late. Houston passed its first two tests against a team that could match up with the Pocket Rockets when they beat Boston twice. This test promises to be tougher.
Unlike the Utah game, tonight's game does not have tiebreaker implications. Houston currently leads the season series 2-1, but even with a loss tonight the Rockets will own the tiebreaker due to being a division leader. No, tonight's game matters because it's a big game. If the Rockets can pull out the win, they will once again be a game behind the Clippers and Denver Nuggets, making the Knicks loss a wash overall.
Los Angeles Clippers at Houston Rockets Head to Head
The Clippers and the Houston Rockets have played 202 games in the regular season with 79 victories for the Clippers and 123 for the Rockets. The Houston Rockets have already beaten the Clippers in two of the three meetings this season and that's without them playing the way they've played since committing 100 percent to small ball.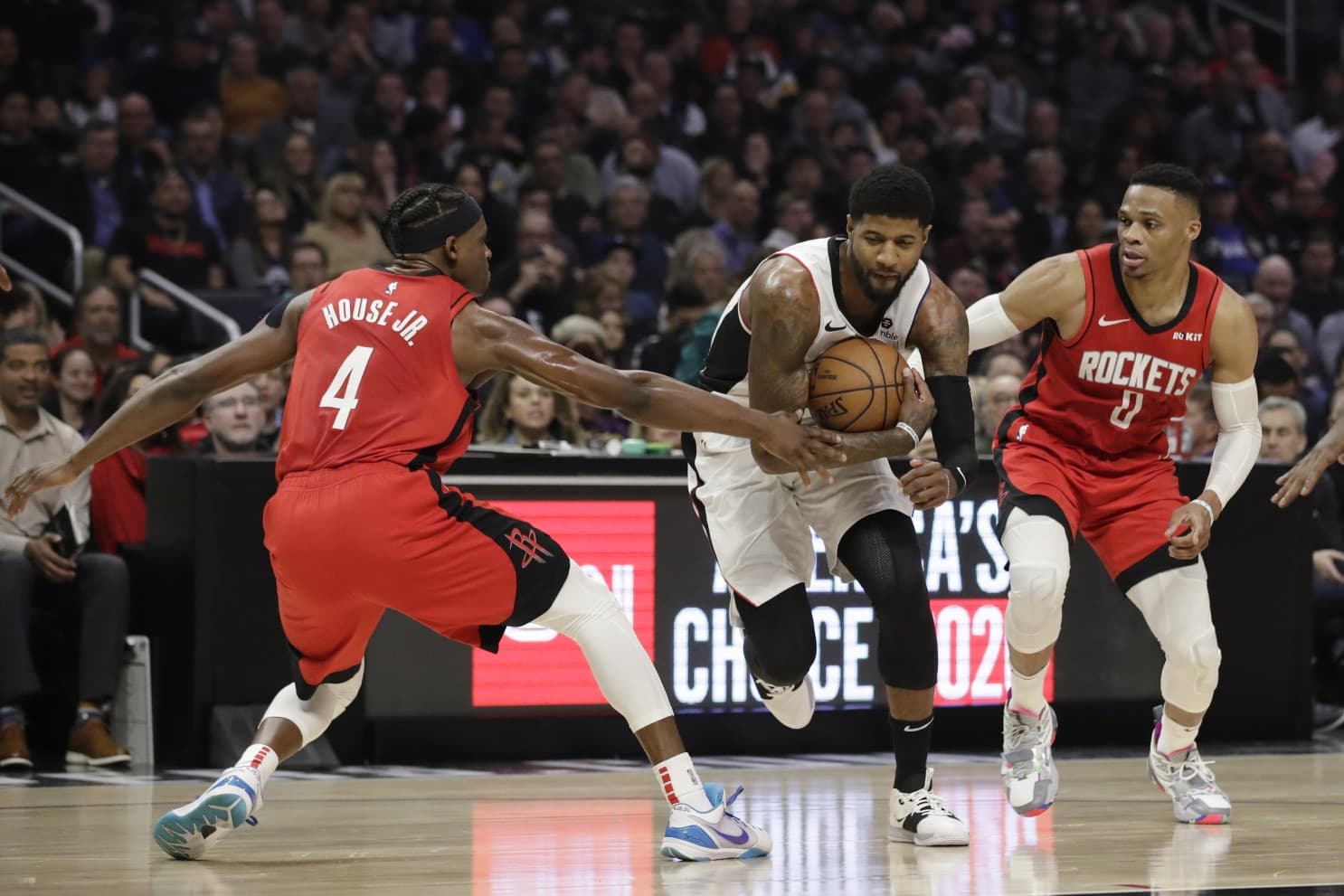 Los Angeles Clippers at Houston Rockets Stats
The Clippers are currently 6th in the league in scoring offense with 116.1 points per game. LA is 3rd in the league in rebounding with 47.8 boards per game and stand 17th in assists with 24 per contest. The Clippers are average defensively, ranking 13th in scoring defense by allowing 109.8 points per game. Paul George is second on the team with 21.1 points, 5.8 rebounds and 3.8 assists per game on the season. Kawhi Leonard contributes a team-leading 27 points, 7.5 rebounds and 5.1 assists this year. Lou Williams (19.1 points, 5.8 assists) and Montrezl Harrell (18.7 points, 7.1 rebounds) are both averaging in double figures as well. Ja Mychal Green, Reggie Jackson, Ivica Zubac, Marcus Morris Sr., Patrick Beverley, Patrick Patterson and Landry Shamet (10.4 points) are other key pieces for Doc Rivers. LA is 10th in the league in field goal percentage as they shoot 46.5 percent from the floor. The Clippers are 15th in three pointers a game with 12.1 per contest and tied for 9th in three-point shooting as they hit 36.8 percent of their long-range attempts.
The Rockets enter this contest second in the league with 118.9 points per game on the season. Houston is 14th in rebounding by collecting 45.2 boards a night while they are 29th in assists with 21.5 dimes per contest. The Rockets are a dismal 21st in scoring defense as they give up an average of 114.3 points per game on the year. James Harden leads the team with 34.9 points plus 7.4 assists a night on the season. Russell Westbrook puts up 27.5 points, 7.9 rebounds and 7.1 assists a night. PJ Tucker (7.3 points, 6.9 rebounds), Eric Gordon (14.8 points) and Danuel House Jr. (10.5 points) are solid contributors. Austin Rivers, Ben McLemore (10.2 points), Robert Covington, Tyson Chandler along with the recently signed Jeff Green and DeMarre Carroll are key pieces of the rotation as well for coach Mike D'Antoni. Houston is 22nd in field goal percentage as they shoot 45.4 percent as a team from the floor. The Rockets are first in threes per game as they knock down 15.7 triples a night and stand tied for 19th in three-point shooting by hitting only 35.1 percent from beyond the arc.
Los Angeles Clippers at Houston Rockets News
Missing players Clippers: No reports of injuries.
Missing players Rockets: No reports of injuries.
Los Angeles Clippers at Houston Rockets Odds
Spread: -1 Rockets
O/U: 237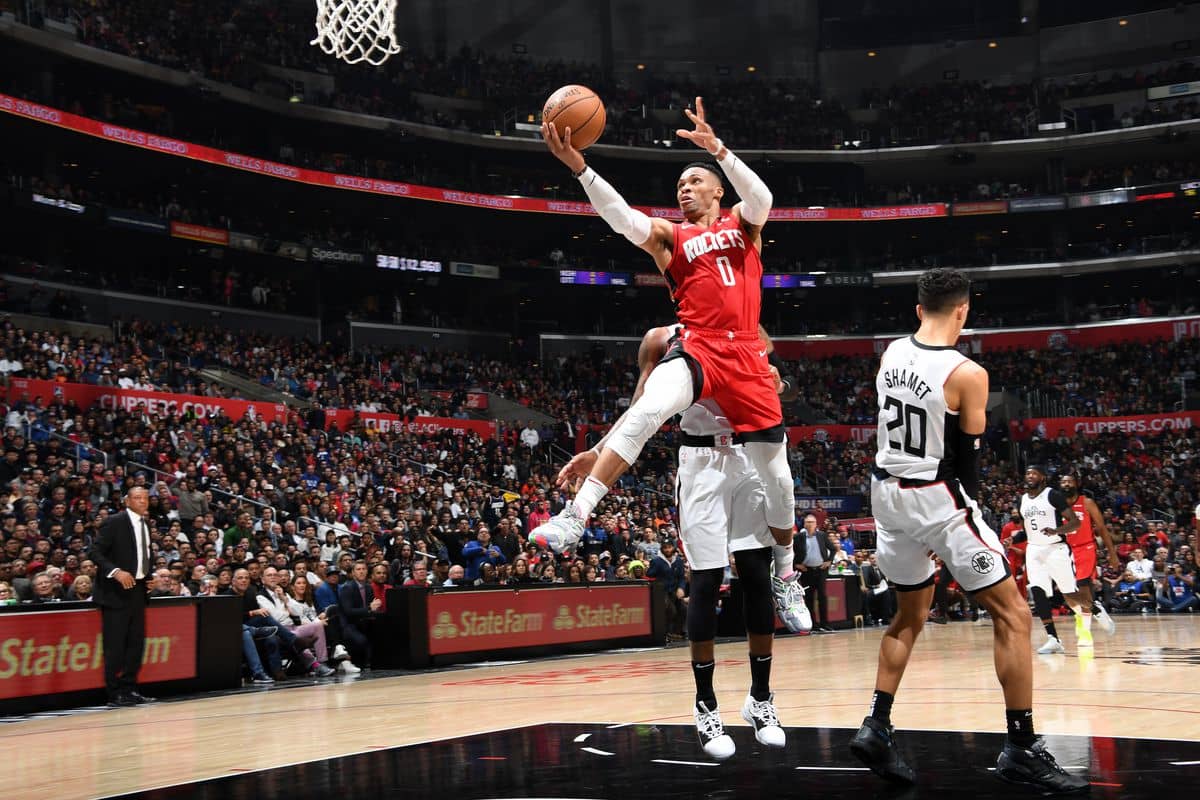 Los Angeles Clippers at Houston Rockets Predictions
The Los Angeles Clippers have been on a tear during this five-game winning streak, but it seems like right when you want to believe in them, they go back to resting players and looking real average for two or three games. The Rockets saw what could go wrong with their small-ball lineup against the Knicks. With plenty of possessions for both teams, this one ends up over the number in another high-octane affair.