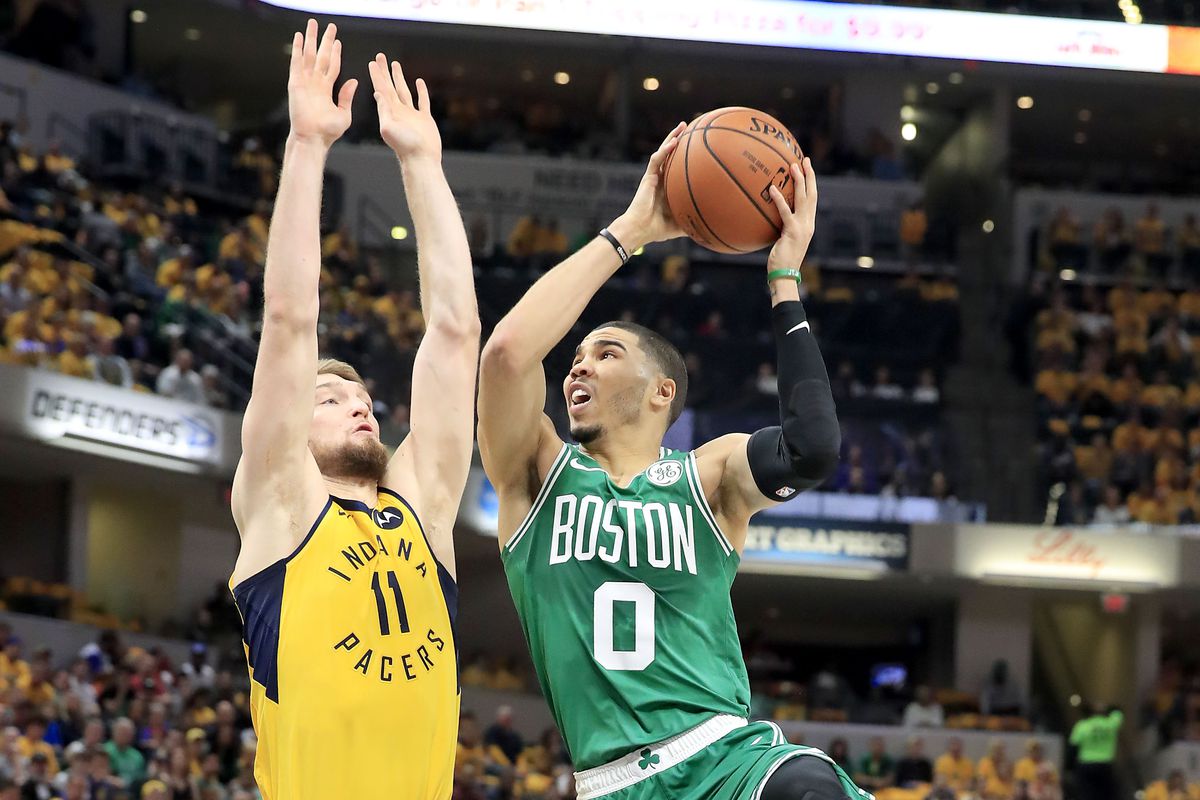 A pair of Eastern Conference contenders trending in opposite directions meet Tuesday in Indiana, where the host Pacers look to get closer in the standings to the slumping Boston Celtics. Indiana's 112-109 win at Dallas on Sunday gave the team eight victories in its last 10 games and pushed it into fifth place alone in the East, just 3 1/2 games back of the third-place Celtics.
"What a game by these guys; fifth game on a long road trip," Pacers coach Nate McMillan told reporters Sunday. ". … They played like they wanted it and they got it. Great win for this group." Indiana was without star guard Malcolm Brogdon, who is week-to-week with a torn groin muscle, and key reserve Doug McDermott, but they shot 52.3 percent from the floor and got six players into double figures to finish the trip at 4-1. The Celtics have lost four of their last five following a 105-104 setback at home to Oklahoma City on Sunday. Gordon Hayward returned from a two-game layoff to score 24 points but Boston was outscored by 12 points in the second half to suffer its fourth straight home loss.
ABOUT THE CELTICS (42-21): Boston endured a 2-6 swoon in January but responded with a 14-3 surge, and the team is hopeful its response to the current slump will be just as forceful. "Most of our good teams go through stretches like this and usually two or three a year," coach Brad Stevens told reporters. "This is our second one. Hopefully we can nip that in the bud and not have a third one." After scoring at least 28 points in a seven-game stretch, All-Star forward Jayson Tatum has been held under 20 in consecutive games while shooting a combined 15-of-41.
ABOUT THE PACERS (39-25): All-Star Domantas Sabonis recorded 20 points and 17 rebounds Sunday to set a team record with his 50th double-double, tied for second in the NBA. T.J. Warren returned from a one-game layoff to score 16 points and Myles Turner matched him in that category while hauling in 13 rebounds. Victor Oladipo, who missed the first meeting with the Celtics while still recovering from a knee injury, struggled through a 6-of-18 shooting game against Dallas but scored the game's final six points and handed out a team-high seven assists.
Season Update
The Boston Celtics have been in a bit of a rut lately as they've lost four of their last five games and they will be hoping to avoid a third straight defeat after falling painfully short to the Thunder in a 105-104 home loss on Sunday. Gordon Hayward led the team with 24 points and four assists, Marcus Smart and Jayson Tatum each scored 19 points while Kemba Walker chipped in with 14 points and five assists. As a team, the Celtics shot just 41 percent from the field and 13 of 37 from the 3-point line as they started well to lead by as many as 18 points, before seeing their lead disappear in the second half as they lost on a layup from the Thunder's Dennis Schroder with just 8.5 seconds left on the clock. With the last shot, the Celtics went to Tatum who missed the 18-foot game winner with the game on the line.
Meanwhile, the Indiana Pacers have been in great shape lately as they've won eight of their last 10 games and they will be gunning for a third straight victory after escaping Dallas with a 112-109 road win on Sunday. Domantas Sabonis led the way with 20 points, 17 rebounds and six assists while TJ Warren, Myles Turner and Victor Oladipo each scored 16 points as they set the tone with 31 points in the first quarter, but they found themselves in a battle and down by five points late in the fourth quarter, until they went on a decisive 8-0 run in the final 3:04 to escape with the unlikely win.
Boston Celtics at Indiana Pacers Head to Head
The Celtics and the Indiana Pacers have played 178 games in the regular season with 98 victories for the Celtics and 80 for the Pacers. Head to head, the over is 6-2 in the last eight meetings in Indiana and Boston are 4-1-1 ATS in the last six meetings overall.
Boston Celtics at Indiana Pacers Stats
The Celtics enter this contest ranked 12th in the league in scoring offense with an average of 113 points per game this season. Boston is 9th in rebounding by pulling down 46 rebounds per contest and stand 25th in assists with 22.9 dimes per game. On the season, Boston is tied for first in the league in scoring defense by allowing 106.8 points per contest. The Celtics are led offensively by Kemba Walker, who is second on the team as he puts up 21.4 points, 4.1 rebounds and five assists per game on the year. Jayson Tatum puts up a team-leading 23.4 points plus 7.1 boards a night while Jaylen Brown (20.4 points, 6.4 rebounds), Gordon Hayward (17.1 points, 6.5 boards) and Marcus Smart (13.4 points, 4.8 assists) are solid contributors offensively. Boston is tied for 16th in the league in field goal percentage by shooting 46 percent from the floor as a team on the year. The Celtics are 12th in three-pointers per game as they drain 12.4 triples per night while they rank 12th by hitting 36.3 percent of their attempts from beyond the arc. Walker missed several games with knee soreness after the All-Star break but is back in action. Brown is out until mid-March with a hamstring injury.
The Pacers enter this contest 22nd in scoring offense with 109.3 points per game on the season. Indiana is 24th in the league in rebounding with 42.8 boards per contest and stand 5th with 26 assists per game. The Pacers are 5thin the league in scoring defense as they allow 107.3 points per game this season. Malcolm Brogdon is third on the team with 16.3 points, 4.7 rebounds plus 7.1 assists per game this season. Domantas Sabonis (18.3 points, 12.5 rebounds), Myles Turner (11.8 points, 6.5 rebounds, 2.1 blocks), T.J. Warren (18.6 points), Aaron Holiday (9.5 points), Doug McDermott and Jeremy Lamb (12.5 points) are all contributing on the offensive end. Victor Oladipo made his season debut on January 29 against the Bulls. He has averaged 12.7 points per game as he gets back up to speed. Indiana is 3rd in the league in field goal percentage as the team shoots 47.7 percent from the field this season. The Pacers are 29th in threes made per game as they have drained 10 triples a night while the team stands 13th in three-point shooting by hitting 36.2 percent from beyond the arc. Lamb was lost for the year with torn knee ligaments in late February while Brogdon suffered a torn quad against the Bucks March 4 and is considered week to week.
Boston Celtics at Indiana Pacers News
Missing players Celtics: Jaylen Brown(Hamstring) will miss the game.
Missing players Pacers: Jeremy Lamb (ACL) is out for season. Victor Oladipo (Knee) is questionable.
Boston Celtics at Indiana Pacers Odds
Spread: +2 Pacers
O/U: 215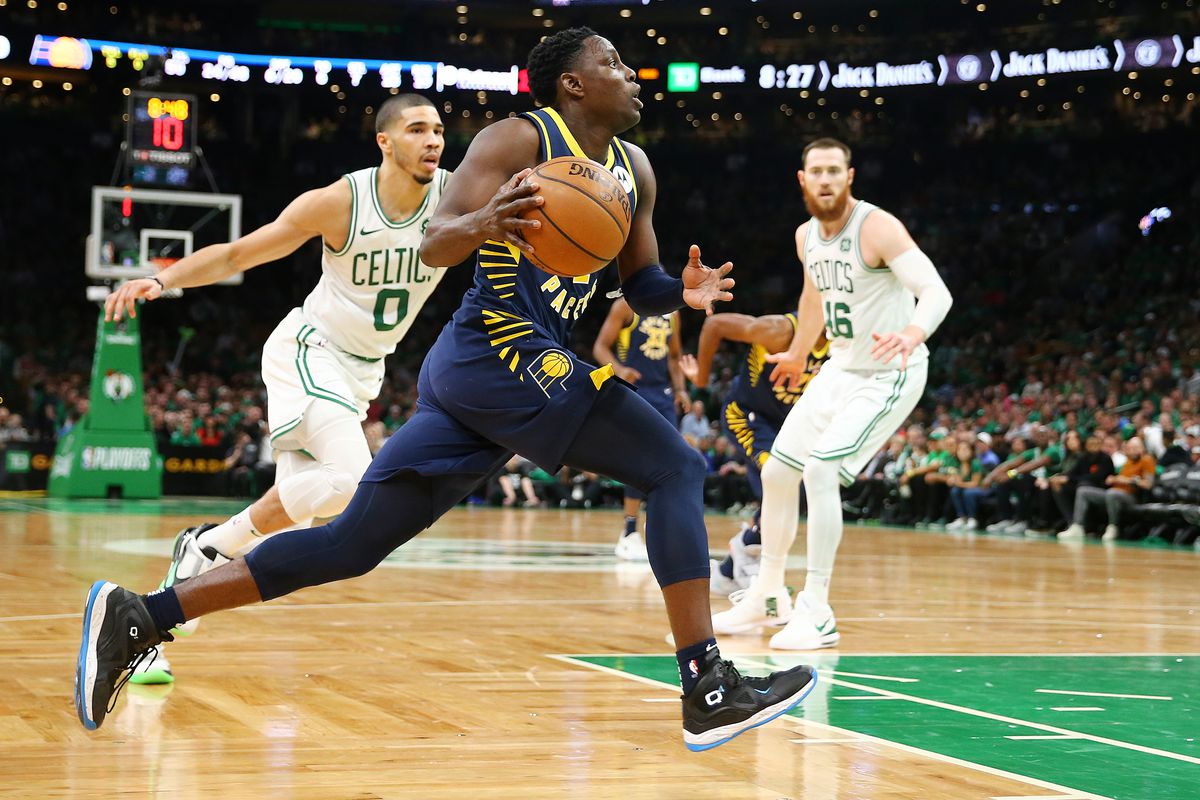 Boston Celtics at Indiana Pacers Predictions
Jaylen Brown will remain out for Tuesday's game, while Malcolm Brogdon was diagnosed with a torn left quadriceps and is listed as week to week, so both teams will be shorthanded in this one. The Celtics still have more than enough talent to get the win and they are a solid 5-0 ATS in their last five road games, but the Pacers are just in a groove right now and they're gaining so much confidence with these narrow wins. Give me the Pacers to get the win at home behind a balanced scoring effort.