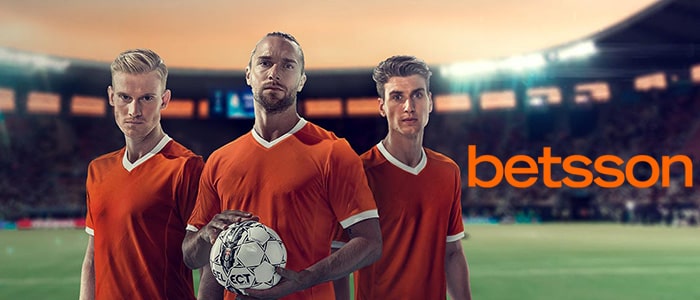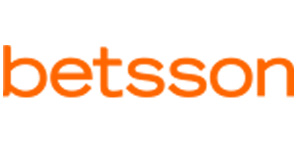 Betsson is one of the largest names in the world of gambling nowadays. The Betsson brand is owned by Swedish Betsson AB, a company that goes back to the 1960s and has remained in the gambling industry since the beginning. In the present day, Betsson is an online gambling website that offers multiple forms of gambling, including an online casino, a poker room, and a sportsbook. For the purposes of this review, we will focus on the sportsbook aspect of Betsson and cover every important feature that you will need to know about.
Betting Markets
The sportsbook of Betsson is the primary reason why you would join this gambling website. The betting markets that it offers are quite diverse and it supports a wide range of sporting events and leagues that you will surely take an interest in. The sportsbook accepts bets on events before they take place, but also has support for In-Play, giving you the option of placing wagers during the match itself. While there are too many markets for us to list all at once, we can give you some examples of the more popular ones at Betsson.
Football is probably the most popular sport in the world and as such, it enjoys a large betting scene and this is reflected at Betsson. There are multiple leagues that you can bet on at this sportsbook, including The Champions League, The UEFA Nations League, the FIFA Club World Cup, The England Premier League, The German Bundesliga, and many more. Basically, every major league is up on offer at Betsson and you should be more than satisfied with what is available.
Basketball is another highly popular sport with a large betting scene and Betsson is more than willing to satisfy the demand. You will find the most watched leagues in the world and place bets on matches from the NBA, the Euroleague, the EuroCup, the Champions League, the NCAA, and a wide range of European leagues.
Ice Hockey may not be as popular as basketball or football but there are more than enough matches for you to bet on and Betsson supports the most famous leagues. More specifically, these include the NHL, Russia's KHL and MHL, North America's AHL, the Swedish SHL, the Champions Hockey League and plenty more.
American Football is a top-tier sport for the purposes of betting and you will have your pick at the best matches out there. At Betsson, you can place wagers on games from the National Football League and the NCAA College Football championship.
If you like to follow golf competitions, then you will have the opportunity to show your support for your favorite player. Betsson supports a number of golf leagues and competitions. At the time of writing, the active betting markets include the Race to Dubai 2019, US Open, Ryder Cup, The Open Championship, US Masters among others.
Tennis has always drawn in large viewerships and the same can be said about the betting scenes. At Betsson, you will have many options when it comes to tennis betting, with support for leagues such as the ATP, the WTA, the Hopman Cup, ITF and more.
Esports is a recent phenomenon and one that is quickly rising in popularity. Currently, the esports scene is dominated by a handful of games and you will have the opportunity to place wagers on CS:GO, League of Legends, Dota 2 and Overwatch matches. It is likely that Betsson will include support for other games over time.
Of course, the scope of the betting markets at Betsson cannot be captured in a single paragraph. We have mentioned the most popular sports and their respective leagues but there are plenty more to be found. You will be able to bet on Formula 1, baseball, handball, boxing, MMA, volleyball, snooker, rugby, and a whole lot more. Be sure to check out the sportsbook for yourself to gain a better idea of what is on offer.
Promotions and Bonuses
Promotions and bonuses are a great incentive for joining a particular gambling website. They offer punters some form of reward for choosing that particular sportsbook and while these vary, the value is undeniably there. At Betsson, you can claim bonuses from the moment that you open an account and below, you will find a detailed description of the Welcome Bonus, including all important conditions that you have to follow in order to withdraw it.
Welcome Bonus
As soon as you register at Betsson you will have the opportunity to claim the Welcome Bonus. It is available to all new customers and it offers a 100% match bonus of up to €75, followed up by another 100% bonus on your second deposit up to €50. The minimum amount that you need to transact in order to benefit from the promotion is €10 and you have to do so with a payment service different from Skrill and Neteller.
In order to withdraw your bonus, there are certain rules that you need to follow. Arguably the most important, the wagering requirement for this bonus is 10 times its value at odds of 1.50 (½) or higher. For the purposes of the wagering requirement, system bets will not count and you have 30 days to fulfill the requirement before all bonus funds are rendered void.
Punters residing in Albania, Australia, Austria, Azerbaijan, Belarus, Bosnia and Herzegovina, Brazil, Bulgaria, Croatia, Czech Republic, Finland, Germany, Greece, Iceland, Israel, Japan, Kazakhstan, Macedonia, Moldova, Montenegro, Norway, Peru, Poland, Romania, Russia, Serbia, Slovakia, Slovenia, Sweden, Switzerland, Turkey, UK and Ukraine are not eligible to claim this promotion.
Banking
As is the case of any gambling website, you will not be able to use physical cash to fund your balance. Therefore, you will have to utilize one of the several online payment solutions supported by Betsson and there are several of them at your disposal. They come in a few different types, thereby allowing a wide range of punters to make use of the website's services. Below, you will find more detailed descriptions as to how you can fund your bankroll at Betsson.
Credit Cards
Credit cards are the most used payment method on the Internet and their popularity carries over to the world of online gambling. There is a number of reasons why they enjoy such a significant presence in the industry and main among them is the speed of the transactions. A credit card deposit will go through within a matter of seconds and you can immediately start placing bets on your favorite sporting events. Furthermore, credit cards are easy to acquire, since every bank offers them and the protection that comes with credit cards makes them a prime payment solution.
At Betsson, you will be able to utilize Visa, MasterCard and Maestro to deposit to your balance. The minimum deposit starts at €10 and there is a 2.5% transaction fee on each payment. As far as withdrawals are concerned, you can cash in a minimum of €20 only via a Visa card.
eWallets
Another top-tier payment method in the online gambling industry comes in the form of an eWallet. These services act much like a bank account, allowing you to store and move funds at your convenience. The primary reason why they are in such demand is that an eWallet payment solution allows for instant deposits and some of the fastest withdrawals in the industry. Furthermore, they also protect your privacy to a certain extent, since no information is shown to the sportsbook at any time.
Betsson supports a few eWallets, namely Skrill, Neteller and EntroPay. The minimum deposit is €10 across the board, though EntroPay transactions come with a fee of 2.5%. In the case of withdrawals, you will have your money within a few hours once the sportsbook sends the payment. All three eWallets are capable of handling withdrawals and they start at €20 per transfer.
Prepaid Cards
Prepaid cards may not be as prominent as the other services on this list but that does not mean that they are without their uses. A prepaid method allows you to instantly deposit money to your balance and since you do not submit any personal information during the process, your privacy remains intact. Furthermore, they are quite convenient and are the perfect solution for casual gamblers. Unfortunately, you will not be able to cash in your winnings via a prepaid service and you will likely have to use a Bank Transfer to accomplish this.
At Betsson, you can deposit to your balance via two very popular services – Paysafecard and ecoPayz. The minimum deposit starts at €10 and there no service fee is charged.
Bank Transfers
Finally, we come to the classic way of making payments. Bank transfers are still quite popular for the purposes of online gambling, especially when transacting large amounts of money. Moreover, if you deposit in a way that does not allow for withdrawals, such as a prepaid card, then you can only cash in your funds via Bank Transfer. This payment method can be used for both deposits and withdrawals, though the only negative is the speed of the transactions. Depending on your location, it can take between 1 and 5 business days for a Bank Transfer to clear.
Bank Transfers can be used to fund your bankroll with the minimum deposit starting at €10. As for withdrawals, they can be issued at a minimum value of €20 or more.
Mobile Support
If you are the type of punter who likes to place bets while on the go then you will be pleased to know that Betsson supports a fully fledged mobile user interface. Betsson is one of the few gambling websites that offer dedicated applications for mobile devices, available on iOS and Android. The iOS app can be downloaded directly from the Apple Store with ease. The Android version is a bit more complicated since you will have to manually download and run the installation file. This is done due to the fact that Google does not accept real-money betting apps on the Play Store platform. Despite that, Betsson offers detailed instructions on how to install the application without problems, which anyone can easily follow.
Alternatively, the mobile version of the sportsbook is easily accessible from any smartphone or tablet simply by loading the Betsson website in the device's browser.
As far as functionality is concerned, you will have no issues exploiting the website to its full potential. Despite the smaller form factor, the mobile version of Betsson retains all of the functionality of its desktop counterpart. The mobile interface is set to scale with the size of any display, thereby allowing everyone to make great use of the website. You will still have access to all of the betting markets, all of the available promotions, the full range of banking methods, customer support and just about anything else that Betsson has to offer. In short, the mobile experience is just as good as any that you can have on a desktop computer.
Licensing and Jurisdictions
With online gambling still being considered a shady business by some, this is not the case when Betsson is concerned. The way to be sure of that is to look at the licensing acquired by the operator. As of this writing, Betsson sports licenses issued by the Malta Gaming Authority and the United Kingdom Gambling Commission, two of the most respected regulatory institutions out there. What this means for us, as users, is that we can be sure of Betsson's good conduct. To acquire a gambling licensing from both the MGA and the UKGC is no easy task and to do so is only indicative of the operator's legitimacy. Essentially, you can safely place bets at Betsson and never have to worry about being cheated or your personal information becoming compromised. Moreover, if you have a complaint about something you can always submit it to either institutions and they will have the final say in the matter.
Despite the excellent licensing, you will not be able to place bets at Betsson if you are located in either of the following jurisdictions: Afghanistan, Algeria, Angola, Australia, Austria, Bahrain, Belgium, China, Cuba, Czech Republic, Denmark, Eritrea, Estonia, Ethiopia, France, Georgia, Greece, Hong Kong, Indonesia, Jordan, Iran, Iraq, Italy, Kuwait, Libya, Lithuania, Malaysia, Mauritania, Mauritius, Morocco, Norfolk Island, N. Korea, Oman, Pakistan, Portugal, Qatar, Rwanda, Saudi Arabia, Slovenia, Sudan, Somalia, South Sudan, Spain, Syria, Turkey, Tunisia, UAE, Yemen, United States, Am. Samoa, Guam, Marshall Islands, N. Mariana Islands, Puerto Rico, and the Virgin Islands. If it so happens that you are a resident of a country on this list then be sure to check out another of the excellent sportsbooks that we have covered on this platform.
Customer Support
In the event that something does not go the way you expect, then you can always turn to the customer support team of Betsson to resolve your issues. The support staff at Betsson work around the clock to ensure that everyone has a pleasant experience with the sportsbook and will seek to resolve all problems as soon as possible.
Punters will have several methods of contacting the support team. Live chat is the most convenient of the available types and it will allow you to establish contact within a few seconds. The system gives you the opportunity to talk with a Betsson representative one-on-one. Alternatively, you also have the option of sending an email to the support staff. Betsson is usually much quicker than most other gambling websites when it comes to email correspondence. You can expect a response within the next hour on the email you provided.
The third and final method is to request a call back from the support staff. They will usually reach out to you after no more than an hour and you can discuss your issues at length.
Conclusion
Betsson is one of the best sportsbooks that you will have the fortune to come across on the Internet. At this gambling website, you will be treated to the full sports betting package. The Welcome Bonus is one of the more generous that you will be able to claim when compared with other similar websites. Moreover, those funds will go a long way if you manage to meet the turnover requirement. The betting markets are quite diverse and you will be able to place wagers on a variety of sporting events, giving you a lot of options along the way. Furthermore, the numerous banking methods will ensure that you can easily control your bankroll, regardless of which payment solution you choose to use. When all is said and done, Betsson represents everything that an online gambling website should strive to be. We are sure that you will have an excellent sports betting experience and we recommend that you give it a shot.