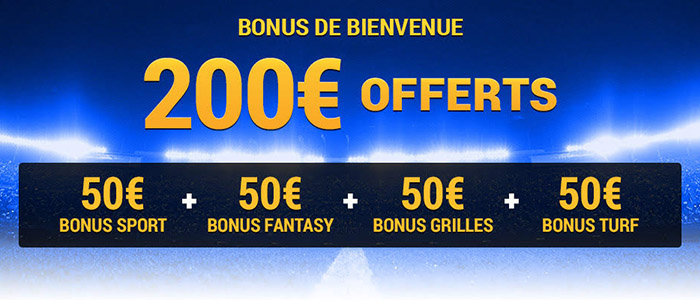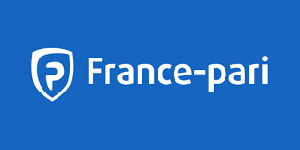 France-pari is a wonderful online bookmaker which has made sure that French punters will not miss any major sporting event and the chance to bet on it. Among the betting markets at the virtual sportsbook, you will notice that there are numerous sports on which you can place a bet. You will have the chance all the typical bets that are common for sports betting. In-Play is not an option you can make use of at this sportsbook but it offers live statistics of games that are currently played and you can still make bets as the game is being played. These will allow you to keep track of the results and decide on the best betting option.
Members of France-pari have the chance to enjoy a lucrative betting experience thanks to the promotions of the sportsbook. It is worth to check regularly the offers of France-pari as the betting site is updating its promotions weekly and makes sure the punters can make the most out of their betting time. One of the best things about France-pari is that punters can make bets even on the go thanks to the mobile application of the sportsbook.
Betting Markets
When you load the website of France-pari, you will notice that the current popular sporting events can be easily seen as the top betting markets. Additionally, punters will have the opportunity to bet on different sports that they find fun and like to follow.
Like a big part of Europe, France is also intrigued by European football which is why it is one of the popular betting markets at France-pari. Fans of football will have the chance to bet on games from major leagues such as League 1 Conforama, Champions League, Europa League, Bundesliga, World Cup and many more football events.
Members of France-pari will also have the chance to enjoy betting on tennis games. This is another popular sport among Fench punters and France-pari is offering some of the best odds on major tennis tournaments. Bettors will be able to make bets on games from ATP – Grand Slam, ATP – 250, WTA – Grand Slam, Fed Cup, Davis Cup and other grand tennis events from all over the world.
Another sport that offers a wide range of betting options at France-pari is basketball. Since there are many fans of the game, this sportsbook also offers quite a few betting options on basketball. Those who enjoy the sport will be able to bet on games from leagues such as the NBA, NCAA, NBL, EuroBasket, FIBA World Cup and others.
Another betting market that offers quite a few bets is rugby. Those who really enjoy the sport will have plenty of opportunities to bet on the team they pick as a winner. Members of France-pari will have the chance to bet on games from the top-tier professional rugby league Super League. It is also possible to bet on Australia' National Rugby League which is favorite to many bettors across the world. Rugby fans will also be able to make wagers on 6 Nations Tournament, World Cup, Champions Cup and other games from big rugby events.
Volleyball is also another sport that many punters enjoy which is why members of France-pari will have quite a few volleyball events to bet on. If you love this sport, you will find some of the best odds on games from leagues such as League of Nations and Silver European League. During the summer, beach volley is also popular among French bettors. This is why patrons of this sportsbook will be able to bet on Beach Volley World Championships and enjoy a great betting time at France-pari.
While there are numerous betting features one can enjoy at France-pari, it is a bit disappointing that there is no In-Play betting. Bettors will not be able to make bets as different games are played live. Instead, they will be able to keep track of scores and statistics which are changing in real time as the games are being played.
Promotions and Bonuses
One of the great things about France-pari is the fact that the sportsbook offers many bountiful bonuses that can make the betting experience of any punter more rewarding. French punters who have newly joined the sportsbook may receive a wonderful bonus of up to €200 that they can enjoy. This promotion is available only to residents of France who have newly opened an account at the online sportsbook.
The €200 bonus is divided into 4 different bonuses, each of which will be up to €50 on sports, Fantasy League, grid bets and horse racing. Whenever you make your first deposit at France-pari and make your first sports bet, you will receive a freebet bonus up to €50 if your bet is lost. This applies to your first bet, no matter whether it is a single or parlay bet. The bonus you will receive will be the same as your eligible bet but it will be with a set maximum of €50. The freebet can be used only for betting purposes and bettors will be able to withdraw only the winnings they have accumulated thanks to the freebet. Bettors must keep in mind that they are allowed to use their freebets only on odds of 1.10 or greater. The freebets must be used within 7 days, otherwise, they will expire and will be removed from your account.
If bettors place a bet on Fantasy League within the 30 days after opening their France-pari account, they will receive a refund up to €50. Prior to that, however, punters will have to contact the support team in order to verify their account. The amount of the refund will be 25% of their eligible bets within the promotional period. This is also a bet-only bonus which cannot be cashed out. The same type of offer also applies on the grid bets that new bettors have made during the period of 30 days after registering at France-pari.
The last part of the Welcome Bonus is given on bets on horse races. For staking €50 in the 30 days that follow their registration, new punters will receive €5 in freebets. If they bet €150 during the same promotional period, they will also enjoy a bonus of €5. Lastly, bettors will receive 15% freebet bonus of up to €40 on their cumulative horse racing bets they have placed for the 30 days after they have opened their account. These bonuses must be used within 15 days after they have been credited to your account. You cannot cash out this type of bonus but you can withdraw the winnings that have been accumulated thanks to it.
France-pari is also offering special promotions for on-going major sporting events. This is why it is beneficial to regularly check the deals of the sportsbook as it may make your betting time much more lucrative.
Banking
Punters will have no issue managing their deposits and withdrawals at France-pari. The web-based sportsbook allows its patrons to use several fast, simple and secure payment solutions. All of the deposits at France-pari are free of charge and you can make one withdrawal per week without paying any fees. If you initiate more than one cashout per week, you will have to pay a surcharge of 5%. There is a minimum of €20 for your first deposit at the sportsbook while the following deposits have to be at least €10.
Credit Cards
Punters will be able to top up their betting account by the means of credit cards. They can utilize cards powered by Visa and Mastercard and upload funds to their balance instantly. If you are planning on funding your sportsbook account via your credit card, you can choose to automatically save your card details when you are making your first deposit. This will allow you to simply pick this method for your following payments and spare yourself the inconvenience of providing the same details all over again.
E-wallets
Another very convenient payment solution that members of France-pari will be able to utilize is an e-wallet. Bettors can use digital wallets by PayPal, Paylib, Skrill or Neteller when they wish to manage their betting funds at the sportsbook. This payment solution allows instant deposits which are extremely secure thanks to the fact that punters do not have to provide any card or bank account details in order to pay.
Prepaid Cards and Vouchers
Another very convenient payment option that punters can use at France-pari is depositing via a prepaid card or voucher. Members of the sportsbook can use the service of paysafecard, Moneyclic, Tickets Premium to top up their betting balance. Prepaid cards allow you to remain completely anonymous while you upload money to your bookie account. What is more, this payment solution guarantees instant deposits which will allow you to make your bets right away.
Bank Transfer
While bank transfer may not be the fastest way to top up your betting account, it is the only way that you will be able to cash out your winnings. After you request a withdrawal, you will have to provide your personal bank account details. The sportsbook will process your withdrawal request within 48 hours and it will take between 3 to 5 business days to receive your money.
Licensing and Restricted Countries
There is no doubt that France-pari is one of the most trustworthy betting sites for French punters. The sportsbook was one of the first ones that have received a license by the French Online Gaming Regulatory Authority. This proves that bettors can trust that France-pari will provide a safe and fair betting for its patrons.
In addition to being a strictly regulated sportsbook, France-pari is also working hard to prevent underage gambling. This is why individuals who are not 18 years of age or older will not be able to open an account at France-pari and make real-money bets. In addition to that, bettors must refrain from creating a profile at the sportsbook and make bets if they are residing in restricted territories. Currently, you will not be allowed to join France-pari if you reside in Afghanistan, Belgium, China, Ivory Coast, Denmark, Spain, The United States, Iraq, Iran, Israel, Italy, Malaysia, the Netherlands, Russia, Singapore, Sudan, Switzerland, Syria, Thailand, Turkey.
Mobile Support
As more and more people are doing everything with a few taps on their smartphones, France-pari has also decided to allow its members mobile betting. In order to ensure a smooth and exciting experience for punters, France-pari offers a dedicated app for both Android and iOS users. This will allow any bettor to quickly access their betting account and make real-money bets on the go.
Since Google Play has a strong policy against real-money wagering applications, Android users will have to head to the official website of France-pari in order to download the sportsbook app. If you are using an iPhone or iPad, you will be able to find the app at Apple's App Store. You can download it from there or you can also choose to download it from the official website of France-pari.
Installing the app of the sportsbook will provide several perks that many bettors will appreciate. If you are a new member of France-pari who has registered via a mobile device, you will still be eligible to receive a €200 Welcome Bonus. You will also have access to all of the betting markets that France-pari is offering and a live tracker with some live statistics.
Mobile punters will have access to all of the promotions and challenges that France-pari is offering. This will allow you to enjoy the same lucrative and fun betting on the go, as you would on your computer.
In order to allow its patrons easy navigation, the sportsbook app has listed all of the available betting markets in a section that can easily be opened with a single tap on the menu button at the top left corner of the screen. With its user-friendly look, the app also offers easy access to one's account. This also includes bettors' cashier pages which will enable bettors to manage their funds with ease. You can top up your sportsbook account instantly or initiate a withdrawal even if you are betting on the go.
Whenever punters have some questions about their mobile betting, they will be able to contact the support agents via the app. This will help bettors to solve any issue quickly and enjoy their betting on the go any time they wish.
Customer Support
It is not something unusual to have some questions about your profile, payments or overall betting at France-pari. Usually, those are common questions that many bettors are having and their answers can be found at the FAQ section of the sportsbook. If you head to that page, you will be able to find information for many issues that may concern you.
If you have any additional questions, you can rely on the support team of France-pari. You can fill out the question form that is available on the official website of the bookie. Alternatively, you can also send your queries at support@france-pari.fr and the support team will return a reply in a timely manner. Members of France-pari will also be able to contact the agents of the online sportsbook by dialing 0 800 009 676. This will allow them to speak directly to the representatives of the website and resolve any issue in no time.
Conclusion
French bettors have the opportunity to enjoy extremely fun, lucrative and safe online sports betting at France-pari. This interactive sportsbook provides some of the best odds on numerous big sporting events. No matter which your favorite sport is, you will have the chance to bet on the teams and players you support.
Thanks to the various promotions of France-pari, punters have the opportunity to improve their winning chances and enjoy a very fruitful experience. The online sportsbook is updating its offers weekly which means that bettors can enjoy new promotions and participate in new challenges every week.
Even those who are constantly on the move will be able to enjoy a top-notch betting experience thanks to the mobile app of France-pari. It will allow you to make numerous sports bets no matter where you are.