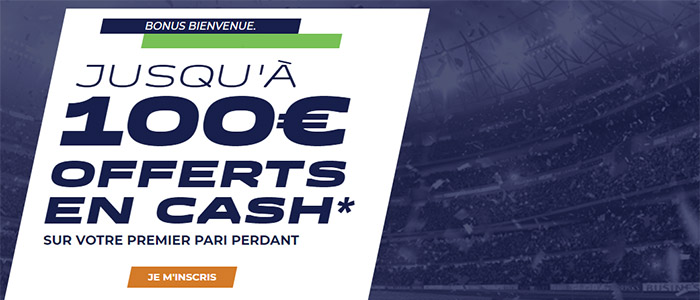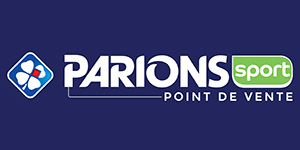 Parions Sport Online is a French online sportsbook that offers odds on a wide selection of sports and on the biggest domestic and international competitions. Launched in 2010, it has become a favorite betting destination for French sports fans as it promises generous bonuses, regular promotions, and excellent customer support.
Currently, there are many brick-and-mortar and online bookmakers French bettors can choose from and while some of them have a somewhat questionable reputation, Parions Sport is a safe bet for everyone who wants to wager on their favorite team. It is the sports betting site of France's FDJ (Française des Jeux), the state-run operator of the French national lottery and the title sponsor of the FDJ cycling team. Fully licensed and regulated in France, the sportsbook is not available to bettors based in other countries.
The betting platform offers odds on more than twenty different sports, as well as live betting, sports news, analysis, and betting tips. The site uses the Advanced Betting Platform and the proprietary software by FDJ Gaming Solutions, a London-based betting software developer previously known as LVS, which was acquired by FDJ in 2010. As a result, French bettors are offered a user-friendly interface, a convenient cashier system, and a French-language sportsbook site that can be instantly accessed from any computer or mobile device.
Betting Markets
As Parions Sport is a French sportsbook for French bettors, it is available only in French and it accepts only Euro, while the odds are displayed as decimals. This is the standard odds format for France and for Europe, as a whole, and it represents the ratio of the full payout to the stake. When we have odds of 2.00, for instance, this is an even bet.
The online sportsbook also puts a heavy focus on sports that are popular in France. Soccer, or simply football as it is known in France and across Europe, is the most played and most followed sport in the country. Of course, it is the most popular sport for bettors, as well, and Parions Sport provides extensive coverage, offering odds on all domestic tournaments, including League 1, Coupe de France, and Trophée des Champions, as well as bets on European and international cups and championships. Punters can bet on the FIFA World Cup, UEFA Europa League, the Champions League, Copa America, Africa Cup of Nations, and more.
Cycling is also incredibly popular in France and Tour de France is widely considered one of the biggest and most prestigious cycling tournaments around the world. Of course, bettors here can wager on the other Grand Tours, as well – Giro d'Italia and Vuelta a España, and on other national and international competitions such as the UCI tours (Union Cycliste Internationale), which are the largest and most important cycling tours in the world.
This may come as a surprise to some bettors but rugby is also quite popular in France. In fact, the French have some of the best rugby teams in Europe and the sport is widely practiced and followed in France. Betting on it is also available at most sportsbooks, including at Parions Sport. The site offers odds on Super Rugby matches, France's Top 14, or the Rugby World Cup.
Another sport that is widely followed by the French audience is tennis, so bets on tennis events and tournaments are also offered by the sportsbook. After all, one of the four Grand Slam tournaments, Roland-Garros (or the French Open) is held in France every year. The online sportsbook also covers the other major tournaments, along with the Davis Cup, the FED Cup, etc.
Parions Sport offers bets on many other sports, including basketball, volleyball, baseball, American football, golf, auto and motor racing, handball, boxing, hockey, athletics, badminton, Alpine skiing, table tennis, biathlon, water polo, and beach volleyball. In addition, the sportsbook covers betting on pétanque, an outdoor sport consisting of throwing balls towards a target ball, called cochonnet. As this sport is played mostly in France, bettors around the world are not familiar with it and Parions Sport is actually one of the few online sportsbooks to offer bets on pétanque.
Promotions and Bonuses
The French online sportsbook offers a nice range of bonuses and promotions, most of which run for a limited time. Compared to the welcome offers at other betting sites, its sign-up bonus is quite generous – Parions Sport welcomes new members with a cashback bonus of up to €100. To receive it, bettors first need to create an FDJ account on the Parions Sports website. Those with an active account will not qualify for the sign-up bonus.
Welcome Bonus
Once registered, bettors need to provide the betting operator with a copy of a government-issued ID and IBAN in order to have their new accounts verified. Then, they need to make a real-money deposit and bet a minimum of €20 on a match or other sports event that takes place within the following 30 days. If their bet loses, the bookmaker will refund them with an 80% match bonus on their lost bet within 7 days. The maximum bonus amount is €100 and it will be credited as wager-free cash. This means that bettors can instantly withdraw their bonus or use it to make more bets.
Combi Boosté
This is quite a generous promotion for all bettors who believe they can correctly predict the outcomes of at least 4 sports events. It is called Combi Boosté, which can be explained best as a parlay boost – punters who win 4 or more bets within the same coupon are eligible for bonus winnings of up to 50%.
To qualify for this bonus, you need to select a combination of at least 4 bets, eligible for the promotion – the eligible ones are displayed with the Combi Boosté lightning sign. The more bets you include in your coupon, the bigger the boost you will receive. If you win 4 bets, you will get 5% more winnings, while for 14 winning bets or more, you will be granted a 50% bonus on your winnings.
Banking
As Parions Sport is a French sportsbook, the only currency it works with is Euro (EUR). In order to place real-money wagers, customers need to make a deposit into their FDJ online account by signing in and opening the cashier section of the website. After they choose the method of payment and the amount they wish to deposit, they need to confirm the transaction and the funds will be transferred to their betting account immediately.
Payments here are free of charge but customers may want to check their bank or credit card issuer for some additional fees. Several payment options are available at the online sportsbook, the most popular of which is depositing via credit or debit cards. Mastercard and Visa cards are among the accepted ones.
Parions Sport members can also fund their balances via the popular e-wallet PayPal, which allows instant financial transfers to and from thousands of online merchants. It requires registration and users can easily link it with a credit card, bank account, or some other payment method and once they load their e-wallet with funds, they can make easy and secure payments at betting sites. Of course, PayPal deposits are also instant.
The prepaid payment service Paysafecard is also a great alternative for those sports betting fans who simply do not want to use their credit or debit card for betting. Customers can purchase prepaid vouchers from thousands of land-based stores, gas stations, and other locations. Virtual Paysafecard vouchers are also available online. To use the virtual or physical prepaid card, users need to enter its 16-digit PIN. Paysafecard deposits appear within a minute or two in your Parions Sport/FDJ account.
However, withdrawals are processed only to customers' bank accounts – the sportsbook does not pay out winnings to credit cards or e-wallets. This is why bettors are required to provide their RIB/IBAN. Bank transfers usually take 2 to 5 business days to complete and the standard bank fees will apply. Sportsbook users need to remember that while the minimum deposit into Parions Sport is €5, withdrawals can be processed from €50. The maximum deposit and withdrawal amounts vary, depending on the preferred payment method and the individual user account at FDJ.
Mobile Support
An online sportsbook is a great option for betting from your computer but more and more people are switching to mobile gambling and betting. This way, they can bring their favorite sportsbooks with them at all time and wherever they go. To provide their customers with convenience and flexibility, the betting operators from Française des Jeux have developed a native application for sports betting.
The Parions Sport En Ligne app, which simply means Parions Sport Online, is available for iOS and Android devices and can be downloaded for free from the App Store and Google Play. It comes with a smooth, compact design, user-friendly interface and great features such as a simplified Bet Slip, a Quick Bet option, and more. Bettors who decide to access the sportsbook from their mobile devices can easily sign up, make a deposit, and claim their bonus. All promotions from the desktop version of the betting platform are available, so users can receive winnings boost for their successful parlay bets, various free bets, as well as the Welcome Bonus.
In addition, they have access to the full selection of sports and bet types that they would typically find at the Parions Sport website. In-play betting is available on multiple sports, as well, including on soccer, tennis, basketball, rugby, baseball, and many more. In fact, the design of the app was recently simplified for easy tracking of live scores and optimizing the betting service.
Licensing and Restricted Countries
Parions Sport is fully owned and operated by the state-run company Française des Jeux (FDJ), which is licensed to offer its sports betting, bingo, and lottery products in France. The website is, as you can expect, legitimate and safe to play at, guaranteeing its customers fair play and high levels of online security at all times by employing digital encryption.
The FDJ holds a betting license from the French Autorité de Régulation des Jeux En Ligne, typically referred to as ARJEL. This is France's independent licensing and regulatory body for the gambling and betting industry, which ensures the safety and fairness of gambling operations and provides consumer protection. This means, however, that the Parions Sport website and mobile apps can be used only by residents of France and Monaco.
Customer Support
The Parions Sport website is designed with convenience and simplicity in mind and finding information here takes just a few clicks. Customers here can take advantage of the betting guides on various sports, betting tips, and the general wagering rules set by FDJ and the regulator. Of course, both the website and customer support are available only in French.
Sportsbook users who want to contact the support agents can instantly reach them via Live Chat or call the toll-free number 0 969 36 60 60. The phone service, however, is available from Monday to Saturday from 9:00 to 21:00 local time and on holidays from 14:00 to 18:00. If you need assistance, you can also use the contact form, displayed on the Contact and FAQ (Frequently Asked Questions) pages. In addition, the operator also offers customer support service for hearing impaired individuals from Monday through Friday (9:00-19:00h) and on Saturday (9:00-12:00h).
Conclusion
Being the online betting platform of the FDJ, Parions Sport is a great option for all sports betting fans based in France. It is fully licensed, legitimate and safe, and dedicated to providing fairness and transparency. With its markets coverage, primary language, and payments in Euro, it caters to French bettors. More importantly, the online sportsbook offers great odds on a wide range of sports and in-play betting on the biggest domestic and international tournaments.
Betting fans need to carefully weigh in all the pros and cons of the platform, however, because Parions Sport comes with its disadvantages, too. First of all, it accepts customers only from France and Monaco and the website is available only in French. In addition, users need to go through a verification process upon registration, which may take a few days. They are required to send a copy of their ID with a current photo such as a passport, an ID card or a driving license.