Money talks: The profit made from the 10 most expensive summer signings
Like most sports nowadays, football is business-oriented. With sky-high transfer fees and unbelievable salary packages, the financial aspect has become the main part of the sport. This week, SportingPedia crew decided to analyse the last transfer window's 10 most expensive transfers (actually 11, as fellow Brazilians Raphina and Richarlison cost the same amount).
We took into account the price change of each player and compared the fee paid by their previous team to the fee paid by their current one. It comes as no surprise that the majority of the most expensive footballers saw their value increase dramatically, as was the case with Casemiro's recent move to Manchester United for over 9 times of what Real Madrid paid for him back in time.
Key Takeaways:
Casemiro has seen a price increase of 942% between his last 2 transfers and Real Madrid's profit rose by 842%
Only one player has seen his price drop since the previous move
Marc Cucurella has gained the biggest increase in value in the shortest period of time – €47 million for 12 months with Brighton
Antony has had the greatest price increase, with Ajax receiving €79.25 million on top of what they spent for the Brazilian two years ago
Four of the 11 most expensive players this summer originate from Brazil
Only one of the players on the list is over the age of 30, while all of the others are 25 or younger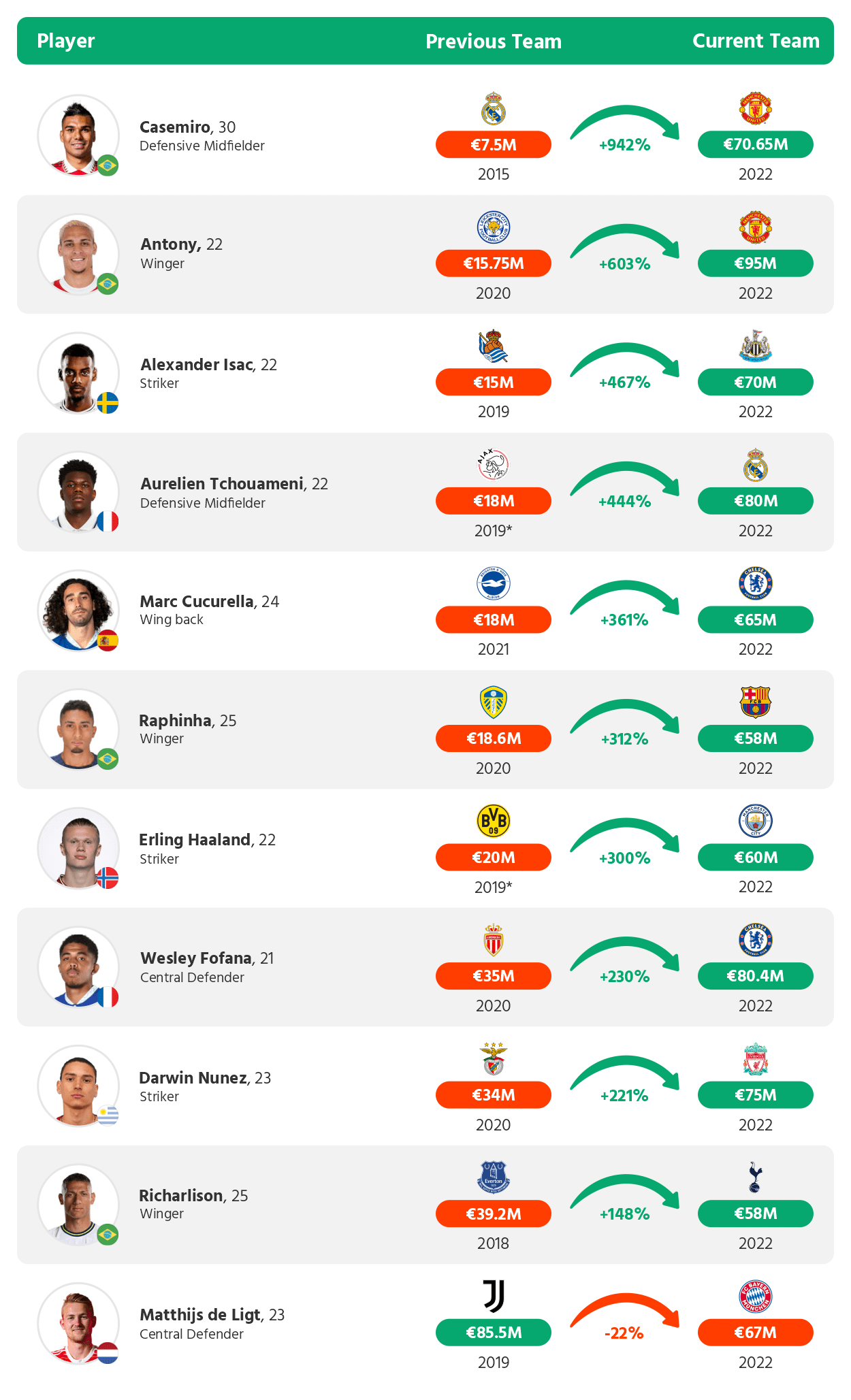 Antony's transfer from Ajax to Manchester United was undoubtedly the most talked-about of the summer transactions. Casemiro's choice to leave Champions League winners Real Madrid and join Europa League participants Manchester United, on the other hand, was the most shocking, at least to our team at SportingPedia. The Brazilian winger is the oldest of the 11 players on the list, at 30 years old. Casemiro also had spent the longest time with his last club before leaving – 7 years.
On the other hand, before joining Chelsea, Marc Cucurella spent only one full season with Brighton. It was interesting to discover that the Seagulls generated a profit of €47 million while having Cucurella within their ranks for just 12 months.
In terms of percentage growth, no one comes close to Casemiro, who joined Real Madrid for as little as €7.5 million in the summer of 2015. Casemiro steadily progressed during his stay at Real Madrid, until being transferred for whopping €70.65 million this summer, a transfer price that represented an 942% increase (842% profit) over his previous transfer fee.
Antony's move was the most costly one of the summer, and it also saw the biggest difference between the previous and current transfers of the 11 footballers in the poll. The crafty Brazilian's stocks skyrocketed over his two years with Ajax. In 2020, the Amsterdam football club paid €15.75 million for him, and just 24 months later, sold him for €95 million. Below, we take a more in-depth look at each of the 11 players and their respective career paths.
Casemiro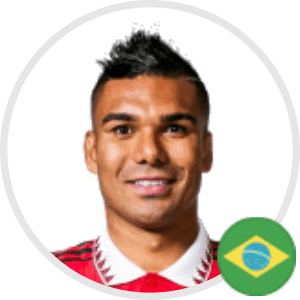 The Brazilian is the oldest, most-awarded, and has seen his price grow the most since the previous transfer. Casemiro is a product of the youth football program in Sao Paulo. He spent three years with the club until joining Real Madrid in 2013. Prior to becoming a first-team regular, he played for Los Blancos' second squad and was initially traded to Porto. Real opted to activate a €7.5 million buy-back option after a great year with the Dragons. Casemiro wore the legendary White shirt in 336 appearances in all competitions and won every possible club accolade in football before deciding to join Manchester United this summer.
Real Madrid Profit: 842%; Period between transfers: 84 months
Antony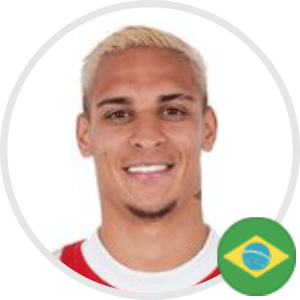 The winger spent only one full season with his parent club Sao Paulo, appearing in 37 games and contributing four goals and six assists before being signed by Ajax for a price of €15.75 million in the summer of 2020. Antony spent two years at the Amsterdam and established himself as a consistent danger on the right side of the team's offense. He appeared in a total of 82 games, scoring 24 goals and assisting on another 22.
Ajax Profit: 503%; Period between transfers: 24 months
Alexander Isac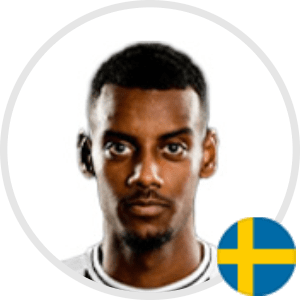 Despite being only 22 years old, Alexander Isac has already played in the top divisions of his home country of Sweden, as well as in Germany, the Netherlands, Spain, and now England. Isac began his career with AIK, but he was shortly snatched up by Borussia Dortmund. He was unable to establish himself as a starter at BVB, and Real Sociedad approached him in the summer of 2019. The Spaniards spent €15 million for the then-19-year-old and managed to generate a sustential profit after three seasons.
Real Sociedad Profit: 367%; Period between transfers: 36 months
Aurelien Tchouameni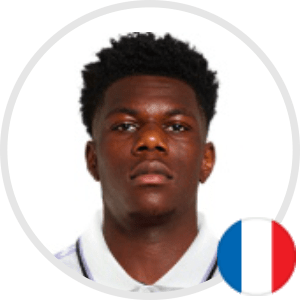 Tchouameni rose through the levels of the Bordeuax academy before making his first-team debut in the 2018/2019 season. He didn't even stay for two complete seasons with the club before being tempted away by Monaco in January 2020 for as little as €18 million. Tchouameni's status rose in the UK as a result of good midfield performances, and he established himself as a full-time international with the French squad.
Monaco Profit: 344%; Period between transfers: 30 months
Marc Cucurella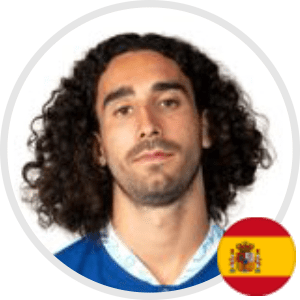 Marc Cucurella is the only one among the ten most expensive summer 2022 signings who has spent only one season with his former team. He is a product of Barcelona's famous academy, but was never given a chance and made only one appearance for the club's senior squad. The player was loaned out several times until Getafe opted to sign him on a permanent deal in 2020, spending 11.8 million euros for the promising left defender. Only one season was enough to persuade Brighton to sign him for €18 million and bring him to the Premier League. After Cucurella appeared in 38 games of the Seagulls, Chelsea paid €65 million for his performance, making him the 2nd most expensive winger back in history.
Brighton Profit: 261%; Period between transfers: 12 months
Raphinha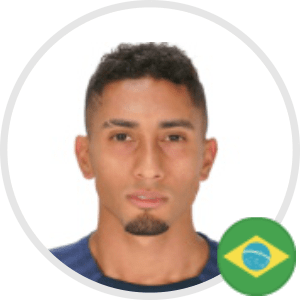 Raphinha is a product of Avei's youth program in his homeland of Brazil, but he was never given a chance to develop his skills there and moved to Europe at a young age. In the 2015/2016 season, he made his professional debut as a substitute for Vitoria Guimaraes. Then, in 2019, Raphina spent a year playing with Sporting Lisbon before joining Rennes in the French Ligue 1. The sneaky Brazilian went for another move after one more season, this time to Leeds, who paid €18.60 million for his performance. In the English Premier League, Raphinha established himself as a genuine offensive danger, scoring 17 goals and providing 12 assists over the course of two years and 67 appearances.
Leeds Profit: 212%; Period between transfers: 24 months
Erling Haaland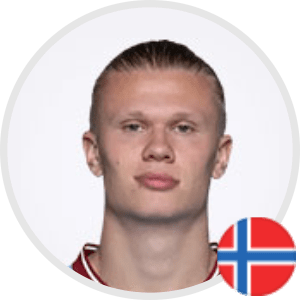 The towering Norwegian stole the headlines since his arrival at Manchester City. Haaland rose through the ranks at Bryne FK before being signed by Molde at a young age. There, he made 50 professional appearances and scored 20 goals, which convinced Red Bull Salzburg to buy the then-promising striker for under €8 million in January 2019. Haaland wasted little time, scoring 29 goals in only 27 games before joining Borussia Dortmund. This transfer occured 12 months later for the unbelievably low €20 million, but this was due to Haaland's agents insisting on a low release clause being included in the contract. Manchester City reaped the most benefits from the situation, as they pulled the trigger and exercised the clause, purchasing the tall striker for only €60 million. Haaland played 30 months with the German club, scoring 86 goals in 89 appearances.
Borussia Dortmund Profit: 200% Period between transfers: 30 months
Wesley Fofana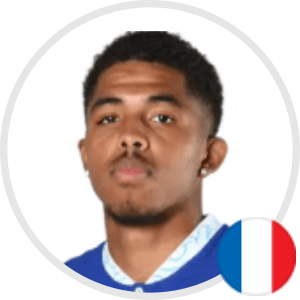 The French central defender joined Chelsea in the final days of the summer transfer window from Leicester. Despite being extremely young, the player has already moved twice in his career. Fofana joined Leicester in the summer of 2020 after graduating from Saint Ettiene's junior academy. He appeared in 30 matches for the French team before going to England for €35 million. Fofana rose to prominence with strong performances at Leicester, where he appeared in 52 games over two seasons.
Leicester Profit: 130%; Period between transfers: 24 months
Darwin Nunez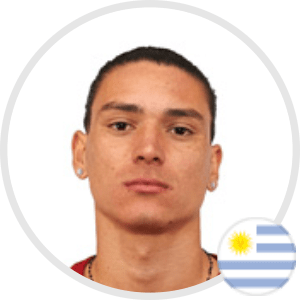 The Uruguayan made his professional debut as a substitute for Penarol in 2017. He only played 10 league games for his hometown club before joining Almeria in Spain's second divison football. There, Nunez only stayed for one season, scoring 16 goals in 32 appearances before moving to Benfica in a €34 million deal. Nunez had two seasons with the Eagles, tallying 48 goals and 16 assists in 85 games before being traded this summer to Liverpool for €75 million.
Benfica Profit: 121%; Period between transfers: 24 months
Richarlison
Tottenham's new #9 debuted with América Mineiro in his homeland of Brazil in 2015. He appeared in 24 games, scoring 9 goals in the second tier of local football. Fluminense recognized his quality and signed him in January of 2016. The forward lasted for a season and a half, appearing in 46 games, scoring 11 goals, and contributing 7 assists. Richarlison joined Watford for €12.4 million in the summer of 2017. Everton then paid €39.20 million for the Brazilian after one complete season. Richarlison had 152 appearances for the Toffees during a four-year period, scoring 53 goals.
Everton Profit: 48%; Period between transfers: 48 months
Matthijs de Ligt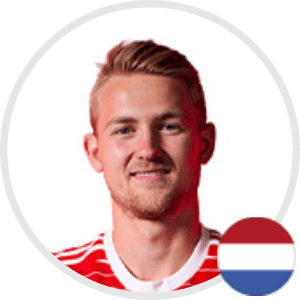 Matthijs de Ligt began his professional career at Ajax, where he made his senior debut during the 2016/2017 season. The defender stayed in Amsterdam until the summer of 2019, when he was sold to Juventus for €85.5 million. De Ligt played exactly 117 games for each of his former clubs, Ajax and Juventus, which is an odd coincidence.
The Dutchman's €67 million summer move to Bayern Munich makes him the only player on the list whose previous transfer was worth more than the latest one.
Juventus Net Loss: -22%; Period between transfers: 36 months