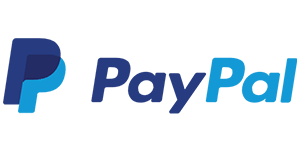 With nearly 250 million users all over the world, PayPal is one of the global leaders in electronic payments and a favorite choice for online betting. Its platform allows fast and safe money transfers between individuals and businesses over the Internet and is currently the most widely accepted digital payment method amongst merchants and business in North America.
PayPal was launched in 1998 in the United States as a money transfer service, known then as Confinity, but since its acquisition by eBay in 2002, it has grown to become one of the most commonly used payment systems in e-commerce. The company has evolved and changed over the years, adding more services to its product line but so far, its most popular service has remained its electronic wallet. With it, customers can send, receive and store money into a single online account.
Top 5 Betting Sites for PayPal
With the emergence of online betting and gambling sites, PayPal became available as a deposit method at hundreds of web-based casinos and sportsbooks. Today, it remains one of the most preferred payment solutions for sports bettors from all over the world. As it is accessible from all devices, it gives customers a convenient way to shop or bet online directly from their phone or tablet. Along with the comprehensive digital wallet, customers can take advantage of PayPal Credit, a digital credit line by PayPal, or opt for one of the several Mastercard-branded credit, debit, and prepaid cards.
It is important to note that not all PayPal products and services are available globally. Customers in the United States would not be able to use it at gambling and betting sites, with only a few exceptions (for betting on horse races and daily fantasy sports). Other than that, betting fans across Europe can rely on secure and fast deposits and withdrawals via PayPal at most of the largest betting platforms on the Internet.
How Does PayPal Function?
PayPal is widely known among customers as an e-wallet, but how does it function exactly? In this case, the payment system is a type of a payment rail, which means that both the payer and the payee in a financial transaction can be either an individual or a business, with both parties allowed to move funds in this network. For customers and online bettors, in particular, this essentially means that with the PayPal wallet, they can make both deposits and withdrawals from their sportsbook balances.
The method is currently accepted by more than 800,000 websites, including betting and gaming sites. It processes cross-country payments in multiple currencies, with low or no costs at all. It functions just like a physical wallet – in order to use it, customers need to register an account and fund their PayPal balance. The account can be linked with a banking/checking account, with another digital wallet, or with some other means of transferring electronic funds.
One of the biggest advantages of using PayPal is that bettors can top up their sportsbook balances easily and securely without having to share any sensitive information with the betting operator – credit card details, banking information, etc. Cashing out from a sportsbook account to the e-wallet is also quite straightforward and takes much less time than a withdrawal made through a typical wire transfer or via online banking.
Opening a PayPal Account
PayPal accounts are free and available to residents of more than 200 countries. In order to register, users need to open the PayPal website and choose a Personal or a Business Account. Once choosing a Personal Account, bettors would need to provide basic personal information in order to register – name, email address and password, physical address, a Zip Code, and a phone number. A verification code is sent to the user's phone and it is used on the website to verify the account.
The registration process takes a few minutes and the new account could be used for online shopping, paying bills, or betting on sports. To top up the PayPal wallet, however, users first need to link it with either credit/debit card or with a bank account. Transfers from bank accounts are free but funding the e-wallet via a credit or debit card comes at a fee of 2.9% of the transferred amount. Multiple cards and bank accounts can be registered and payments can be processed in 25 different currencies, depending on the user's country of residence.
PayPal App
PayPal offers several different mobile applications and while two of them are designed for business accounts, the PayPal: Mobile Cash app is for those who want to send and receive money, manage their e-wallet, and monitor their activity directly from their mobile device. The app is available for free download on the App Store and Google Play and once installed on the phone or tablet, users need to either log in or sign up a PayPal account.
The app is extremely convenient for easy transfers to and from the e-wallet. Any personal and transaction data is protected and kept private by a range of security measures such as digital encryption, fraud protection policies, fingerprint, and two-factor authentication, as well as a Face ID option. The mobile application can be used along with various other services from PayPal such as the credit and debit cards, the digital credit line (PayPal Credit), etc.
PayPal Cards
The company also offers a line of plastic Mastercard credit and debit cards to customers in the United States and several other jurisdictions. These include the two credit cards, PayPal Cashback Mastercard and PayPal Extras Mastercard, which allow users to earn either 2% Cashback or Reward Points on every purchase. The PayPal Prepaid Mastercard, on the other hand, allows customers to transfer funds from their e-wallet to the prepaid card and then, use them for online or in-store purchases or betting online.
The company's most popular type of card, however, is probably the PayPal Cash Mastercard, which functions as a debit card. It gives access to the funds in the PayPal account and allows users to make payments in-store or online, including in betting sites. Of course, ATM withdrawals are also available. Each of these cards come with various fees, so before applying, bettors should review all applicable fees and charges for their region.
Depositing to Your Sportsbook Balance
Deposits to sports betting sites via PayPal are fast, easy and quite straightforward, even for those who are using the e-wallet for the first time. In order to get started, however, bettors need to make sure that their preferred bookmaker accepts PayPal. Most of the largest European betting and gambling operators work with the e-wallet – bettors should know that PayPal is usually available only in countries where online and gambling operations are fully regulated and the bookmakers are properly licensed.
In order to make a deposit, bettors should simply open the Banking/Cashier page of the betting site and choose PayPal from the list of available deposit options. They will be redirected to PayPal where they will need to log in and specify the number of funds they wish to deposit. The transfer will be completed seconds after they confirm the payment. In fact, this is a standard processing time for most digital wallets – deposits are instant, easy and free of charge.
This is a great option for funding a sportsbook balance because it allows users to deposit as many times as they want – PayPal allows multiple transfers to be carried out every day. There are certain minimum and maximum limits to the amount that can be deposited via this e-wallet but they vary across different betting platforms. Usually, the minimum deposit amount is $5 or $10, while the maximum rarely exceeds $5,500 per transaction.
Withdrawing from Your Sportsbook Balance
One of the most important factors when choosing a good online betting platform is its choice of reliable and fast payout options. Many sportsbooks today offer PayPal for withdrawals but bettors should know that usually, sites would transfer their winnings to the same method already used for depositing. So, those who have made a PayPal deposit can be certain that the e-wallet would be available for withdrawing, as well.
In order to cash out via PayPal, punters should once again open the Cashier and choose it from the list of available options. They need to enter the exact amount of money they wish to withdraw from their sportsbook balance and log in, using their PayPal credentials. After confirming the transfer, it would be displayed as "Pending" on the sportsbook site. Usually, it takes 3 to 5 business days for the money to be transferred to the user's e-wallet, but some betting operators offer super fast withdrawals that take up to 24 hours. They also tend to keep the withdrawal request pending for at least 4 hours to allow the customer to cancel the transaction is needed.
Another thing to consider is the verification process that is required at most of the leading betting or gambling sites. Users are usually asked to provide their full personal information (copies of government-issued IDs, driver's license, or passport), along with some proof of their physical address. Typically, this includes a copy of a recent utility bill with their names and address on it. This verification of the bettor's identity should be complete within several days and it must be done only on the first withdrawal from the website.
These transactions also have certain limits and once again, they would depend on the specific sportsbook. Usually, the minimum withdrawal would be at least $10, while the maximum amount of money that can be cashed out could reach $10,000 or $15,000 per transfer.
Costs and Fees
Every payment service or processor charges some fees but bettors should know that there are two ways they could be charged for using PayPal on betting sites – by the betting operator or by PayPal itself. Many online sportsbooks would offer free withdrawals, but there are some sites that impose processing fees, usually up to 2.4% of the transferred amount.
Generally, PayPal charges no fees when it is used for depositing or withdrawing funds to or from gambling and betting sites. The logical question here is how, then, does the company make a profit – the answer is quite simple, it charges the retailer and not the individual. For this reason, some betting platforms choose not to offer PayPal. Still, many of them do as they recognize the popularity of this payment method, as well as the convenience it gives their customers.
When using PayPal, however, customers would still need to pay certain fees for some of its services. As mentioned above, the company charges you fees for funding the e-wallet through credit or debit cards (2.9%). Transferring funds from the PayPal account to a bank account is free of charge and usually takes up to 24 hours. Customers who wish to move their money quickly can also do it via a debit card – it is faster, but there is a fee of 1% of the transferred amount (max. fee $10). International transfers also come at a cost, which varies greatly, depending on the country of the recipient – from $0.99 to over $4.99 per transfer. There are also fixed fees for transferring funds in foreign currencies – US$0.30, £0.20, €0.35, etc.
Security and Privacy
Whether shopping or betting online, PayPal users can rest assured their financial information is kept private and secure – when carrying out transactions, the company does not share any sensitive data with the betting sites. This is essential since the digital wallet contains the customer's personal and full financial information such as credit card and banking account data.
PayPal has also taken certain technical security measures in order to guarantee that all transfers through its system are protected. One of them is sending confirmation emails to their customers for every payment to or from the e-wallet. Another measure is the PayPal Security Key, which gives customers a two-factor authentication when they are logging in to their accounts – they receive a unique, single-use PIN on their phones. This PIN code is then used along with the password to log in.
Of course, data encryption is one of the most important steps taken by the company in order to ensure the security of user data and transactions. Whether you log in/sign up from your computer or mobile device, the PayPal site makes sure that TLS 1.0 or higher is used and that the connection is HTTPS. These technologies provide secure communication over the Internet and reduce your susceptibility to attacks.
In addition, PayPal uses Key Pinning when the e-wallet is accessed from Android or iOS devices – this security feature makes sure that the user connects only to a true PayPal server and not to a site that tries to impersonate it. Moreover, the company also monitors transactions 24/7 and provides fraud prevention, dispute resolution, and Purchase Protection.
Advantages of PayPal
PayPal allows bettors to make instant deposits into their sportsbook balances at any time and as many times as they wish. The deposits are free of charge and completely secure, which applies to withdrawals, as well. Indeed, these are obvious advantages of using the e-wallet for betting online but there are more important factors that need to be taken into account.
First of all, PayPal is incredibly easy to use, widely available and convenient for much more than just depositing into online sportsbooks. For many bettors, who use the e-wallet for shopping online and making purchases on eBay, PayPal would be much more useful and familiar payment method than other digital wallets or even credit cards. The e-wallet provides the same levels of online security as the ones you could expect from banks and credit card issuers while being much easier to access to use.
Registration is free of charge, as are most PayPal transactions, and no credit checks are required in order to sign up for an account. The e-wallet is used in conjunction with existing credit/debit cards or bank accounts all over the world. It is available in 25 currencies and in more than 200 countries, which practically makes it the most widely accepted digital wallet in the world. In combination with the PayPal Mobile App and some of the PayPal cards, this payment method is a wonderful option for online bettors.
Disadvantages of PayPal
There are, of course, certain disadvantages when using PayPal for betting online. While deposits through it are instant, withdrawals from the user sportsbook balance to the PayPal account may take several days. Compared to other digital wallets, this is slower. Bettors should also take into account the fees they would need to pay if they plan on funding their e-wallet via a credit or debit card.
Another interesting fact is that while PayPal is available in most countries around the world, it cannot be used for gambling and betting everywhere. It prohibits transactions for gambling or betting activities in jurisdictions where gambling is illegal. Typically, the e-wallet can be found only in betting websites that are fully licensed and offer their services in regulated markets so many betting fans would not be able to make PayPal deposits.
The e-wallet supports gambling or betting-related transactions is Austria, Australia, Belgium, Denmark, Finland, France, Germany, Greece, Ireland, Italy, Portugal, Spain, Sweden, and the UK, as well as in Nevada and New Jersey. The countries that are currently not serviced by the company include Afghanistan, Bangladesh, Central African Republic, Democratic People's Republic of Korea (North Korea), Equatorial Guinea, Gabon, Ghana, Haiti, Iran, Iraq, Lebanon, Liberia, Libya, Myanmar, Pakistan, Paraguay, South Sudan, Sudan, Syria, Timor-Leste, and Uzbekistan.
Conclusion
As the first digital wallet in the world, PayPal certainly exceeds in several particular areas when compared to similar payment services. It is considered to be the safest option on the market right now – unlike its competitors, PayPal has implemented strict policies regarding identity verification and fraud prevention. It also partners up with only legitimate sports betting sites that are licensed and fully authorized to offer their services in particular jurisdictions.
Overall, PayPal is a modern, simple and convenient way to make deposits and withdraw your winnings from online sportsbooks. Compared to most payment methods, it comes with low fees or no fees at all for most types of transactions. Even though it is not offered at many betting and gambling sites, its simplicity and reliability make it one of the best payment solutions for bettors.