The football players with the highest combined transfer fees
In the summer of 2017 PSG made Neymar the most expensive footballer in the history of sport, forking out €222 million for his services. On Monday, August 14, 2023, the Brazilian wizard is scheduled to undergo the medical tests preceding his transfer from PSG to Al-Hilal. This would make him the latest star player to switch from Europe to the Saudi Arabia's football league. With a reported fee of €90 million, the Selecao star will now etch his name into the annals of football history as the first player to amass a cumulative transfer fee of €400 million. This prompted SportingPedia to compare the top 10 players who have generated the highest cumulative transfer fees in football.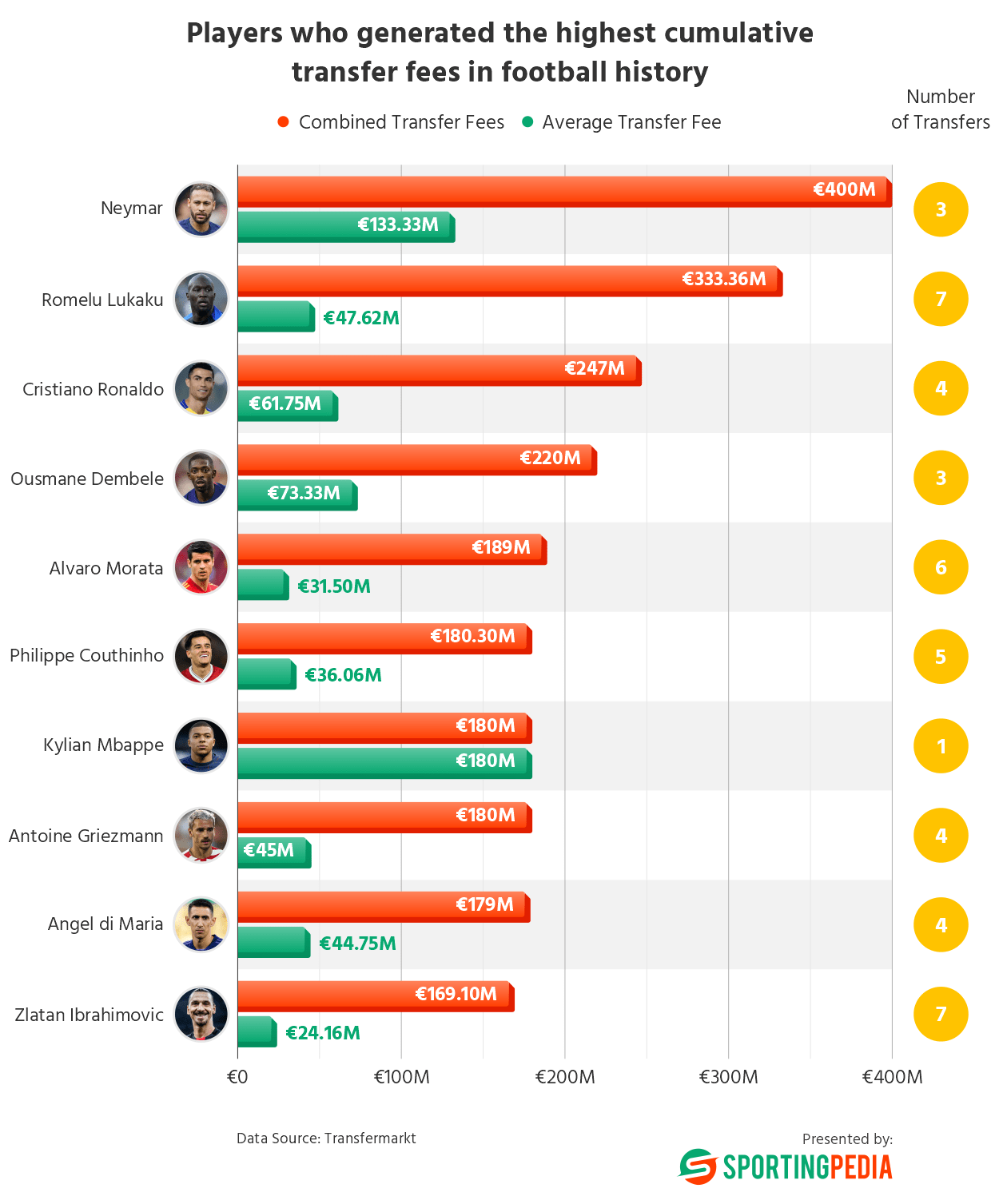 Neymar's journey through the world's football elite began with his initial transfer from Santos, his childhood club in Brazil, to the Spanish heavyweights Barcelona. The €88 million fee associated with it was a prelude to the exceptional valuations that would follow. This move marked his introduction to European football and laid the foundation for the subsequent series of high-profile transfers that would shape his legacy.
From Barcelona, Neymar made his now-legendary transfer to Paris Saint-Germain in the summer of 2017. It still remains the biggest single deal in the history of the sport. With his switch from PSG to Al-Hilal, Neymar will not only take a new step in his career but will also elevate himself to a new echelon of football lore.
#2 Romelu Lukaku: €333.36 million cumulative transfer fee from 7 transfers
The Belgian striker, Romelu Lukaku, finds himself in the midst of a gripping transfer saga. Initially, it was widely anticipated that he would make a triumphant return to Inter, possibly on loan. However, the unexpected emergence of local rivals Juventus as a potential destination threw Lukaku's preferred choice into disarray. The very mention of Juventus in connection with his transfer ignited passionate protests from both Inter and Juventus supporters. Amidst this turmoil, one thing remains uncertain: where will Lukaku ply his trade next season? His status as surplus to requirements at Chelsea further fuels speculation about his imminent destination.
#3 Cristiano Ronaldo: €247 million / 4 transfers
Securing the fourth position in the rankings is none other than Cristiano Ronaldo. The Portuguese maestro has amassed a remarkable total of 247 million euros in transfer fees over his illustrious career. Notably, his transfer to Al Nassr came as a free move, otherwise, CR7 would have ascended even higher in the list of high-fee transfers.
#4 Ousmane Dembele: €220 million / 3 transfers
The French winger exchanged the iconic colors of Barcelona for the vibrant hues of PSG this summer. Remarkably, Dembele stands among the three players in this report who underwent transfers during the recent summer window. After navigating through turbulent years at Barça, Dembele has embarked on a return to his homeland, where he will don the jersey of PSG once again.
#5 Alvaro Morata: €189 million / 6 transfers
The Spanish striker has woven a tapestry of footballing experiences that span giants of the sport. Commencing his professional career with Real Madrid, he embarked on a journey that led him to defend the colours of Juventus, Chelsea, and now Atletico Madrid. Morata's trajectory underscores his ability to thrive amidst the competitive atmospheres of these illustrious clubs.
#6 Philippe Coutinho: €180.3 million / 5 transfers
Philippe Coutinho's presence in the rankings is a testament to Barcelona's strategic decisions. When Neymar departed for Paris, Coutinho was envisioned as his heir apparent. However, this transition was marred by underwhelming performance during his tenure with the Catalan giants. Now, he finds himself gracing the pitch for Aston Villa, who secured his services for a small fraction of the €135 million fee paid by Barca.
#7 Kylian Mbappe: €180 million / 1 transfer
Kylian Mbappe stood on the precipice of potentially becoming the player with the highest cumulative transfer fees in football history. However, he opted to chart a different course this summer. Defying expectations, Mbappe chose to remain with PSG, eschewing moves to Real Madrid or even a lucrative Saudi Arabian venture. His decision underscores his commitment to his current club and his unique journey in the world of football.
#8 Antoine Griezmann: €180 million / 4 transfers
Antoine Griezmann's transfer saga is one of intriguing twists. Barcelona activated his release clause of €120 million euros in the summer of 2019, only to facilitate his unexpected return to Atletico Madrid on loan for a modest fee of €10 million two years later. Griezmann's subsequent permanent signing by Atletico Madrid, at a cost of €20 million, completes a cycle that saw him navigate the convoluted landscape of football transfers.
#9 Angel Di Maria: €179 million / 4 transfers
In a captivating reunion, Angel Di Maria found himself back in the colors of Benfica during this summer transfer window. Benfica holds a special place in Di Maria's journey as his first European team. The Argentine winger's career has traversed the landscapes of some of football's giants, including Real Madrid, Manchester United, PSG, and even Juventus. As Di Maria embarks on this new chapter with Benfica, it seems he is poised to conclude his career where it all began.
#10 Zlatan Ibrahimovic: €169.1 million / 7 transfers
The Swedish footballing icon stands as a unique presence on this ranking. Accumulating transfer fees totaling €169.1 million euros, his journey was a formidable one that spanned illustrious clubs across multiple countries. Despite his retirement this summer at the age of 41, Ibrahimovic's legacy remains indelible. His storied career featured spells with Ajax, Juventus, Inter, Barcelona, Milan, PSG, Manchester United, and LA Galaxy, painting a vibrant portrait of his impact on the global football stage.