The most successful coaches at the US Open in the last 30 years
With just a few days to go until the start of the 2023 US Open Tennis Championships on August 28, tension among tennis players and fans is mounting. However, few people think about the coaches at this stage. Perhaps this is a little unfair, as every great athlete needs a great coach to reach the top and stay there.
Our team at SportingPedia decided to take a deep look at the world's top tennis coaching fraternity and give due credit to those who have produced the US Open champions in the men's and women's singles in the last 30 years. We compiled a list of the most successful coaches at the US Open based on the number of titles won by their trainees since 1993. We should note that Roger Federer won the 2004 US Open without a head coach by his side, hence our calculations are based on 59, not 60 titles.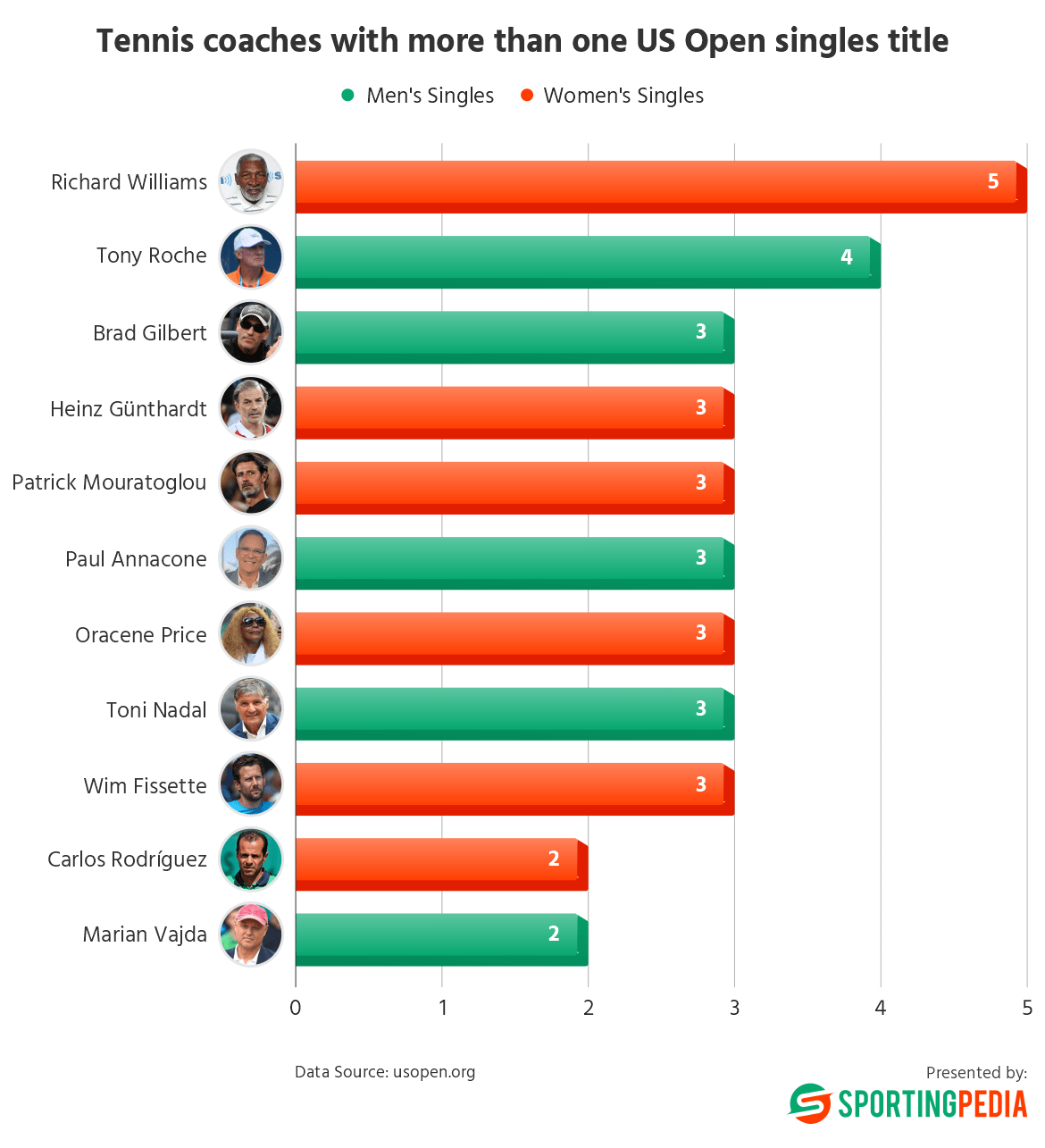 Tennis Coaches with the Most US Open Singles Titles
When you are both a talented coach and the father of two highly gifted girls, you cannot help but be among the most successful tennis coaches of all time. This is exactly the case with Richard Williams, who started coaching his daughters Serena and Venus Williams when each of them was four and a half years old.
The sisters won 5 US Open titles under their father's guidance, with their mother Oracene Price also being part of the coaching staff until 2003. Patrick Mouratoglou took over as Serena's coach in 2012. With his help, she added 7 more Grand Slam singles titles to her credit, including 3 at the US Open in 2012, 2013, and 2014.
Tony Roche, the legendary Australian who won 1 Grand Slam singles and 15 Grand Slam doubles titles, is among the former players who have successfully leveraged their own talent into a successful coaching career. When it comes to the US Open, Roche has coached two champions in the last 30 years: Patrick Rafter in 1997 and 1998, and Roger Federer in 2005 and 2006.
Two other coaches have led more than one player to victory in the US Open final, Brad Gilbert and Wim Fissette. Gilbert had successful collaborations with both Andre Agassi and Andy Roddick. Agassi won the US Open in 1994 and 1999 while Roddick's glorious year was 2003. As for Wim Fissette, he coached Kim Clijsters to 2 of her 3 titles in 2009 and 2010, as well as Naomi Osaka to her second US Open title in 2020.
One more fruitful collaboration between relatives appears on our list of the most successful US Open coaches in the past 30 years: Toni Nadal. He coached his nephew Rafael Nadal for nearly 13 years, from 2005 to 2017. During that period, the duo won sixteen Grand Slam titles, including 3 at the US Open, in 2010, 2013, and 2013.
Paul Annacone has had an impressive coaching career having worked with Pete Sampras, Roger Federer, Sloane Stephens, Stan Wawrinka, and Taylor Fritz among others. Annacone won 3 titles at the US Open with Sampras, in 1995, 1996, and 2002.
Heinz Günthardt, who trained Steffi Graf from 1992 until the end of her career in 1999, is the last tennis coach on our list to have 3 US Open titles to his credit. The first came in 1993, followed by two consecutive wins in the 1995 and 1996 US Open finals.
We must of course also celebrate Novak Djokovic's long-time coach, Marián Vajda. He was the Serbian's head coach when he won the US Open in 2011 and 2018. Vajda was also on Djokovic's team in 2015, but at that time, Boris Becker was head coach.
Carlos Rodríguez has coached various players on both the ATP and WTA tours, but he is best known for his long-term partnership with former World No. 1, and multiple Grand Slam winner, Justine Henin. As for the US Open in particular, the duo won 2 titles, in 2003 and 2007.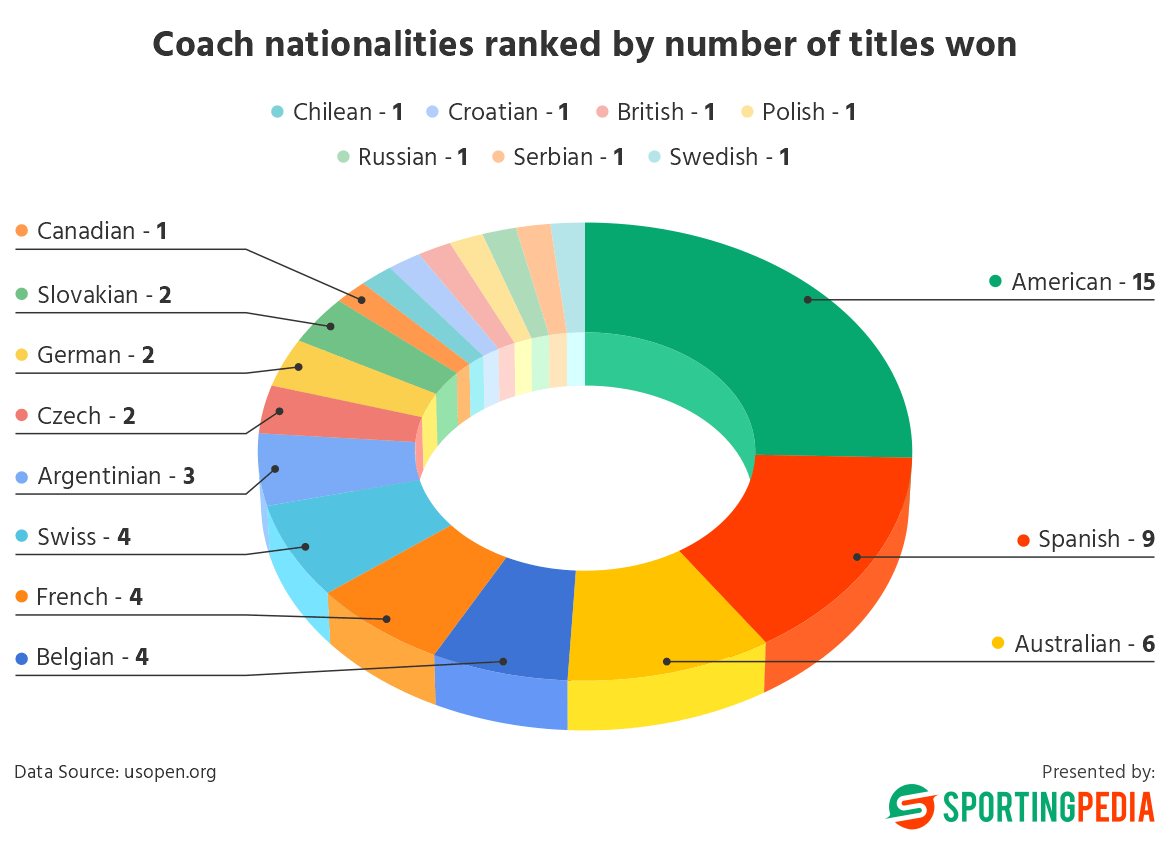 Top 3 Nations with the Most US Open Champion Coaches
We gathered birthplace data for the participants on our list to see which country has produced the most champion coaches. Our figures show that 15 of the 59 (25.4%) US Open singles titles in the past 30 years were won by players trained by US-born coaches. Spanish coaches came next with 9 titles won by their trainees, while Australian coaches have taken third place having contributed to 6 titles.
Here's who those coaches are:
USA
Tim Gullikson with Pete Sampras in 1993
Brad Gilbert with Andre Agassi in 1994 and 1999, and Andy Rodick in 2003
Paul Annacone with Pete Sampras in 1995, 1996, and 2002
Robert Van't Hof with Lindsey Davenport in 1998
Richard Williams with Serena Williams in 1999, 2002, and 2008, and with Venus Williams in 2000 and 2001
Oracene Price with Serena Williams in 1999, and with Venus Williams in 2000 and 2001 (along with Richard Williams)
Michael Joyce with Maria Sharapova in 2006
Kamau Murray with Slone Stevens in 2017
Spain
Gabriel Urpí with Arantxa Sánchez Vicario in 1994
Stefan Ortega with Svetlana Kuznetsova in 2004
José Higueras with Roger Federer in 2008
Toni Nadal with Rafael Nadal in 2010, 2013, and 2017
Salvador Navarro with Flavia Pennetta in 2015
Carlos Moyá with Rafael Nadal in 2019
Juan Carlos Ferrero with Carlos Alcaraz in 2022
Australia
Tony Roche with Patrick Rafter in 1997 and 1998, and with Roger Federer in 2005 and 2006
Darren Cahill with Lleyton Hewitt in 2001
David Taylor with Samantha Stosur in 2011
Raw Data
| Year | Men's Singles Champion | Player Nationality | Coach | Coach Nationality | Women's Singles Champion | Player Nationality | Coach | Coach Nationality |
| --- | --- | --- | --- | --- | --- | --- | --- | --- |
| 1993 | Pete Sampras | USA | Tim Gullikson | USA | Steffi Graf | Germany | Heinz Günthardt | Switzerland |
| 1994 | Andre Agassi | USA | Brad Gilbert | USA | Arantxa Sánchez Vicario | Spain | Gabriel Urpí | Spain |
| 1995 | Pete Sampras | USA | Paul Annacone | USA | Steffi Graf | Germany | Heinz Günthardt | Switzerland |
| 1996 | Pete Sampras | USA | Paul Annacone | USA | Steffi Graf | Germany | Heinz Günthardt | Switzerland |
| 1997 | Patrick Rafter | Australia | Tony Roche | Australia | Martina Hingis | Slovakia/Switzerland | Melanie Molitorová | Czech Republic/Switzerland |
| 1998 | Patrick Rafter | Australia | Tony Roche | Australia | Lindsay Davenport | USA | Robert Van't Hof | USA |
| 1999 | Andre Agassi | USA | Brad Gilbert | USA | Serena Williams | USA | Richard Williams Oracene Price | USA |
| 2000 | Marat Safin | Russia | Alexander Volkov | Russia | Venus Williams | USA | Richard Williams Oracene Price | USA |
| 2001 | Lleyton Hewitt | Australia | Darren Cahill | Australia | Venus Williams | USA | Richard Williams Oracene Price | USA |
| 2002 | Pete Sampras | USA | Paul Annacone | USA | Serena Williams | USA | Richard Williams | USA |
| 2003 | Andy Roddick | USA | Brad Gilbert | USA | Justine Henin | Belgium | Carlos Rodríguez | Argentina |
| 2004 | Roger Federer | Switzerland | No head coach | N/A | Svetlana Kuznetsova | Russia | Stefan Ortega | Spain |
| 2005 | Roger Federer | Switzerland | Tony Roche | Australia | Kim Clijsters | Belgium | Marc De Hous | Belgium |
| 2006 | Roger Federer | Switzerland | Tony Roche | Australia | Maria Sharapova | Russia | Michael Joyce | USA |
| 2007 | Roger Federer | Switzerland | Severin Luthi | Switzerland | Justine Henin | Belgium | Carlos Rodríguez | Argentina |
| 2008 | Roger Federer | Switzerland | José Higueras | Spain | Serena Williams | USA | Richard Williams | USA |
| 2009 | Juan Martín del Potro | Argentina | Franco Davín | Argentina | Kim Clijsters | Belgium | Wim Fissette | Belgium |
| 2010 | Rafael Nadal | Spain | Toni Nadal | Spain | Kim Clijsters | Belgium | Wim Fissette | Belgium |
| 2011 | Novak Djokovic | Serbia | Marian Vajda | Slovakia | Samantha Stosur | Australia | David Taylor | Australia |
| 2012 | Andy Murray | England | Ivan Lendl | Czech Republic | Serena Williams | USA | Patrick Mouratoglou | France |
| 2013 | Rafael Nadal | Spain | Toni Nadal | Spain | Serena Williams | USA | Patrick Mouratoglou | France |
| 2014 | Marin Čilić | Croatia | Goran Ivanisevic | Croatia | Serena Williams | USA | Patrick Mouratoglou | France |
| 2015 | Novak Djokovic | Serbia | Boris Becker | Germany | Flavia Pennetta | Italy | Salvador Navarro | Spain |
| 2016 | Stan Wawrinka | Switzerland | Magnus Norman | Sweden | Angelique Kerber | Germany | Torben Beltz | Germany |
| 2017 | Rafael Nadal | Spain | Toni Nadal, Carlos Moyá | Spain | Sloane Stephens | USA | Kamau Murray | USA |
| 2018 | Novak Djokovic | Serbia | Marian Vajda | Slovakia | Naomi Osaka | Japan | Sascha Bajin | Serbia/Germany |
| 2019 | Rafael Nadal | Spain | Carlos Moyá | Spain | Bianca Andreescu | Canada | Sylvain Bruneau | Canada |
| 2020 | Dominic Thiem | Austria | Nicolas Massu | Chille | Naomi Osaka | Japan | Wim Fissette | Belgium |
| 2021 | Daniil Medvedev | Russia | Gilles Cervara | France | Emma Raducanu | Canada/England | Andrew Richardson | England |
| 2022 | Carlos Alcaraz | Spain | Juan Carlos Ferrero | Spain | Iga Świątek | Poland | Tomasz Wiktorowski | Poland |