The football transfers that raked in the largest profits in summer 2023
The summer transfer window, a frenzied period of player movements, drew to a dramatic close across Europe's top football leagues on September 1st. In this week's SportingPedia report, we focus our attention on the 10 transfers that brought the largest Return on Investment (ROI). At the pinnacle of this financial feat stands Moises Caicedo, a 21-year-old talent hailing from Ecuador. His switch to Chelsea against €116M in August brought his former club, Brighton, the astounding profit of €87.2M, a staggering 311% return on their investment of €28.2M three years prior.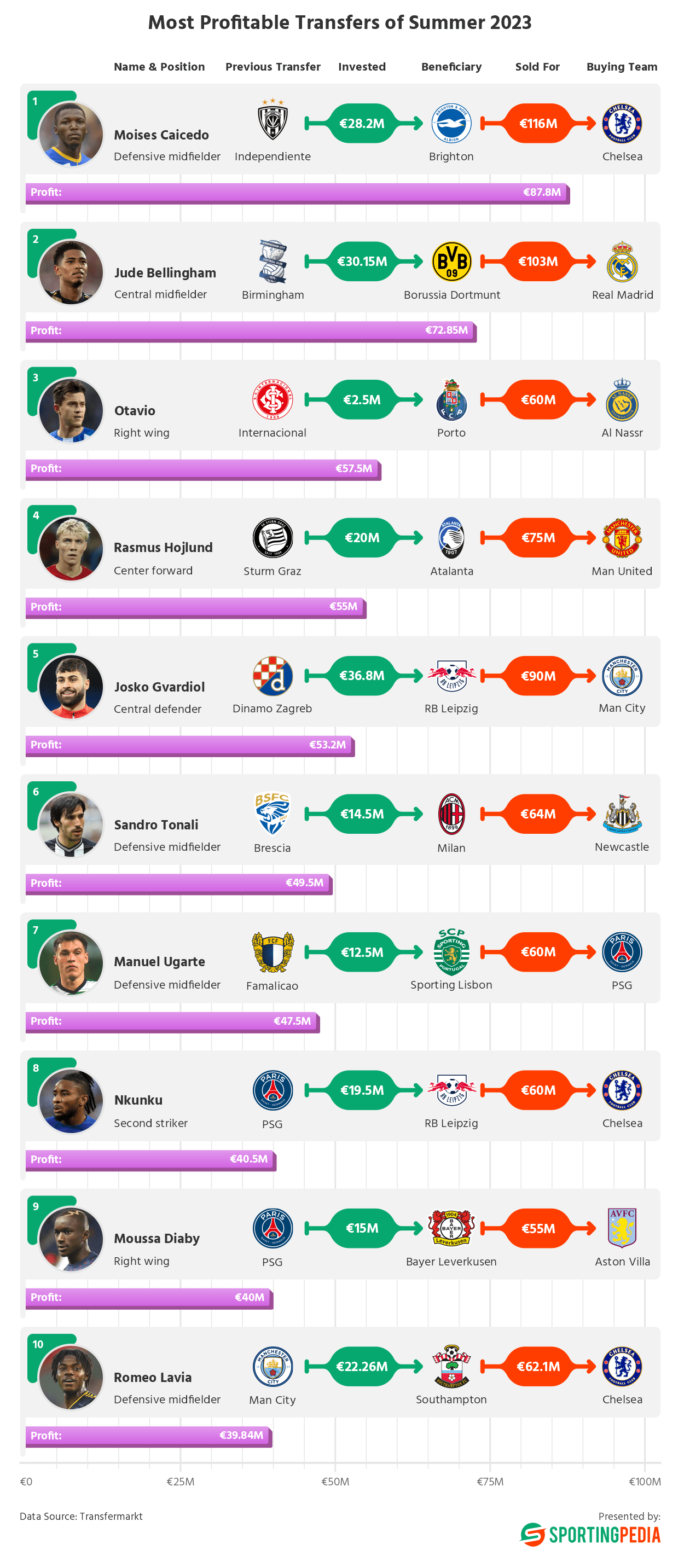 Key Takeaways:
The total financial gains generated from the 10 most profitable transfers this summer are €543.69 million varying from €39.84 to €87.8 million for a single deal
Moises Caicedo tops the profit charts, netting Brighton a remarkable €87.2 million, just three years after his acquisition
Five of the top profit generators this summer are central midfielders
In the top 10 most profitable transfers, there were just one out-and-out striker and one defender
The average time between transfers stands at 36.1 months, or slightly over 3 years
Moussa Diaby and Christopher Nkunku share a strikingly similar narrative: both started their careers in PSG's youth system, made the leap to Germany in 2019, and subsequently landed in England in 2023
Rasmus Hojlund holds the record for the quickest transfer, needing just 11 months between his last two moves
Otavio had the lengthiest tenure with his former club, spending 107 at Porto, before joining Al Nassr this summer
Four of the team teams who benefitted the most from a single sale this summer are part of the German Bundesliga
RB Leipzig stands out with a notable achievement as they are the sole team with two sales featured among the top 10 most profitable deals this summer
Trailing closely behind is Jude Bellingham, the young English prodigy whose current club is Real Madrid. Borussia Dortmund orchestrated a transfer coup, yielding a remarkable €72.85 million profit from Bellingham's transition.
The biggest profit is in the middle
What emerges as a captivating revelation is that the heart of the midfield was the epicenter of wealth creation in this transfer window. It's intriguing to note that five out of the top 10 players on our profit-rich list occupy central midfield positions. In stark contrast, there's only a solitary out and out striker and defender amidst this elite group of profit-generating footballers.
Period between the transfers
The race for the shortest time span between transfers is firmly grasped by Rasmus Hojlund. A mere 11 months after first donning Atalanta's colors in 2022, he pivoted to Manchester United, raking in an extra €55 million for the Italian club on top of their initial investment in him. In a strikingly different timeline, Porto waited 107 months from acquiring winger Otavio for a paltry €2.5 million, to reaping the rewards of a €60 million sale to Al Nassr this summer. The average period which the players in the ranking have spent with their previous team prior to their transfers is calculated at 36.1 months.
Clear profit
The cumulative effect of these 10 high-profit transfers has been astounding, injecting a staggering €543.69 million in clear profit into the coffers of the selling clubs. These profits varied from €39.84 to €87.8 million or an average of €54.4 million for each one, a testament to the eye for talent and astute business acumen prevalent in the football transfer market.
Sharing the journey
Two players in the rankings share strikingly similar career journeys. Moussa Diaby and Christopher Nkunku, were both nurtured by PSG's youth academy till the summer of 2019, when they embarked on moves away to seek regular playing time. They both went to Germany, with Bayer Leverkusen and RB Leipzig respectively. Nkunku and Diaby enjoyed stellar performances in the Bundesliga and gathered interest from Europe's elite clubs, culminating in their decision to migrate to the English Premier League. Now Nkunku dons Chelsea's colors, while Diaby calls Aston Villa home.
German teams
Another intriguing discovery is the Bundesliga's dominance in shrewd business deals. A remarkable four out of the top 10 most profitable transfers this summer involved German clubs parting ways with valuable assets for substantial gains. Notably, RB Leipzig emerges as the sole team with multiple players in the top 10 of this summer's profit-driven transfer market. In contrast, seven of the 10 players have found their new homes in the English Premier League.