The highest-scoring defenders in Europe for 2023
"Attack wins you games, defence wins you titles." – This famous quote by Sir Alex Ferguson inspired SportingPedia to take a look at the highest scoring defenders in Europe's top 15 leagues for the calendar year of 2023. Their main positions might be in the defensive department, but they somehow find a way to contribute with goals.
One of the report's most intriguing findings is that only two defenders in Europe's top 15 leagues have managed to hit goals in the double-digits in 2023 so far. Rangers' captain James Tavernier leads with a huge gap in front of the chasing pack, having scored 19 goals for the calendar year or 7 more than his closest challenger. Another curious observation is that the majority of the players operate on the right side of the defence – eight and only two on the left.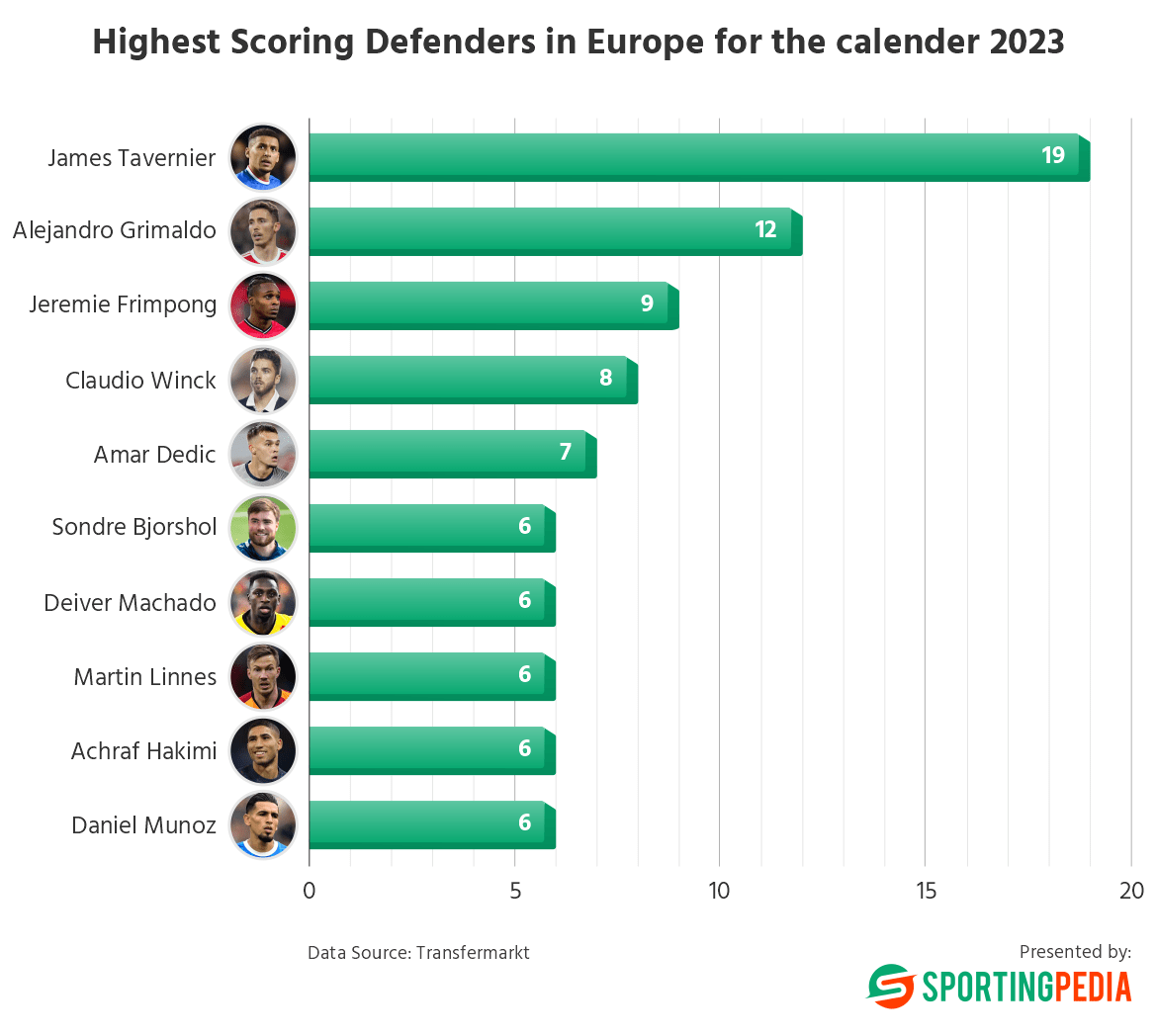 Key Takeaways:
James Tavernier from Rangers has been the highest-scoring defender in Europe in 2023 so far with 19 goals
Bayer Leverkusen is the only team with 2 representatives on the list
Only 2 of the 10 highest-scoring defenders perform on the left side of the field, while 8 on the right
The German Bundesliga, the French Ligue 1 and Norway's Eliteserien are represented more than once in the top 10 ranking
There is not a single central defender within the top 10
James Tavernier (Rangers) – 40 games; 19 goals; 190 minutes per goal
James Tavernier, the English captain of Rangers, possesses a wealth of experience at 32 years of age. In the 2023 calendar year, his performances as a right-back have been nothing short of remarkable. Featuring in 40 matches, Tavernier showcased not only his leadership on the field but also his incredible goal-scoring prowess, netting an impressive 19 goals. Notably, a significant portion of these goals came from penalties and direct free-kicks, highlighting his role as a set-piece specialist and a dependable force in both phases of the game for Rangers. In 2022 Tavernier became the first defender to finish a calendar year with more than 20 goals when finishing with 22.
Alejandro Grimaldo (Benfica/Bayer Leverkusen) – 41 games; 12 goals; 293 minutes per goal
At the age of 28, Portuguese left-back Alejandro Grimaldo embarked on a new chapter in his career by joining Bayer Leverkusen from Benfica. His marauding runs on the left flank have made him an invaluable asset to his team. Grimaldo has participated in 41 club matches in 2023 so far, demonstrating his adaptability and consistently contributing 12 goals to the teams' success. His transition to a new league has been seamless, as he has already scored 5 times for Bayer.
Jeremie Frimpong (Bayer Leverkusen) – 41 games; 9 goals; 360 minutes per goal
Jeremie Frimpong, the 22-year-old Dutch right-back and Grimaldo's colleague from the right side of Bayer Leverkusen's defence comes in 3rd place. With his youthful energy and dynamism, he has played 41 matches and has contributed 9 goals in 2023, emphasising his versatility in a more advanced role.
Claudio Winck (Maritimo/Kasimpasa) – 32 games; 8 goals; 278 minutes per goal
Brazilian right-back Cladio Winck, at the age of 29, displayed his versatility by representing both Maritimo and Kasimpasa during the calendar year. His adaptability in different leagues and teams was evident in his performances. Featuring in 32 matches since the turn of the year, Winck has contributed 8 goals, making him a valuable asset for both his clubs in 2023.
Amar Dedic (Salzburg) – 36 games; 7 goals; 443 minutes per goal
Amar Dedic, a 21-year-old Bosnian right-back, has shown remarkable promise during his time with Salzburg. His youthful exuberance and skill set have made a substantial impact in the calendar 2023 year . Dedic has featured in 36 matches, contributing 7 goals, reflecting his importance in both the team's defence and its goal-scoring efforts.
Sondre Bjorshol (Viking) – 21 games; 6 goals; 219 minutes per goal
The 29-year-old Norwegian right-back, Sondre Bjorshol, has been a model of consistency for Viking. His performances in 2023 were marked by 21 appearances and 6 goals, showcasing his ability to combine defensive solidity with offensive contributions, making him a dependable presence on the field.
Deiver Machado (Lens) – 35 games; 6 goals; 346 minutes per goal
Colombian left-back Deiver Machado, aged 30, has been a crucial figure for Lens in 2023. His experience and tactical understanding have allowed him to play a pivotal role for his side. Since January, he has participated in 35 matches and scored 6 goals, exhibiting his proficiency in both defensive duties and goal-scoring.
Martin Linnes (Molde) – 30 games; 6 goals; 357 minutes per goal
At 32, the Norwegian right-back Martin Linnes has been a key player for Molde. His experience and tactical prowess were evident in his performances during the calendar year. In 2023 thus far, he has played 30 matches and has scored 6 goals, showcasing his reliability and his ability to make an impact at both ends of the field.
Achraf Hakimi (PSG) – 30 games; 6 goals; 395 minutes per goal
Achraf Hakimi, a 25-year-old Moroccan right-back, has been an important player for PSG. His attacking prowess and pace have added a new dimension to the Parisians' squad. So far in 2023, Hakimi has been involved in 30 matches and contributed 6 goals.
Daniel Munoz (Genk) – 28 games; 6 goals; 402 minutes per goal
The Colombian right-back Daniel Munoz, aged 27, has been a consistent performer for Genk in the Belgian Jupiler Pro League. His ability to contribute in both phases of the game has made him an indispensable player. In 2023 thus far, he has played 28 matches and has scored 6 goals.