Qatar 2022: 20% of all players at the World Cup play in England, over 10% in Spain
The majority of football fans across the globe have their specific preference when it comes to club football, with the teams in England and Spain being the most popular. The Premier League and La Liga are often compared in all kinds of aspects. When looking at the national teams of England and Spain both countries have won just 1 World Cup title each, which is a way worse record than the one of Brazil, Germany, Italy, France, Argentina and even Uruguay.
It turns out however, that English and Spanish leagues account for exactly 30% of all players in Qatar – 19.7% or 163 footballers are playing in the English Leagues and 10.3% or 85 players are employed by teams in the 1st and 2nd echelons of La Liga. This is what analysis showed us, after we at SportingPedia compiled data for the teams of all 829 players participating at the World Cup in Qatar. For betting on the upcoming World Cup matches, have a look at the best sports betting sites we list here.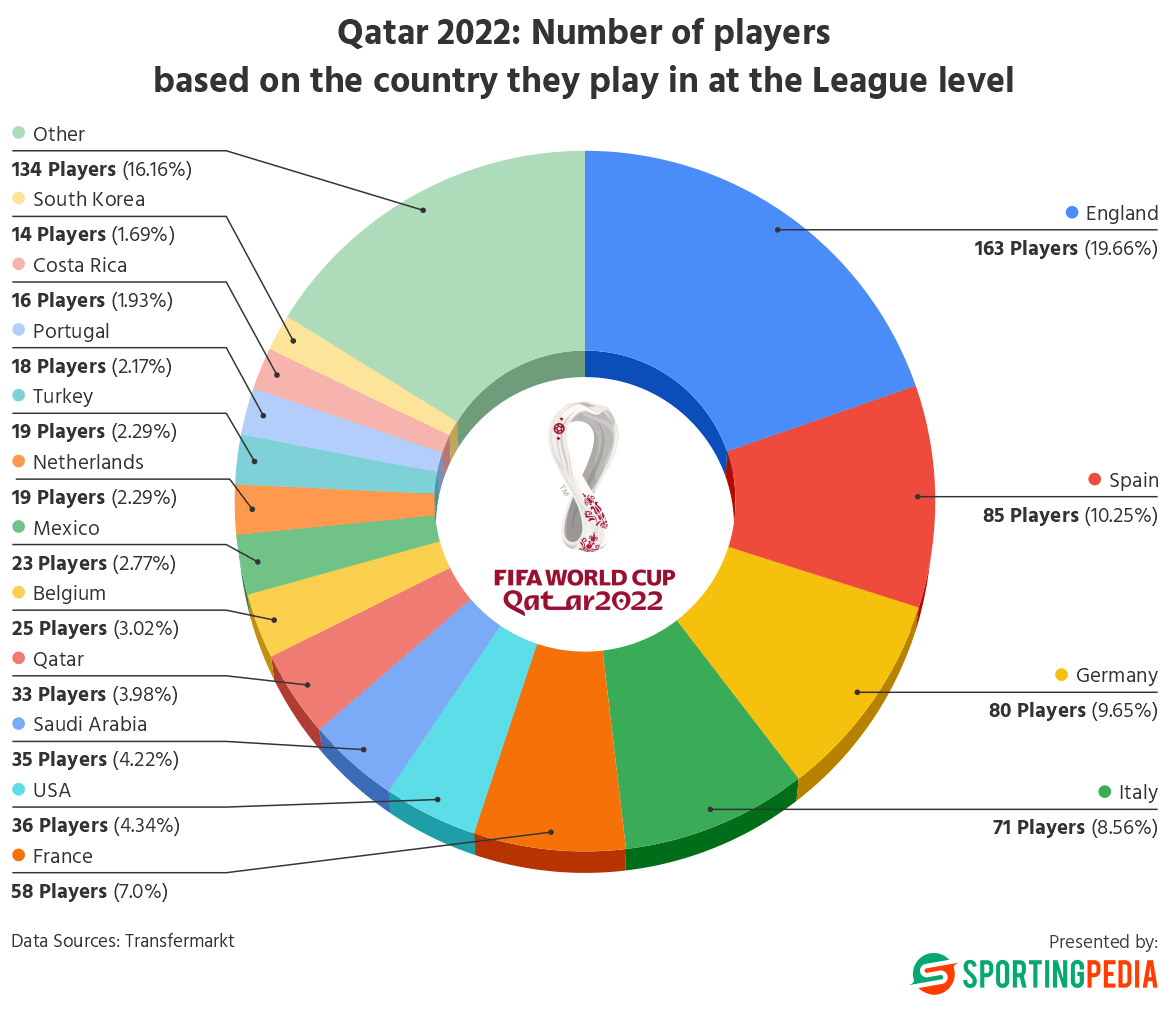 Summary
A mix of 829 players were selected by the 32 head coaches to represent the participating nations and defend their flags at the upcoming World Cup 2022. At club level these footballers are performing in 52 different leagues across 42 different countries, located on 6 different continents.
The difference between the English leagues and the ones in the rest of the world is staggering. Almost 20% of all the players at the World Cup are defending the colors of an English team when it's time for club football. In that aspect, Spain is the only other country to exceed the 10% barrier at 85 players or 10.3%.
The first 15 countries whose leagues contributed the most players in Qatar are responsible for 83.84% of all footballers, while the other 27 nations whose domestic leagues have representatives at the World Cup account for just 16.16%. Despite producing many talents playing all over the globe, the limitation of national squad selections leads to the domestic football of Brazil and Argentina both ranking at the 22nd position among all 42 countries.
The Complete Data
League
Number of Players at the World Cup 2022
% of all Players
Premier League (England)
134
16.16%
La Liga (Spain)
83
10.01%
Bundesliga (Germany)
77
9.29%
Serie A (Italy)
68
8.20%
Ligue 1 (France)
56
6.76%
MLS (USA)
36
4.34%
Pro League (Saudi Arabia)
35
4.22%
Stars League (Qatar)
33
3.98%
Championship (England)
25
3.02%
Pro League (Belgium)
24
2.90%
Liga MX (Mexico)
23
2.77%
Super Lig (Turkey)
19
2.29%
Eredivisie (Netherlands)
19
2.29%
Primeira Liga (Portugal)
18
2.17%
Liga FPD (Costa Rica)
16
1.93%
Premiership (Scotland)
13
1.57%
K League (South Korea)
13
1.57%
Super League (Greece)
13
1.57%
Super League (Switzerland)
9
1.09%
Persian Gulf Pro League (Iran)
9
1.09%
Ligue Profesionnelle 1 (Tunisia)
8
0.97%
J1 League (Japan)
8
0.97%
Superliga (Denmark)
7
0.84%
HNL (Croatia)
7
0.84%
Serie A (Brazil)
7
0.84%
A-League (Australia)
7
0.84%
Primera Division (Argentina)
7
0.84%
Ekstraklasa (Poland)
4
0.48%
Liga Pro (Ecuador)
4
0.48%
Bundesliga (Austria)
4
0.48%
Serie B (Italy)
3
0.36%
Super Liga (Serbia)
3
0.36%
Butola Pro 1 (Morocco)
3
0.36%
Bundesliga II (Germany)
3
0.36%
Primera Division (Uruguay)
2
0.24%
League One (England)
2
0.24%
League Two (England)
2
0.24%
Premier League (Russia)
2
0.24%
La Liga II (Spain)
2
0.24%
Premier League (Kuwait)
2
0.24%
J2 League (Japan)
2
0.24%
Premier League (Ghana)
2
0.24%
Ligue 2 (France)
2
0.24%
Premier League (Egypt)
2
0.24%
First Division (Cyprus)
2
0.24%
Super League (China)
2
0.24%
Elite One (Cameroon)
2
0.24%
Pro League (UAE)
1
0.12%
K League 2 (South Korea)
1
0.12%
Otp Bank Liga (Hungary)
1
0.12%
Categoria Primera A (Colombia)
1
0.12%
Second Division (Belgium)
1
0.12%
The numbers show that the English Premier League will be the club competition with the greatest presence in Qatar. The highest level of football in England is home to 134 players, or 16.16% of all footballers selected to compete at the World Cup. With 83 players, or 10% of the total number, the Spanish La Liga ranks second. In general, over half of the footballers in Qatar (50.4%) come from the top five European leagues:
Premier League (England)
La Liga (Spain)
Bundesliga (Germany)
Serie A (Italy)
Ligue 1 (France)
Had the reigning European champions from Italy not failed miserably in the qualifiers preceding the World Cup, then Serie A would undoubtedly have more representatives in Qatar than Germany's Bundesliga.
Surprisingly or not, three non-European championships come next, with the US Major League Soccer falling in just behind the most prominent European leagues at number six, and the top football levels in Saudi Arabia and the host country of Qatar coming in at numbers seven and eight, respectively. The English Championship will have the ninth-highest league representation at the World Cup, which is an impressive performance given the absence of top-ranked leagues like the Portuguese Primeira Liga and the Dutch Eredivisie.
Eight countries can be proud of their football systems, as not only the elite levels but the second tiers of the sport in England, Italy, Spain, Germany, France, South Korea, Belgium, and Japan will also have representatives in Qatar. Only England will have 4 of its professional football echelons sending a player to the World Cup.