Revealed: The players with highest increase in market value after the World Cup
Enzo Fernandez, best young player in the 2022 World Cup, has recently been rumoured to plan a move from Benfica, after just half a season with the Portuguese giants. According to media reports, the Argentinian's potential fee will be around €120 million, over two times his current market valuation, and nearly nine times what Benfica paid for him just a few months ago.
This prompted SportingPedia to look at the players who increased their pre-World Cup market valuations the most. We originally intended to compile a top 10, but it turns out there are 12 players whose pre-2022 World Cup market prices have increased by double digits.
Key Takeaways:
Only two players managed to add €20 million to their market value after the 2022 World Cup
Just twelve saw their value increase by double digits
After the latest market value update, England has become the first national team with three players whose values are estimated at €100 million or more
World Cup winner Argentina is the sole country to boast three representatives on our list
Out of all the 12 players who added €10 million or more to their estimated value, there are 2 defenders, 7 midfielders, and 3 forwards. There is no goalkeeper on the list, however.
Moroccan Azzedine Ounahi has gained 329 per cent on top of his pre-World Cup value, topping all 830 players in Qatar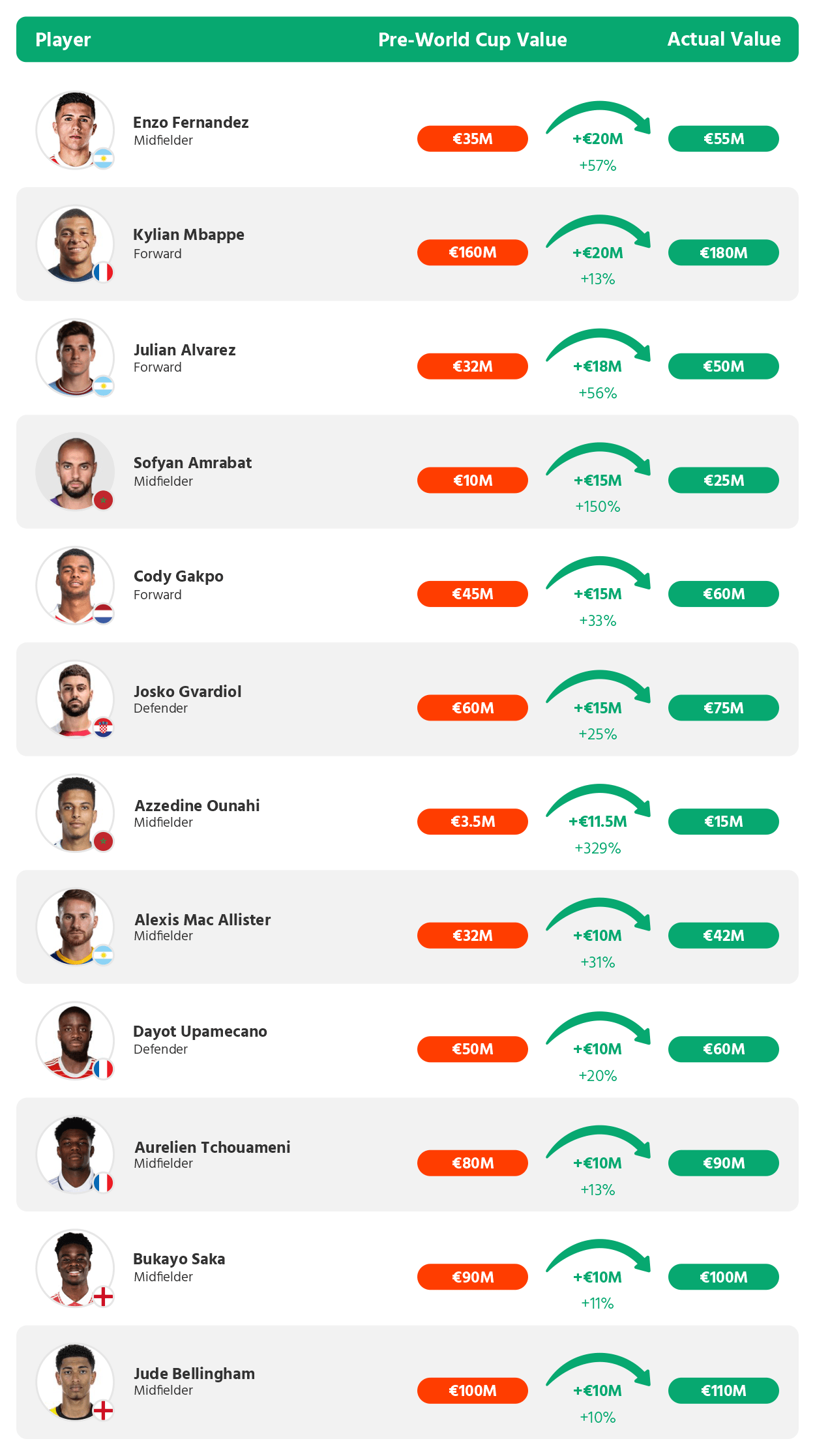 The Eindhoven-based Dutch giants PSV were the first to cash in on a player who shone bright at the 2022 World Cup in Qatar. Cody Gakpo – the forward who scored 3 goals for the Netherlands – left his native country for Liverpool at a reported €42 million initial fee. This might be considered a bargain, however, given that Gakpo's current market valuation is €60 million.
According to data from transfermarkt, 59 out of the 830 players competing in the 2022 World Cup in Qatar saw an increase in market value. The two footballers whose pre-tournament values rose the highest were Kylian Mbappe, the competition's top scorer, and Enzo Fernandes, the Argentinian who not only lifted the biggest trophy in football, but also won the competition's best young player award. Both players saw their pre-tournament values rise by exactly €20 million.
This led to Kylian Mbappe regaining the "Highest valued footballer" title as his estimate rose to €180 million. The Frenchman, who is still just 24 years old, will most probably become the record scorer in a World Cup after his total tally in Qatar reached 12 goals.
On our list, two Moroccan players are among those with the biggest growth in percentage value. Sofyan Amrabat and Azzzedine Ounahi had a successful tournament, orchestrating the play from the middle of the field for the African nation, and as a result, their respective projections increased by 150 and 329 per cent, respectively.
England began the tournament as the highest-valued team, having two players with estimates of at least €100 million in the likes of Phil Foden and Jude Bellingham. The Three Lions once again failed to bring home the coveted trophy, but with his performances in Qatar, Bukayo Saka also raised his value to triple digits. As a result, England became the first ever national team in the world to boost three players worth €100 million or more. 
Looking at these players' positions on the field, seven of the 12 are midfielders, three are forwards, and two are defenders. Not a single goalkeeper managed to increase his valuation by €10 million or more, although Croatian Dominic Livakovic, one of the main contributors to Croatia's run to the semi-finals and the elimination of Brazil, saw his stock rise by 65% from €8.5 to €14 million.