Ballon d'Or Winners in the US: Impact and the arrival of Leo Messi
A recent development on June 7th, 2023, sparked excitement among soccer enthusiasts in the United States. Lionel Messi, with his unmatched collection of 7 Ballon d'Or titles, announced his forthcoming venture with Inter Miami. This Major League Soccer (MLS) club, owned by the iconic David Beckham, is set to witness the arrival of the most decorated player on individual level.
The illustrious Ballon d'Or trophy is awarded to the finest football player globally and has been bestowed 66 times throughout history. 46 individuals have been honored with the coveted accolade, with only 10 winning it more than once.
In light of this announcement, the team at SportingPedia looked into the history of the Ballon d'Or winners who have played in the MLS. As of now there are only three trophy holders who have ever played in the MLS – Kaka, Hristo Stoichkov, and Lothar Mattheus. Stoichkov holds the record for the most extended tenure, highest number of matches played, and the most goals scored.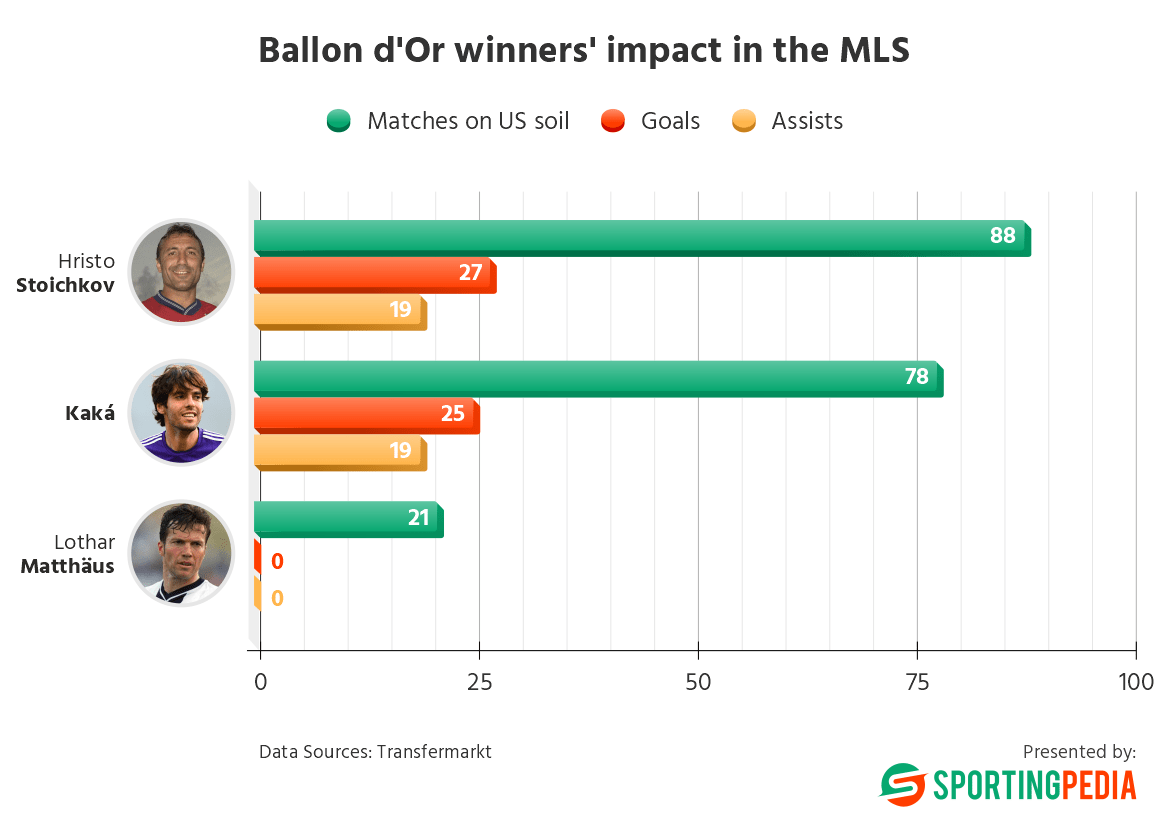 Mattheus and Stoichkov: Arrivals in the Year 2000
Both Lothar Mattheus and Hristo Stoichkov joined the MLS in the year 2000. They signed with the New York Red Bulls (then known as MetroStars) and the Chicago Fire, respectively. Mattheus decided to retire after just one season, while Stoichkov remained in Chicago for three seasons. He then went on to D.C. United where he concluded his career.
Kaka's Arrival in 2015
Following a decade without Ballon d'Or winners in the MLS, Kaka brought his remarkable talents to Orlando City in 2015. The Brazilian maestro graced the league for three seasons, leaving an indelible mark on the team and the fans.
Comparing Impact: Goals and Assists
Stoichkov emerges as the most impactful among the trio, boasting an impressive goal involvement every 103 minutes of play. Kaka, while prolific in his own right, required an average of 140 minutes to contribute with a goal or assist. Mattheus, unfortunately, did not manage to find the back of the net or provide an assist throughout his MLS tenure.
Lionel Messi: Paving a New Path
As Lionel Messi prepares to embark on his MLS journey, the impact he will make remains uncertain. He can become the 1st Ballon d'Or holder to win the MLS title, as none of Mattheus, Stoichkov or Kaka managed. Should Messi claim the Ballon d'Or once more he will carve yet another historic milestone as no one has ever managed to win it playing outside of Europe. It is way too early to judge how the mercurial Argentine will fare on the field. One thing is certain – Viewership, Matchday attendance, Advertising revenues – all those MLS metrics will go through the roof.
We asked our analyst Sean Foster for his opinion on the perspectives ahead of Leo Messi:
When Hristo Stoichkov debuted in MLS, he was 34, and Leo Messi will be 36 years old when he makes his first appearance for Inter Miami. For me, age is not an issue, as in today's game, the sportsmen are enjoying quite prolonged careers when compared to those in the early 2000s. The Bulgarian was one of the most recognizable names in football when he joined the Chicago Fire. Yet his impact was nowhere near the impact his Argentinian friend is having on the modern game. Messi currently epitomizes the word "football," and after a poor spell in Paris, he will rediscover the pleasure of playing in Miami. I'm sure that if Messi remains healthy, by the end of 2024 he will be very close, if not even beyond the goal and assist records of the previous Ballon d'Or winners in MLS."

– Sean Foster, analyst at SportingPedia, commented on the matter