Earnings per win of the world's highest-paid managers in club football: Xavi offers the best value
In our latest SportingPedia report we examine the highest-paid football managers in the world. We analyzed what each of them achieved throughout the domestic season. How many victories they recorded and how many points they collected. Then we divided their annual salary by the number of wins achieved to come up with the cost of each victory. One of our key findings is that for each Atletico Madrid victory, Diego Simeone was paid over 10 times more than Xavi, who led Barcelona to the title.
Key Takeaways
Diego Simeone has received a whopping €1,478,261 for each of the 23 victories his Atletico Madrid achieved during the 2022/23 season in La Liga
Xavi who won the Spanish title with Barcelona in his debut season, comes as the best value for money, having received "only" €135,714 for each of Barca's 28 wins
2 managers were paid over €1,000,000 per league win – Graham Potter during his Chelsea stint and Diego Simeone
The manager of the champion in Spain was paid over 10 times less for each accumulated point, than that of the team who finished 3rd
Not a single manager from the French Ligue 1 managed to make the list, while each of the other European top 5 leagues has 3 representatives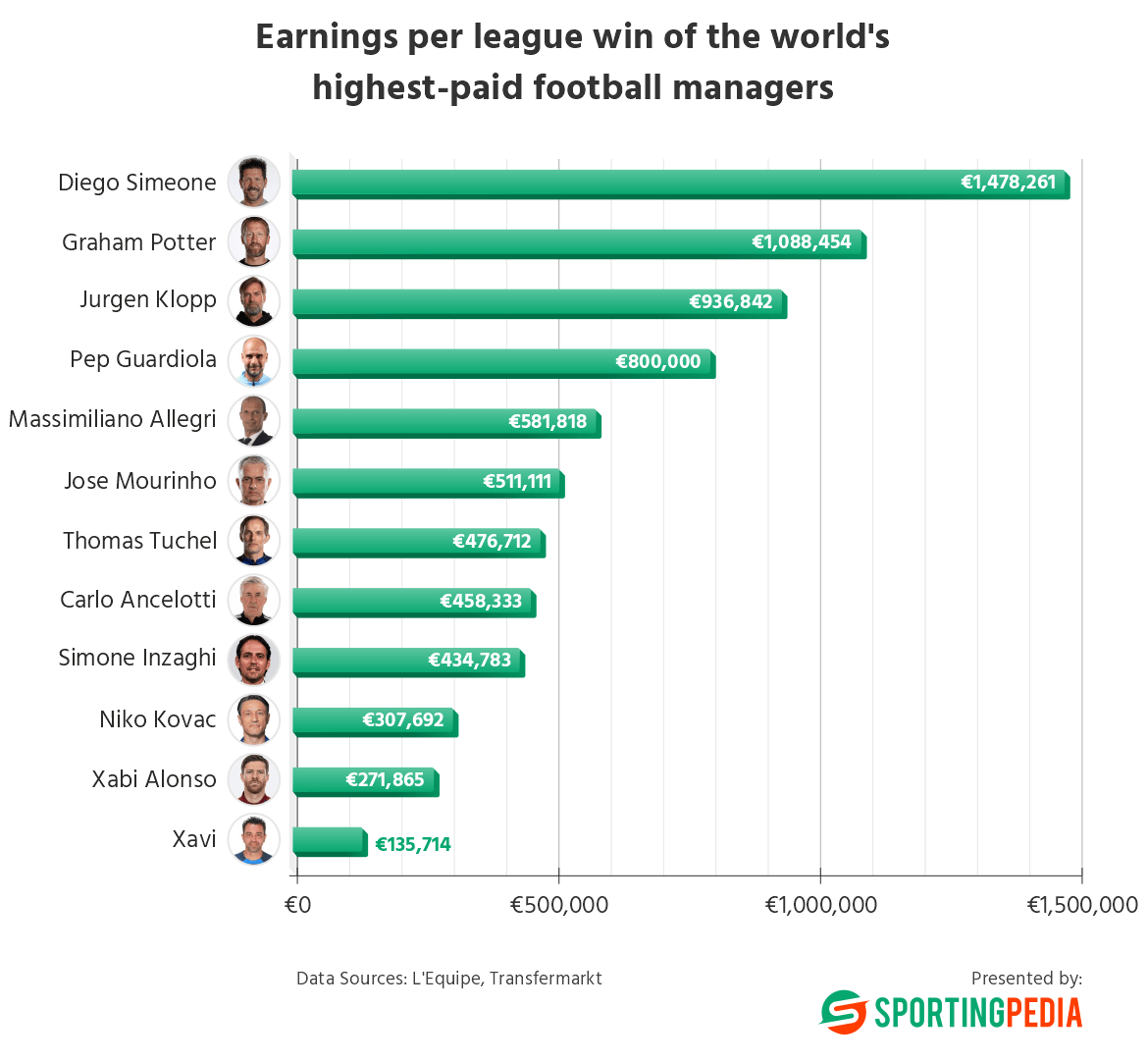 Managers with Earnings of €1 million per League Victory
Two managers stood out with their earnings exceeding €1,000,000 per league victory. In his time with Chelsea, Graham Potter pocketed significant financial rewards, with a remarkable €1,088,454 per win. Diego Simeone's season at Atletico Madrid also translated into high earnings, with €1,478,261 collected for each league victory.
Remarkable Earnings per Point
Diego Simeone comes on top in another category. His Atletico Madrid collected 77 points during the season, meaning the Argentine received €441,558 for each. In his debut campaign as Barcа's manager, Xavi emerged as the best value for money. The legendary midfielder received a mere €43,182 for each of his team's 88 points in La Liga.
Significant Disparity
Xavi led Barcelona to their first title in 4 years. It turns out that he was paid less than the manager of the team who ended in 8th position in the German Bundesliga. Niko Kovac is the manager with the lowest final position on the list, ending in 8th place in the Bundesliga. Despite that, our calculations show that the Croat received almost two times more per point than Xavi.
No Representation from the French Ligue 1
Surprisingly or not there is not a single manager from the French Ligue 1 who made the list. In a stark contrast, each of the other big 5 European Leagues has 3 representatives.
Methodology
Three of the managers here did not spend the entire season with the respective teams. We looked at how long Potter, Tuchel and Xabi Alonso have spent in charge of Chelsea, Bayern Munich and Bayer Leverkusen. This helped us to determine what part of their annual salary they have received for the time at the helm of the respective club. Juventus and Massimiliano Allegri were stripped of 10 points by the Italian FA. For that reason we have taken into account only the sport accomplishments and consider their 22 Serie A wins and 72 points.
Diego Simeone
€1,478,261 per victory; €441,558 per point
Not much changed for Diego Simeone and his Atletico last season. Once again Rojiblancos finished 3rd in La Liga, while in the Champions League they crashed out at the group stage. Atletico Madrid recorded a total of 23 wins during the La Liga season.
Graham Potter
€1,088,454 per victory; €272,114 per point
The Englishman began the season at the helm of Brighton but in September was appointed at Chelsea, replacing Thomas Tuchel. Potter led the Blues from London till early April and for that period he achieved only 7 victories in 22 Premier League games. Pocketing one of the highest salaries in Europe and not delivering the desired results saw Graham Potter dismissed before the end of the season.
Jurgen Klopp
€936,842 per victory; €265,672 per point
The German guided his Liverpool only to 5th placed finish in the Premier League, failing to reach the Champions League positions and the Reds will play in Europa League next term. He achieved 19 victories, each of which came at a cost of almost 1 million. The Reds were struggling in defence, conceding 47 goals, the same number as Chelsea who ended in 12th place.
Pep Guardiola
€800,000 per victory; €251,685 per win
Pep Guardiola enjoyed a great season at the helm of Manchester City, winning a famous treble of FA Cup, the Premier League and the Champions League. Guardiola and City were trailing Arsenal almost the entire Premier League campaign, but with a strong final run managed to overtake them, recording a total of 29 victories throughout the season.
Massimiliano Allegri
€581,818 per victory; €177,778 per point
Juventus and Max Allegri's season was full of off the field controversy. Originally Juve were deducted 15 points for transfer irregularities, which were later reinstated, and the team was stripped off another 10 points. On the football field Massimiliano Allegri and Juventus recorded 22 Serie A victories, but were really struggling in attack, scoring only 56 goals – the 6th best tally in Italy's top flight.
Jose Mourinho
€511,111 per victory; €146,032 per point
Jose Mourinho guided Roma to 6th placed finish in Serie A, while he reached yet another European final, only to lose to Sevilla in the Europa League. Roma achieved a total of 18 victories in Italy, but scored only 50 goals which was the worst tally among the teams who finished in the top 9 positions.
Thomas Tuchel
€476,712 per victory; €150,541 per point
Tuchel led Bayern Munich in only 12 matches before triumphing with the Bundesliga title. He began the term at Chelsea, but was dismissed in September and took charge of the Bavarian giants in March. In 9 Bundesliga games with Bayern, he won 6.
Carlo Ancelotti
€458,333 per victory; €141,026 per point
After securing a double of La Liga and the Champions League in 2022, last season Real Madrid looked rather complacent. Los Blancos finished 2nd in Spain, 10 points behind Barcelona and were eliminated at the semi-finals in the Champions League after lackluster performance to future winners Manchester City. Carlo Ancelotti guided Real to 24 wins in La Liga during the 2022/23 season.
Simone Inzaghi
€434,783 per victory; €138,889 per point
Simone Inzaghi had to deal with rumours of him being sacked by Inter almost the entire campaign, but he is still at the helm of the Nerazzurri. A strong finish saw Inter clinch the 3rd position in Serie A and reach the Champions League final. In Italy, Inzaghi and his team registered 23 victories. Inter conceded a total of 42 goals which was Serie A's only 6th best accomplishment.
Niko Kovac
€307,692 per victory; €81,633 per point
Niko Kovac and Wolfsburg did not enjoy a great season, finishing 8th and missing out on European football next season. The Wolves recorded 13 victories throughout the campaign and collected a total of 49 points.
Xabi Alonso
€271,865 per victory; €78,539 per point
Xabi Alonso was installed as Bayer Leverkusen manager in early October of 2022 . He led the team in 26 Bundesliga matches, winning 13 and losing only 7. Xabi Alonso and Bayer finished in 6th place, thus guaranteeing another European football next season. In Europe, Bayer Leverkusen reached the semi-finals of the Europa League.
Xavi
€135,714 per victory; €43,182 per point
In his debut season Xavi led Barcelona to their 1st Spanish title in 4 years. He fixed the team's struggles in defence, with Los Cules conceding only 20 goals throughout the campaign in La Liga. Last season Xavi and Barca recorded a total of 28 La Liga victories and secured the title with four games to spare.
Raw Data
| Manager | Team | League | Points | League Wins | Annual Salary | Earnings for the period in charge | Earnings per point 22/23 | Earnings per Win 22/23 | League finish | Achievements |
| --- | --- | --- | --- | --- | --- | --- | --- | --- | --- | --- |
| Diego Simeone | Atletico Madrid | La Liga | 77 | 23 | €34,000,000 | €34,000,000 | €441,558 | €1,478,261 | 3 | N/A |
| Graham Potter | Chelsea | Premier League | 28 | 7 | €13,500,000 | €7,619,178 | €272,114 | €1,088,454 | sacked before end of the season | N/A |
| Jurgen Klopp | Liverpool | Premier League | 67 | 19 | €17,800,000 | €17,800,000 | €265,672 | €936,842 | 5 | N/A |
| Pep Guardiola | Manchester City | Premier League | 89 | 28 | €22,400,000 | €22,400,000 | €251,685 | €800,000 | 1 | An incredible treble |
| Massimiliano Allegri | Juventus | Serie A | 72 | 22 | €12,800,000 | €12,800,000 | €177,778 | €581,818 | 7 | N/A |
| Thomas Tuchel | Bayern Munich | Bundesliga | 19 | 6 | €12,000,000 | €2,860,274 | €150,541 | €476,712 | 1 | Bundesliga Title |
| Jose Mourinho | Roma | Serie A | 63 | 18 | €9,200,000 | €9,200,000 | €146,032 | €511,111 | 6 | Europa League finalist |
| Carlo Ancelotti | Real Madrid | La Liga | 78 | 24 | €11,000,000 | €11,000,000 | €141,026 | €458,333 | 2 | N/A |
| Simone Inzaghi | Inter | Serie A | 72 | 23 | €10,000,000 | €10,000,000 | €138,889 | €434,783 | 3 | Champions League finalist |
| Niko Kovac | Wolfsburg | Bundesliga | 49 | 13 | €4,000,000 | €4,000,000 | €81,633 | €307,692 | 8 | N/A |
| Xabi Alonso | Bayer Leverkusen | Bundesliga | 45 | 13 | €5,000,000 | €3,534,247 | €78,539 | €271,865 | 6 | N/A |
| Xavi | Barcelona | La Liga | 88 | 28 | €3,800,000 | €3,800,000 | €43,182 | €135,714 | 1 | Spanish champion |