The 10 most expensive transfers between Premier League clubs
The world of English football has witnessed some jaw-dropping transfer deals, with clubs shelling out record-breaking fees to secure the services of talented players. One recent development involves the highly anticipated transfer of Declan Rice from West Ham to Arsenal, which will make him the most expensive English footballer in the Premier League, surpassing his Three Lions' teammate Jack Grealish. Inspired by this news, SportingPedia ranked the largest deals ever made between Premier League teams. In this report, we highlight the key takeaways and present the top 10 biggest transfers between English clubs.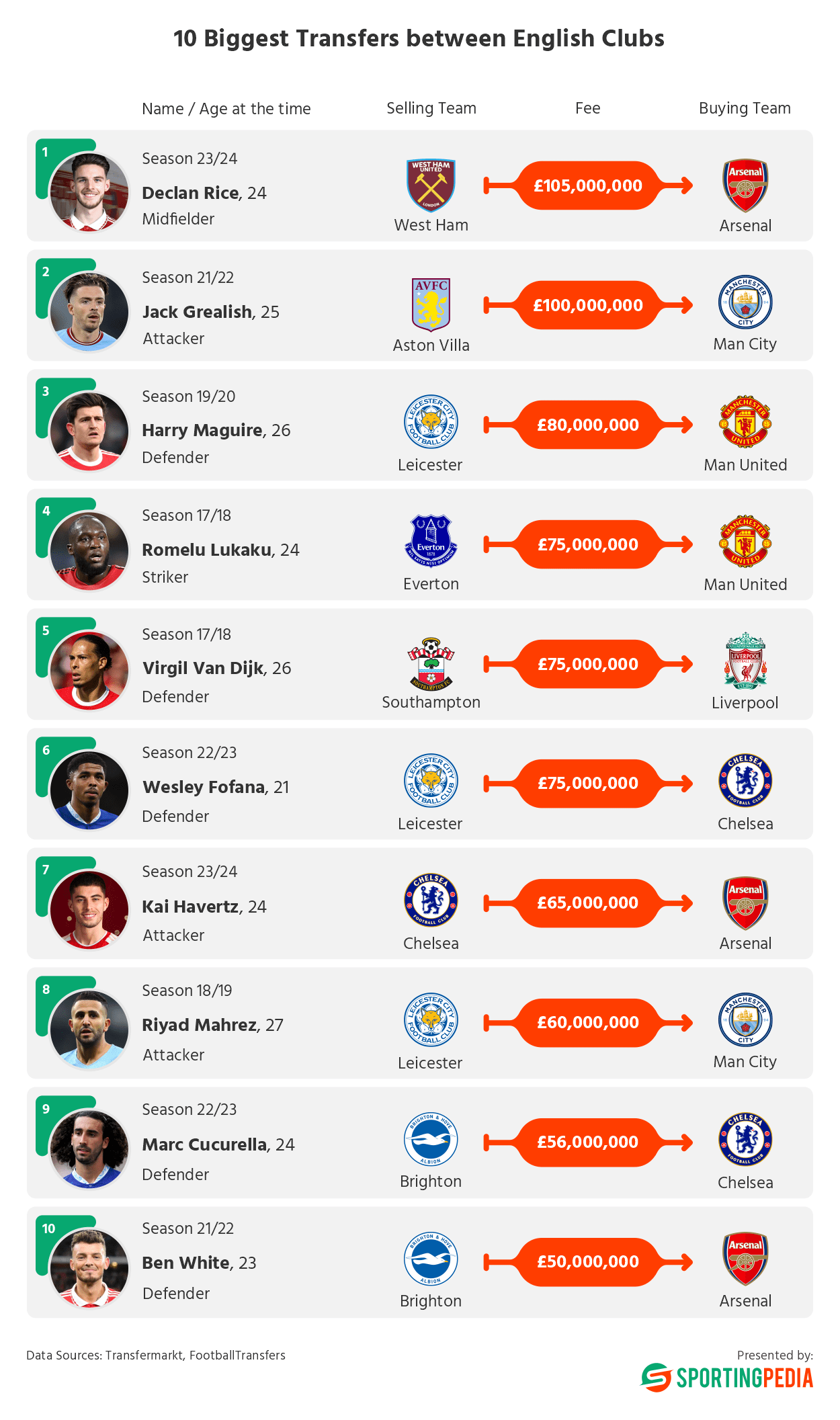 Key Takeaways
Arsenal enter the list with 2 major acquisitions this summer – Kai Havertz and Declan Rice
Arsenal has bought 3 of the 10 most expensive players on the domestic market
The two Manchester teams are responsible for 4 of the Premier League's 10 biggest deals; City – 2 and United – 2
The now relegated Leicester has been the team which most frequently sells expensive to rivals, featuring with 3 top sales in the ranking
Of the so called Premier League's Big 6, only Tottenham has not made a big signing from a domestic rival
The total amount of the 10 biggest deals between Premier League teams is £741,000,000
This summer, Arsenal has left its mark on the transfer market with two significant signings. Kai Havertz and the imminent arrival of Declan Rice from West Ham. Both recent moves prove Arsenal's ambition to strengthen the squad with top-tier talent and once again challenge for the title.
The two Manchester teams, along with Chelsea, are accountable for six of the Premier League's largest deals. Each of them has bought two of the most expensive players from the local market.
Leicester City has been a notable contributor to the list. The Foxes frequently sell their star players to domestic rivals. They feature three times in the ranking, which only highlights their ability to command significant transfer fees.
Among the Premier League's so-called "Big 6", Tottenham Hotspur stands out as the only team yet to make a major signing from a domestic rival. On Wednesday they completed the signing of James Maddison from Leicester in a £40 million deal. The fee was not enough to command a place in our ranking, but once again showcases Leicester's ability to sell big.
The combined fee of the ten largest transfers between Premier League clubs amounts to an astounding £741,000,000. This illustrates the financial scale of these deals and the competitiveness of the English football market.