Premier League rule changes lead to a drastic 288% surge in red cards
We are still early in the 2023/24 Premier League season, with not even three full rounds of matches played. Yet, when we look at the disciplinary statistics there already are clear and apparent differences from the previous term. These changes largely stem from a rule alteration regarding added time and officials' approach to game infringements and they were the inspiration behind SportingPedia's current report.
We took last season's data on yellow and red cards and calculated the averages per match. We then compared that to the current season's average stats to find an increase of 24% in the average yellow cards per match and a whopping 288% increase when it comes to red cards.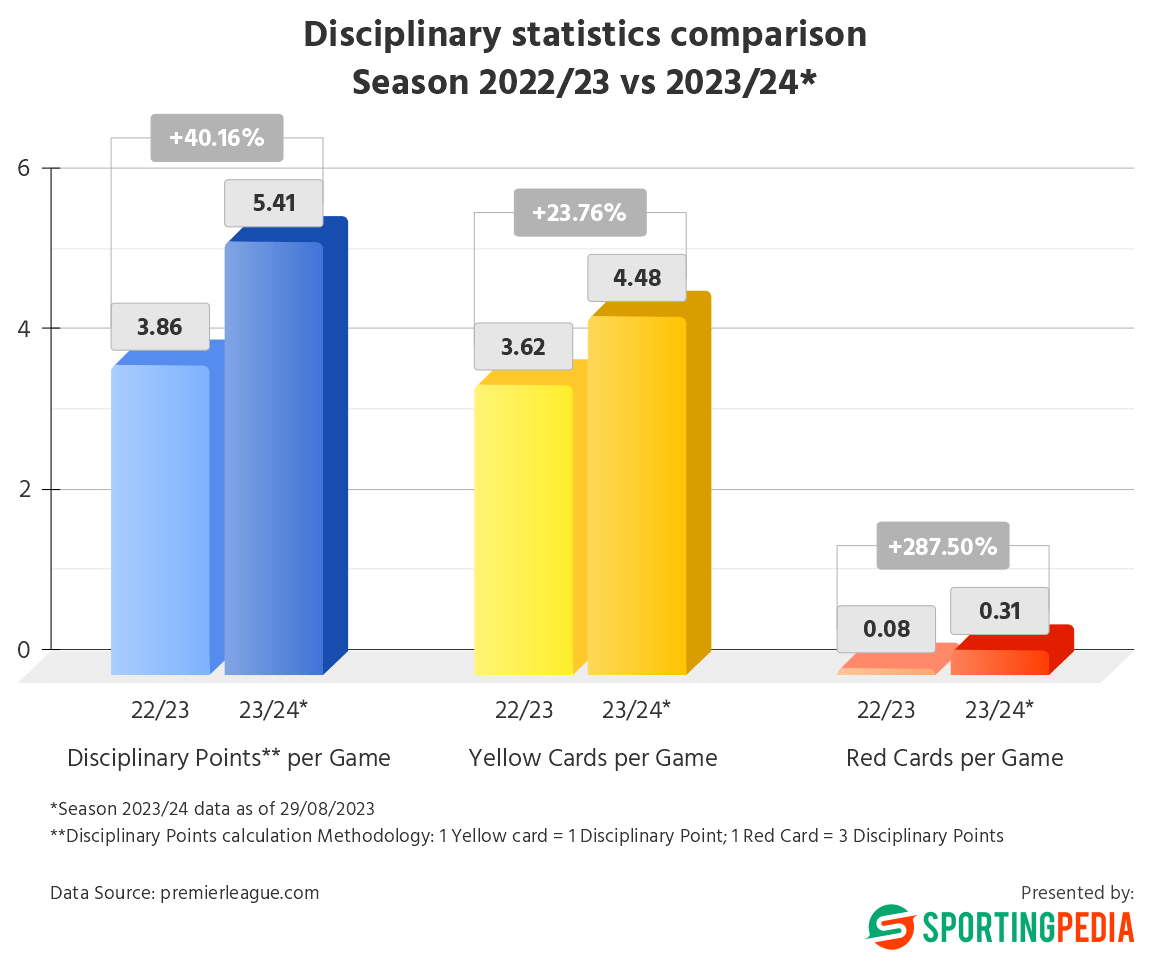 After the conclusion of all 380 matches in the 2022/23 Premier League season, data reflected 1375 yellow cards and 30 red cards, averaging 3.62 yellows and 0.08 reds per game. Expectations for the upcoming campaign were set in late-July when the English Football Association introduced new guidelines for referees on added time and discipline. Reality has indeed surpassed these predictions. With just 29 fixtures played this season, the numbers reveal an average of 4.48 yellow cards and 0.31 red cards per game. This represents a 24% increase in yellow cards and a staggering 288% surge in red cards per match. A more general look at disciplinary points reveals a 40% increase compared to the previous season.
Taking a different perspective on the statistics, we can observe that in the previous season, the referees in the top tier of English football were handing out a red card approximately once every 13 meetings (12.66). This implies that last term there were entire Premier League rounds where not a single player saw red. However, if we fast forward a few months, the current situation has changed. Now, there is a footballer sent off roughly every 4 games (3.22), and each of the opening 3 Premier League rounds in 2023/24 have witnessed cases of players being dismissed.
Colossal changes
Significant transformations are evident in West Ham and Liverpool. West Ham's disciplinary points per game have surged from 1.16 last term to 4.0 in just three games this season. In the same bracket falls Liverpool who accumulated only 1 red card during the entire 2022/23 season, yet this campaign they've been on the receiving end of two expulsions already. Crystal Palace are also experiencing a dramatic change. The Eagles are presently maintaining an average of 0.67 disciplinary points (DP) across three matches, a notable decrease from the preceding season's 2.34 DP per 90 minutes.
Same as before
Continuing the trend from the 2022/23 season, Wolverhampton retains its position as one of the most ill-disciplined teams with an average of 4.33 disciplinary points per game, up from 2.68. Fulham have eclipsed the Wolves as the Premier League pace setters when it comes to disciplinary issues, with 4.67 official warnings per match. However, reigning champions Manchester City appear unaffected by the rule changes. Guardiola's squad averaged 1.24 disciplinary points per clash in the 2022/23 season, with this number plummeting to 0.33 in the current term, receiving just one yellow card across their first three Premier League games.
Raw data
Team
Number of Yellow cards
Number of Red Cards
Disciplinary Points
DP/Game
Premier League Season 2022/2023
Wolverhampton
84
6
102
2.68
Leeds
84
3
93
2.45
Crystal Palace
80
3
89
2.34
Chelsea
77
3
86
2.26
Everton
79
2
85
2.24
Tottenham
75
3
84
2.21
Manchester United
78
2
84
2.21
Nottingham Forest
84
0
84
2.21
Fulham
80
1
83
2.18
Aston Villa
80
1
83
2.18
Southampton
73
0
73
1.92
Bournemouth
69
0
69
1.82
Leicester
59
2
65
1.71
Newcastle
62
1
65
1.71
Liverpool
57
1
60
1.58
Brighton
59
0
59
1.55
Brentford
55
1
58
1.53
Arsenal
52
0
52
1.37
Manchester City
44
1
47
1.24
West Ham
44
0
44
1.16
Premier League Season 2023/2024
Fulham
8
2
14
4.67
Wolverhampton
10
1
13
4.33
West Ham
9
1
12
4.00
Liverpool
6
2
12
4.00
Nottingham Forest
8
1
11
3.67
Newcastle
10
0
10
3.33
Sheffield United
10
0
10
3.33
Brighton
9
0
9
3.00
Manchester United
9
0
9
3.00
Chelsea
8
0
8
2.67
Tottenham
8
0
8
2.67
Luton
5
0
5
2.50
Burnley
2
1
5
2.50
Aston Villa
7
0
7
2.33
Everton
7
0
7
2.33
Arsenal
3
1
6
2.00
Bournemouth
5
0
5
1.67
Brentford
3
0
3
1.00
Crystal Palace
2
0
2
0.67
Manchester City
1
0
1
0.33
*Methodology: 1 Yellow card = 1 Disciplinary Point; 1 Red Card = 3 Disciplinary Points