The worst football transfers in history from a financial standpoint
Eden Hazard said last Wednesday 'It's time to enjoy life and drink a few beers'. The Belgian will go down as one of the worst signings in Real Madrid's history, costing them a mammoth €120 million when joining from Chelsea in the summer of 2019. Just a few days later Arsenal's then record buy in club history Nicolas Pepe left the team for free, after seeing his contract terminated and subsequently signed with Trabzonspor in Turkey.
This inspired our team at SportingPedia to look at the worst all-time signings from a financial perspective. Our latest report focuses on the 11 costliest players in the history of football. The numbers reveal an interesting story, with Neymar coming out on top of the ranking. His recent departure from PSG to Al-Hilal in Saudi Arabia is estimated to have brought a loss of €132 million in the Parisians financial books. The Selecao star was acquired for a world record €220 million from Barca back in 2016, and was sold for €90 million this August.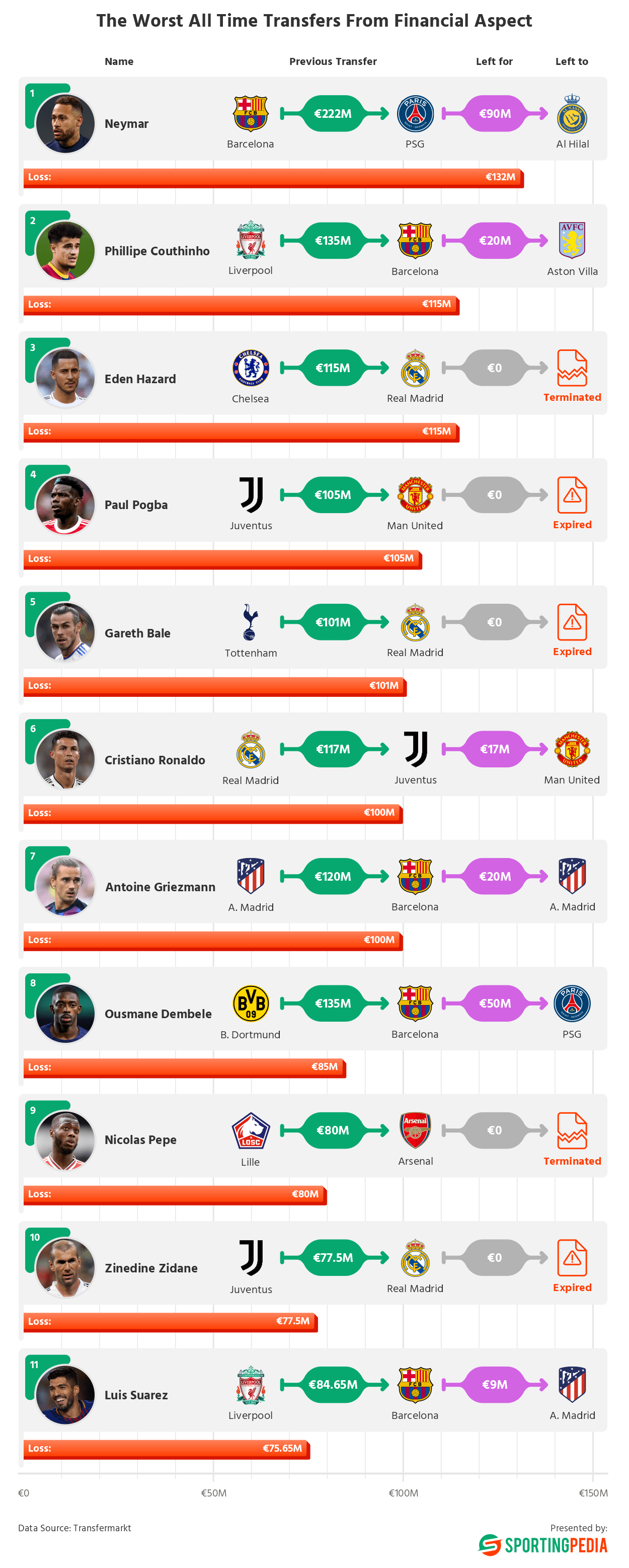 2/ Philippe Coutinho Investment €135 million / Return €20 million / Financial Loss €115 million
Another Selecao star finds himself in the 2nd position. Philippe Coutinho recently made a move, switching from Aston Villa to Al Duhail. However, it was his earlier transfer from Barcelona to Birmingham in England that landed him in 2nd place here. Barcelona spent €135 million only to send him out on loan a season later. Coutinho failed to recreate the magic of his Liverpool days with Barça and was quickly deemed surplus to requirements.
=2/ Eden Hazard Investment €115 million / Return €0 / Financial Loss €115 million
Hazard cost Real Madrid a loss of €115 million after leaving the club on a free this summer. Hazard's time in Madrid was marked by constant injuries, with the Belgian never able to replicate his Chelsea form. In September he is still without a team, and there is widespread speculation in the media that the Belgian is contemplating retirement from the sport.
4/ Paul Pogba Investment €105 million / Return €0 / Financial Loss €105 million
The French midfielder has one of the most peculiar stories among all the players in our ranking. He came through the youth ranks at Manchester United but was not offered a renewal by the then team's manager Alex Ferguson. In the summer of 2012 Pogba left for Juventus on a free transfer. Just four years later, he made a move back to United. The Red Devils paid €105 million for his services, only to lose him on a free transfer once again four years later.
5/ Gareth Bale Investment €101 million / Return €0 / Financial Loss €101 million
Bale cost Real Madrid a then record €101 million when he joined from Tottenham in 2013. The Welshman enjoyed a highly successful period in Madrid, winning five Champions League titles among many other trophies. However, he joined LA Galaxy for nothing when his Real Madrid contract expired in the summer of 2023.
6/ Antoine Griezmann Investment €120 million / Return €20 million / Financial Loss €100 million
Another Frenchman with a story of leaving a team for a huge sum, only to return to the same place at a later stage in his career. Initially, Barcelona activated Griezmann's release clause, paying €120 million to Atletico Madrid in 2019. After just two full seasons with the Catalan giants, Griezmann returned to Atleti, originally on loan and then on a permanent €20 million deal this summer.
=6/ Cristiano Ronaldo Investment €117 million / Return €17 million / Financial Loss €100 million
Cristiano Ronaldo's transfer from Juventus to Manchester United claims the 7th spot in our ranking. CR7 joined the Turin heavyweights right after winning his fourth Champions League title with Real Madrid in 2019 for a fee of €117 million. After three seasons with the Italian side, Juve sold him to Manchester United for as little as €17 million, resulting in a €100 million loss.
8/ Ousmane Dembele Investment €135 million / Return €50 million / Financial Loss €85 million
Dembele's transfer from Barcelona to PSG takes the 8th position in our ranking. The speedy winger moved from Borussia Dortmund to Barça in a €135 million deal in the summer of 2017. His time with the Catalan giants was marred by injuries and controversy, prompting even Barca's all-time great Hristo Stoichkov to say, "If you do not want to be in Barcelona, at least don't tarnish the badge." As recently as August, Dembele became a part of PSG's team after joining them in a €50 million deal.
9/ Nicolas Pepe Investment €80 million / Return €0 / Financial Loss €80 million
Pepe joined Arsenal in the summer of 2019 in exchange for €80 million. He spent 3 full seasons with the Gunners, but with plenty of unconvincing outings he was sent out on loan to Nice in 2022. As recently as last week his contract with the Gunners was terminated and Pepe signed on a free transfer with Turkish side Trabzonspor. The only trophy that he won during his time in London was the FA Cup in 2020.
10/ Zinedine Zidane Investment €77.5 million / Return €0 / Financial Loss €77.5 million
Yet another Frenchman claims the 9th place, and it's no ordinary player but the great Zinedine Zidane. Real Madrid did not get back any of the €77.5 million invested in him in 2001, as Zidane decided to retire from playing after the 2006 World Cup Final. He spent five seasons in Madrid, winning the Champions League and La Liga titles once.
11/ Luis Suarez Investment €84.65 million / Return €9 million / Financial Loss €75.65 million
Also known as El Pistolero moved from Liverpool to Barcelona in the summer of 2014 for a whopping €84.65 million. He enjoyed a very successful spell, forming one third of the famous MSN striking partnership of Messi-Suarez-Neymar. The Uruguayan achieved something very special in Spain, as he managed to eclipse both Messi and Cristiano Ronaldo and win the Pichichi trophy for best scorer in Spain having hit 40 goals in La Liga during the 2015/16 season. Suarez left Barca for a small fraction of what was invested in him, as Atletico Madrid coughed up €9 million for his talents.