Gentlemen and barbarians in European club football – a study based on 22/23 season data
One facet of the game caught our attention during the latest weekend of club action. The regulations are identical for everyone, yet in certain leagues, the officials have been particularly quick to pull out a red card when compared to others. A week ago, on Saturday, September 17th, Japanese international Shoya Nakajima debuted for new team Antalyaspor in the Turkish Super Lig and was dismissed barely 20 seconds after coming in as a substitute. Less than 24 hours later Jan Clair-Todibo of Nice was sent off just 9 seconds after kick-off in the French Ligue 1. This prompted SportingPedia's editorial staff to examine the distribution of yellow and red cards throughout Europe's five major leagues this season. When it comes to yellow cards, nothing out of the usual occurs, but the statistics for red cards are straight out ludicrous. We also ranked the dirtiest teams and those with the fewest official warnings.
Key Takeaways
Only 3 Premier League teams have been reduced to 10 men this season
In the Premier League the chance to see a player dismissed during a match is as low as 3%, while it reaches 21% in French Ligue 1
There has been not a single Premier League round thus far with more than 1 player sent off
Ligue 1 is witnessing the fewest yellow cards per game, yet somehow the most reds
Only 2 of the 98 teams have received less than 1 yellow card per match
15% of the Premier League sides have seen red card; In La Liga 70%; Serie A – 55%; Ligue 1 – 80%; Bundesliga – 50%
Nathan Collins of Wolverhampton Wanderers was dismissed in the first half of the Premier League game against Manchester City on 17th of September, becoming only the fourth player to see red in the English top flight this season. There has never been more than one sending off in any of the English Premier League's seven match days! In the course of the current season, there have been just shy of 2 yellow cards on average shown during a Premier League game, the lowest number among Europe's top five divisions.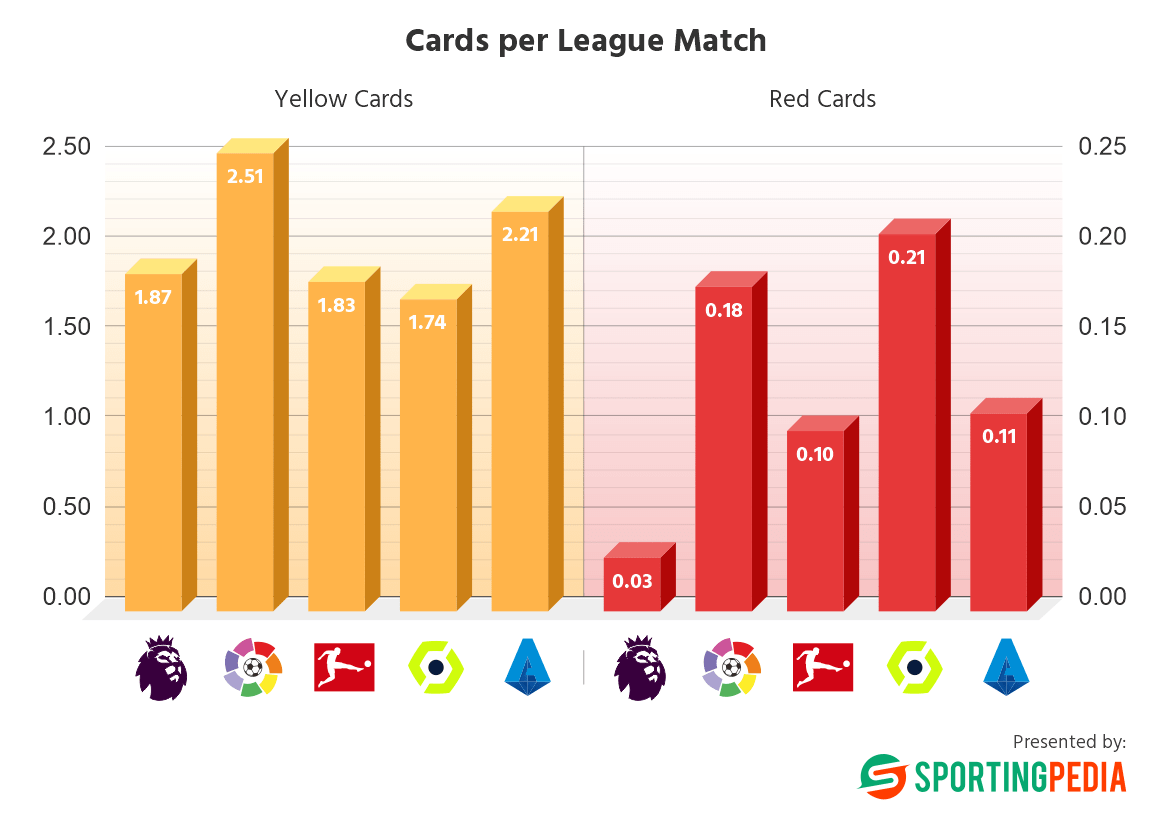 Is it the fault of the officials, or is it simply a difference in perception of the football game and physical contact? In stark contrast to the top level of professional football in England, the one in France is far more heated. In Ligue 1, there have already been 34 dismissals.
All five leagues are in the early stages of the season, but the rounds played differ, so we divided the number of cards received by the number of games played, and the results are astounding. There have been less than 0.03 red cards shown in each of the 134 Premier League games, with only the German Bundesliga staying in the single digits with 9% chance of witnessing a player dismissed. The numbers for the other three leagues are all higher.
Cards and Disciplinary Points (DP) per League
League
Yellow Cards
2nd Yellow – Red
Straight Red
DP
Matches Played
DP/Match
Yellow Cards/Match
Red Cards/Match
Premier League
251
2
2
267
134
1.993
1.87
0.03
La Liga
301
8
13
390
120
3.250
2.51
0.18
Bundesliga
230
6
6
278
126
2.206
1.83
0.10
Ligue 1
278
14
20
420
160
2.625
1.74
0.21
Serie A
310
5
10
375
140
2.679
2.21
0.11
» Yellow card = 1 DP » 2 Yellow cards(Red card) = 3 DP » Straight Red card = 5 DP
Manchester City is the cleanest team in Europe's top five divisions in terms of fair play. After six rounds of play, Pep Guardiola's players have received less than one yellow card per game. Brentford are second, although their footballers amass 1.14 cards per game, exceeding the 1.0 mark, while Brighton finish off the Premier League top three with 1.17.
Only one other of the 98 teams analysed has managed to stay under the 1.0 DP barrier, with that being the German Bundesliga leaders Union Berlin at 0.86, while Roma, led by Jose Mourinho, earns precisely one yellow card every match in the Italian Serie A.
Just like there are only two teams who so far remain below the 1.0 mark, there are also two clubs that are leaving all of the rest behind when it comes to dirty play. Sevilla and Reims are the only sides across the top 5 leagues who generate more than 5 DP and because of that are crowned as the most ill-disciplined. The Spaniards are "the dirtiest team in Europe" with 5.17 DP per match, while Reims are close at 5.13.
Below you can find a detailed breakdown for all five leagues and the separate teams.
Premier League
Team
Yellow Cards
Yellow – Red
Red Cards
Disciplinary Points
DP/Game
Games
Manchester City
5
0
0
5
0.71
7
Brighton
7
0
0
7
1.17
6
Brentford
8
0
0
8
1.14
7
West Ham
8
0
0
8
1.14
7
Leicester
9
0
0
9
1.29
7
Southampton
9
0
0
9
1.29
7
Liverpool
5
0
1
10
1.67
6
Crystal Palace
11
0
0
11
1.83
6
Arsenal
13
0
0
13
1.86
7
Leeds
13
0
0
13
2.17
6
Newcastle
14
0
0
14
2.00
7
Bournemouth
14
0
0
14
2.00
7
Tottenham
15
0
0
15
2.14
7
Chelsea
10
2
0
16
2.67
6
Everton
17
0
0
17
2.43
7
Aston Villa
18
0
0
18
2.57
7
Wolverhampton
14
0
1
19
2.71
7
Manchester United
20
0
0
20
3.33
6
Nottingham
20
0
0
20
2.86
7
Fulham
21
0
0
21
3.00
7
La Liga
Team
Yellow Cards
Yellow – Red
Red Cards
Disciplinary Points
DP/Game
Games
Real Madrid
8
0
0
8
1.33
6
Athletic Bilbao
10
0
0
10
1.67
6
Villarreal
11
0
0
11
1.83
6
Girona
12
0
0
12
2.00
6
Barcelona
10
1
0
13
2.17
6
Valladolid
9
0
1
14
2.33
6
Real Sociedad
16
0
0
16
2.67
6
Betis
13
0
1
18
3.00
6
Cadiz
15
1
0
18
3.00
6
Celta
14
0
1
19
3.17
6
Espanyol
9
0
2
19
3.17
6
Valencia
13
1
1
21
3.50
6
Atletico Madrid
13
1
1
21
3.50
6
Rayo Vallecano
18
1
0
21
3.50
6
Osasuna
21
0
1
26
4.33
6
Getafe
16
2
1
27
4.50
6
Elche
18
0
2
28
4.67
6
Mallorca
28
0
0
28
4.67
6
Almeria
24
0
1
29
4.83
6
Sevilla
23
1
1
31
5.17
6
Serie A
Team
Yellow Cards
Yellow – Red
Red Cards
Disciplinary Points
DP/Game
Games
Roma
7
0
0
7
1
7
Inter
10
0
0
10
1.43
7
Napoli
12
0
0
12
1.71
7
Monza
14
0
0
14
2.00
7
Spezia
13
1
0
16
2.29
7
Fiorentina
13
1
0
16
2.29
7
Torino
16
0
0
16
2.29
7
Lecce
17
0
0
17
2.43
7
Milan
16
1
0
19
2.71
7
Bologna
13
1
1
21
3.00
7
Cremonese
16
0
1
21
3.00
7
Sampdoria
21
0
0
21
3.00
7
Sassuolo
17
0
1
22
3.14
7
Empoli
12
0
2
22
3.14
7
Udinese
18
0
1
23
3.29
7
Verona
23
0
0
23
3.29
7
Lazio
18
0
1
23
3.29
7
Salernitana
19
0
1
24
3.43
7
Juventus
11
1
2
24
3.43
7
Atalanta
24
0
0
24
3.43
7
Bundesliga
Team
Yellow Cards
Yellow – Red
Red Cards
Disciplinary Points
DP/Game
Games
Union Berlin
6
0
0
6
0.86
7
Eintracht Frankfurt
9
0
0
9
1.29
7
Freiburg
10
0
0
10
1.43
7
Bayern Munich
11
0
0
11
1.57
7
Bochum
11
0
0
11
1.57
7
Koln
10
1
0
13
1.86
7
Wolfsburg
13
0
0
13
1.86
7
Borussia Monchengladbach
10
0
1
15
2.14
7
Werder Bremen
16
0
0
16
2.29
7
RB Leipzig
11
0
1
16
2.29
7
Borussia Dortmund
16
0
0
16
2.29
7
Hertha Berlin
15
1
0
18
2.57
7
Hoffenheim
15
1
0
18
2.57
7
Augsburg
19
0
0
19
2.71
7
Schalke
15
0
1
20
2.86
7
Bayer Leverkusen
10
2
1
21
3.00
7
Mainz
16
0
1
21
3.00
7
Stuttgart
17
1
1
25
3.57
7
Ligue 1
Team
Yellow Cards
Yellow – Red
Red Cards
Disciplinary Points
DP/Game
Games
Lorient
11
0
0
11
1.38
8
Toulouse
11
0
0
11
1.38
8
Lyon
9
0
1
14
1.75
8
Lens
10
0
1
15
1.88
8
Troyes
12
0
1
17
2.13
8
Brest
12
0
1
17
2.13
8
Clermont Foot
14
1
0
17
2.13
8
PSG
18
0
0
18
2.25
8
Nantes
13
0
1
18
2.25
8
Lille
18
0
0
18
2.25
8
Auxerre
9
2
1
20
2.50
8
Strasbourg
12
1
1
20
2.50
8
Marseille
19
1
0
22
2.75
8
Monaco
12
2
1
23
2.88
8
Angers
12
2
1
23
2.88
8
Rennes
18
1
1
26
3.25
8
Ajaccio
21
2
0
27
3.38
8
Nice
14
1
2
27
3.38
8
Montpellier
15
0
4
35
4.38
8
Reims
18
1
4
41
5.13
8