Why are British football fans banned from matches? Exploring the most common reasons
Sports-related violence and rioting have existed for at least 1500 years, with rioters destroying half of Constantinople during the Nika revolt of 532. Its modern form, however, emerged several centuries ago in England, and today, football hooliganism, although on the decline for the past two decades, is still a significant problem for authorities. Last year alone, 1,308 fans were forced to surrender their passports, preventing them from travelling to Qatar for the FIFA World Cup 2022.
Apart from the travelling sanctions, these fans were also banned from attending any regulated football match within the UK. The team at SportingPedia decided to look at the reasons behind the banning orders issued against fans since this is not a precedent. In 2018, more than 1,300 fans were banned from attending the World Cup in Russia, and in 2014, roughly 2,200 hooligans from England and Wales were barred from the World Cup in Brazil. The figure was even higher for the previous World Cup – some 3,200 fans were banned from travelling to South Africa in 2010.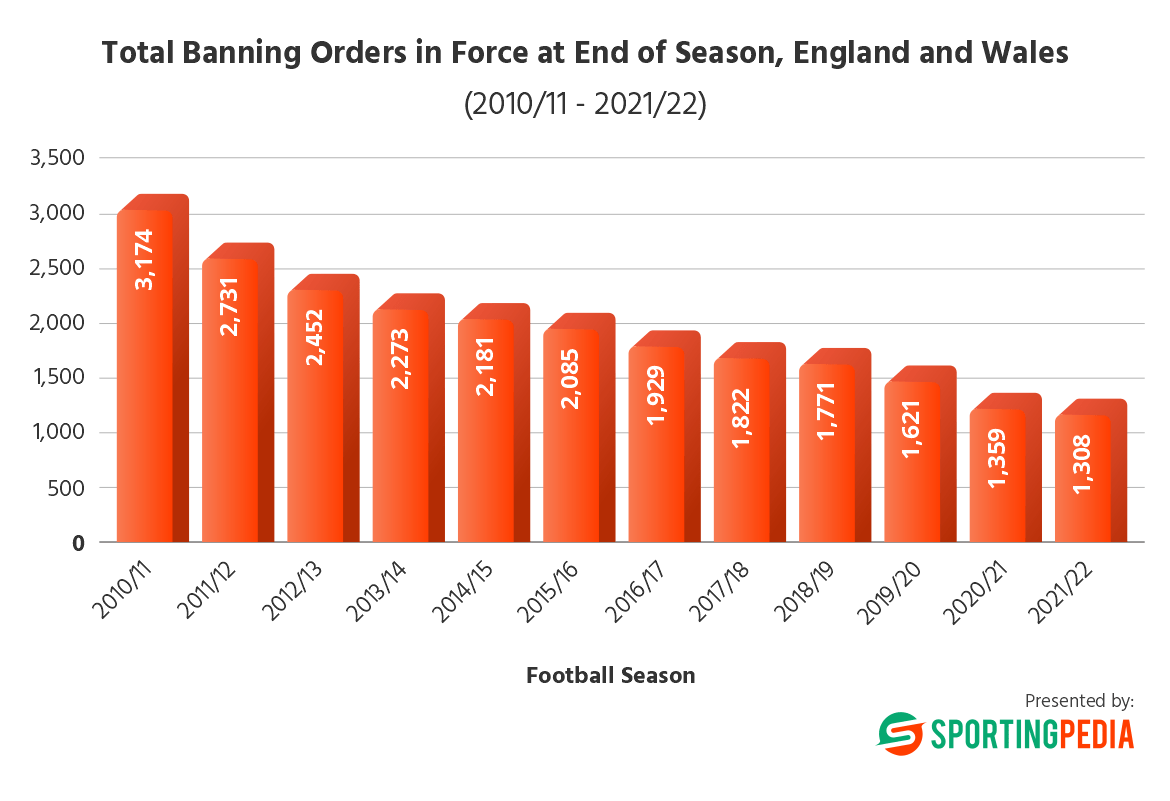 The number of banning orders has clearly been decreasing over the past decade, but there is an upward trend in the incidents reported during matches. During the last football season, there were more arrests than in the years before the pandemic. It seems that the Covid-19 lockdowns and restrictions have made fans more enthusiastic – and more aggressive- when attending a match. The team at SBS decided to explore this unusual trend and to find out which incidents were the most common during the 2021/2022 football season.
Methodology
The team at SBS looked at official Home Office statistics for reported incidents during football matches, arrests related to football hooliganism and the number of banning orders in place at the end of each football season. The data was reviewed for a period of 12 years, including figures for the 2021 to 2022 season, which commenced on the 1st of August 2021 and ended on the 28th of July 2022. Previous seasons ended on the 31st of July, but this year, the 2022/2023 season started on the 29th of July as the Qatar World Cup was held during November and December.
Why Are Football Fans Banned from Matches?
For decades, British football fans were notorious for causing trouble during matches. Тhe violence escalated in the 1970s when many organised hooligan firms were set up, and later in the 1980s, when the bloodiest football-related riots took place. Since then, the number of severe incidents has fallen, and the 1989 Football Spectators Act has been implemented.
This Act introduced the football banning order (FBO) as a measure to keep the most violent hooligans away from matches. These orders are issued by a court for a period of 3 to 5 years. Football fans may receive them either after being convicted for a football-related offence, or following a complaint by a local police force, British Transport Police (BTP), or the Crown Prosecution Service (CPS).
Before the pandemic, the number of arrests fell dramatically within just a few years – down 55% from 3,089 in the 2010/11 season to 1,381 in the 2018/19 season. The past year, however, saw a 59% increase in football-related arrests from pre-pandemic times. According to the latest Home Office statistics, in the 2021 to 2022 football season, there were 2,198 arrests. The most common types of offence were public disorder (36%) and violent disorder (20%).
Increase in Reported Incidents in 2021/2022 Season
According to the latest Home Office statistics, incidents were reported at 1,609 matches during the 2021/2022 football season, more than half of all 3,019 matches. The severity of these incidents was reported as low for 1,027 matches, medium for 426 matches, and high for 156 matches. This marks a striking difference compared to the previous two seasons, when many matches were played in empty stadiums during the height of the Covid-19 pandemic. Incidents occurred during 969 matches in the 2019/2020 season but only during 79 matches played throughout the 2020/2021 season.
The number of incidents throughout the past football season, however, increased significantly from pre-pandemic times. Violence or other disturbances were reported for just a third of all fixtures in 2018/2019 season – 1,007 incidents during a total of 3,022 matches. Compared to these numbers, the 2021/2022 season saw a 60% increase in incidents. Figures for the 2017/2018 season are slightly higher – 1,050 incidents out of 3,017 matches.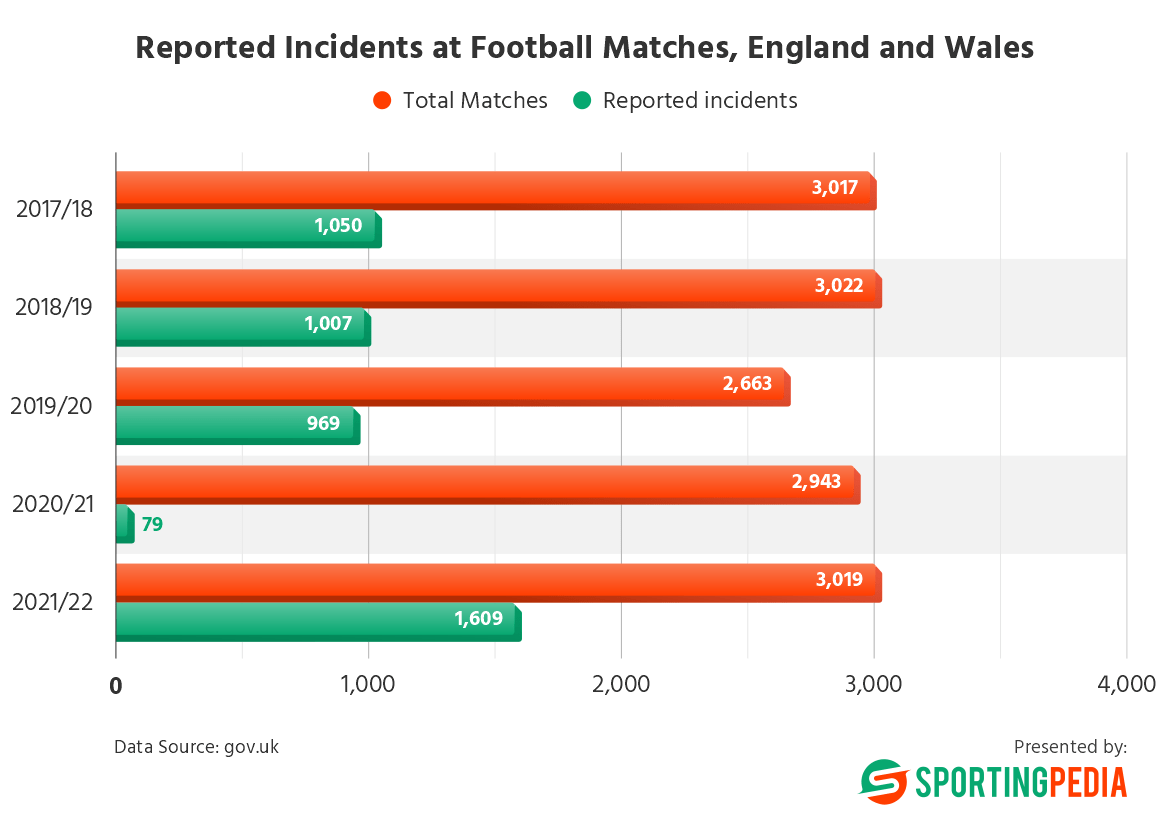 New Banning Orders Issued in the 2021/2022 Season
Each year, courts issue banning orders that are normally in place for 3 to 5 years, and an individual can have multiple bans. In consequence, the number of bans is not equal to the number of individuals who have received such a ban. When the last football season ended in the summer of 2022, the total number of banning orders in place was 1,308. This was down from 2020/21 when there were 1,359 banning orders in force and from 2019/20 when that figure was even higher – 1,621.
During the 2021/22 season, a total of 516 new banning orders were issued, while in 2020/2021, there were only 208 bans. In 2018/2019 (the last football season before the pandemic), courts issued 549 bans – compared to that year, there was a 6% decrease in new banning orders last season.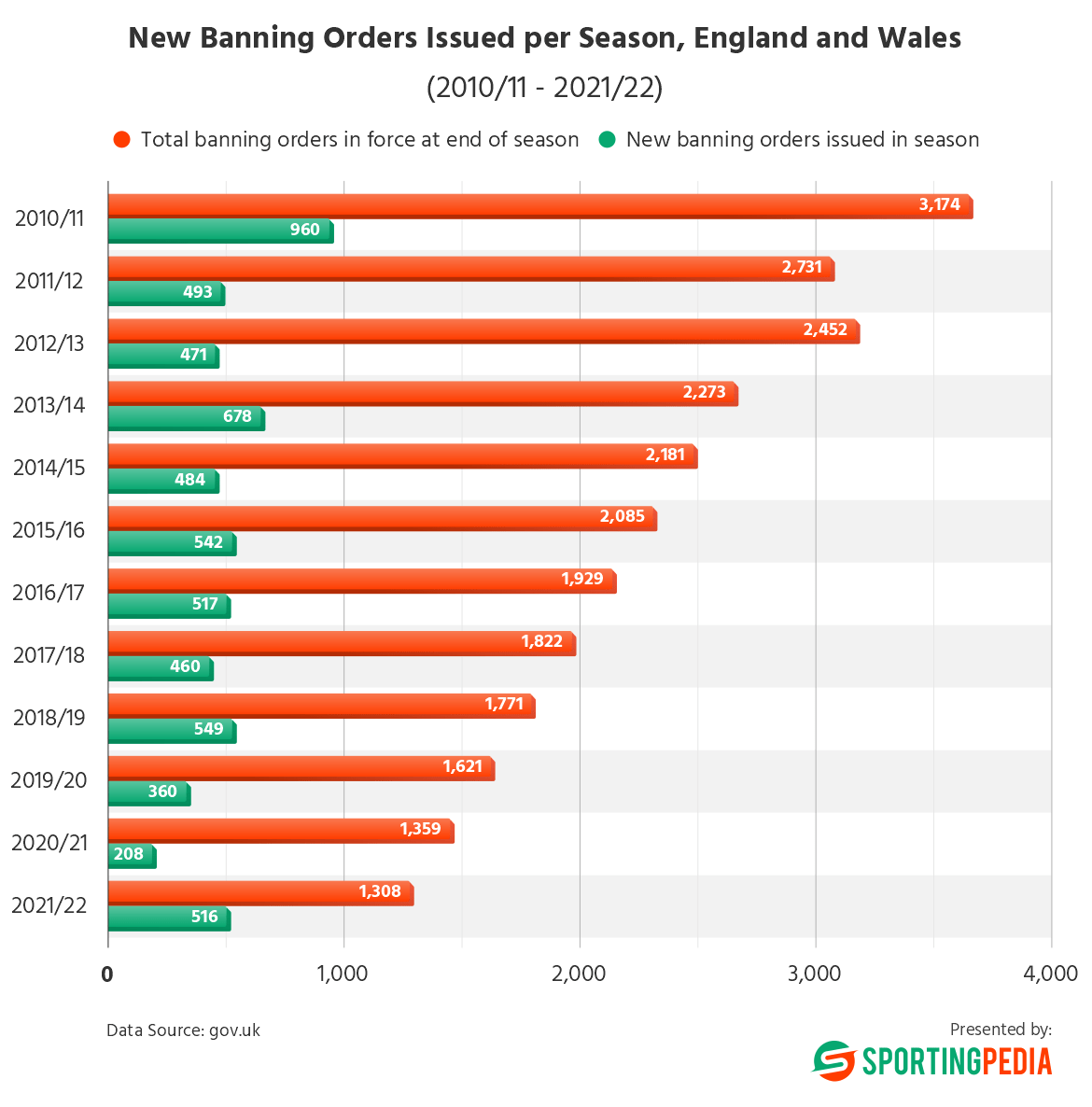 Men Aged 18 to 34, Premier League Fans Most Likely to Get Banned from Matches
Young men are more likely to be aggressive and cause trouble than women or older men, and Home Office statistics confirm this. The vast majority of banning orders have been issued to men aged 18 to 34. Out of all new 516 bans issued over the past season, 72.1% (372 bans) were given to individuals within this group. Only 1 banning order was issued to a woman, who was between 35 and 49 years of age. A total of 80 bans (15.5%) were issued to men aged 35 to 49, while 55 were issued to individuals between the ages of 50 and 64. Interestingly, only 1 person above the age of 64 was banned, and 8 bans were given out to children and teens aged 10 to 17.
The majority of banned individuals are supporters of Premier League (412 bans) and Championship clubs (356 bans). Out of all 1,308 banning orders in force at the end of the last season, 238 were of supporters of League One clubs, 155 were of League Two club fans, and only 91 were issued to supporters of clubs playing in the National League. Another 56 bans were held by fans of other clubs in England and Wales.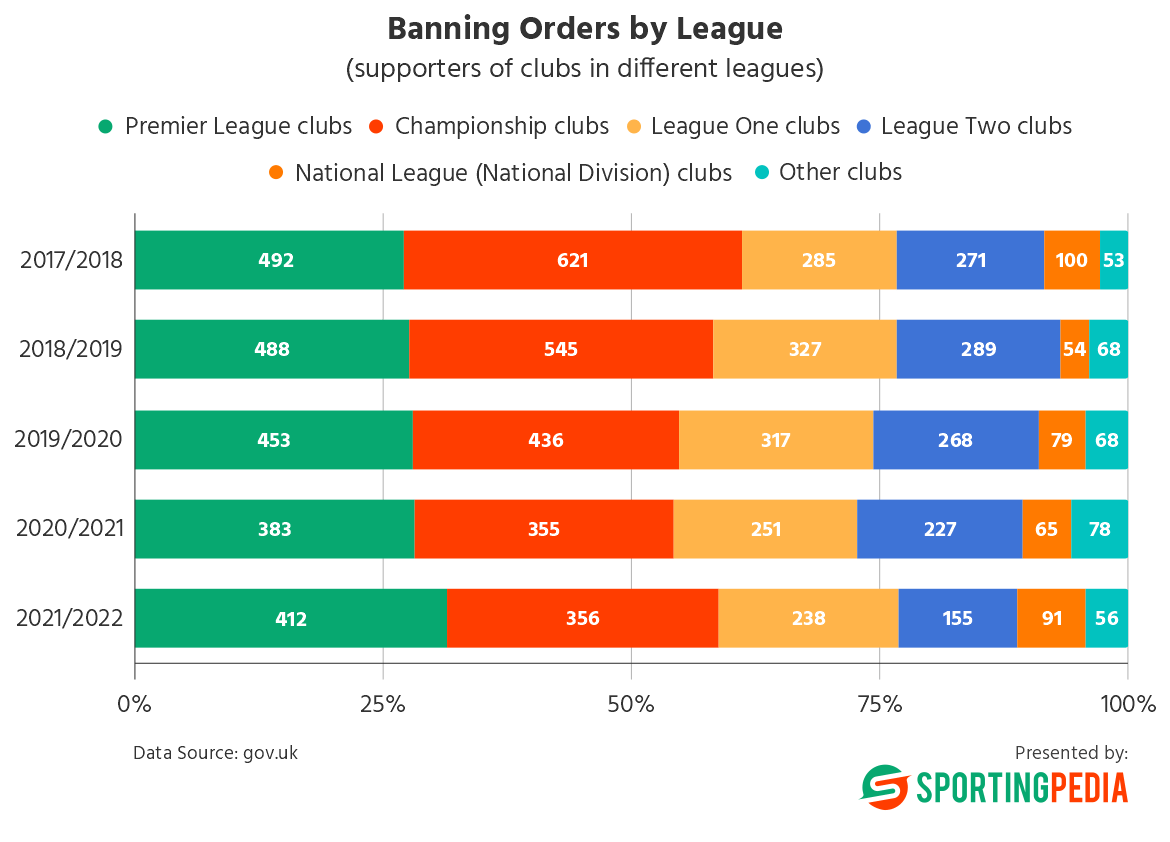 Football Clubs with the Most Banned Supporters
Historically, the supporters of certain clubs have always been more violent than the rest – the majority of large-scale incidents during matches in the past have been associated with the fans of just a handful of clubs. It is interesting to look at the clubs whose fans were banned from the most matches in the 2021/2022 season.
Birmingham City had the largest number of banned supporters last season – 57 bans were issued to their fans. Millwall had 52 fans banned from matches, followed by the Bolton Wanderers with 46 bans. Below you can see the ten clubs whose fans had the most bans during the past season.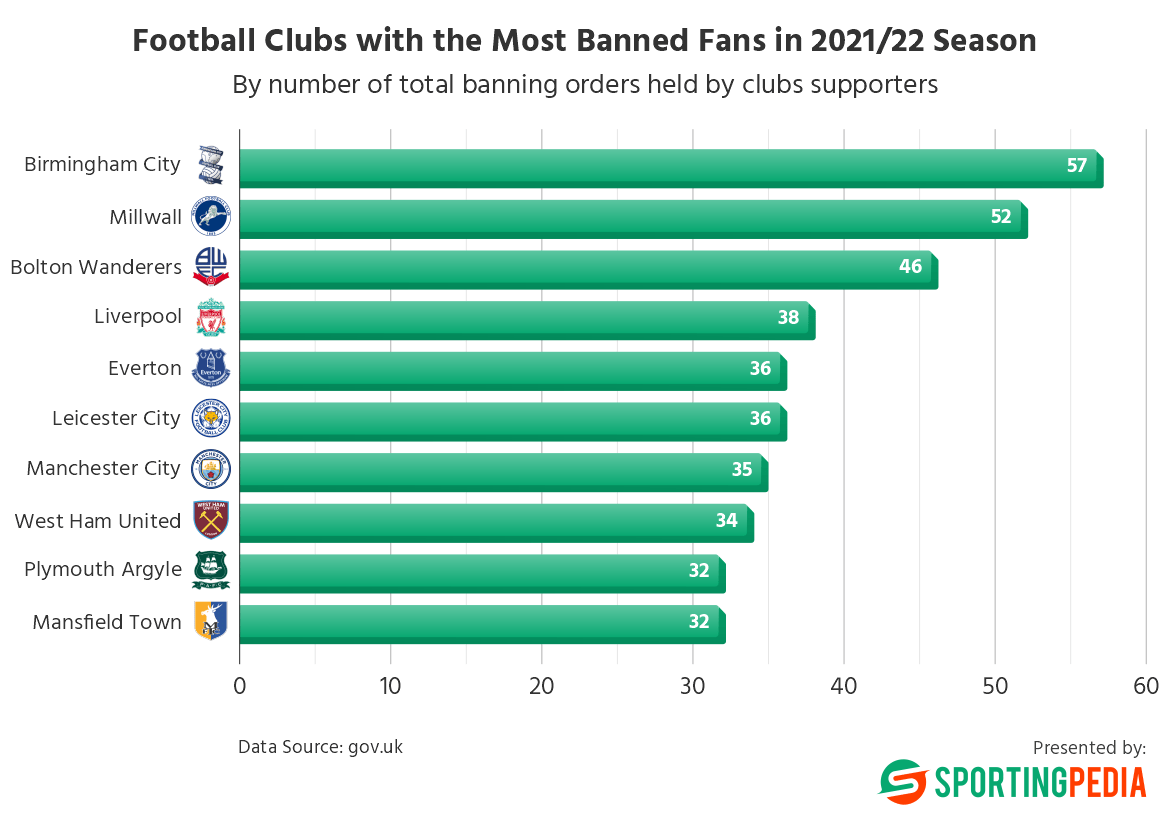 When looking at new bans issued only within the past 12 months, the clubs are more or less the same. Millwall fans received the most bans – 33, followed by the fans of Leicester City (28 bans), Everton (26 bans), Plymouth Argyle (23 bans), Manchester City (20 bans), West Ham United (18 bans), Burnley (17 bans), Derby County and Middlesbrough (15 bans), and Queens Park Rangers, Manchester United, and Newcastle United each with 14 bans.
The Most Common Incidents at Football Matches
Official figures for the types of incidents reported during matches show that the most common disturbance is illegal pyrotechnics – flares, smoke devices, and various other types of fireworks. During the 1,609 matches with reported incidents over the past season, there were 729 cases involving pyrotechnics, which is more than twice the 2018/19 levels (335 incidents).
Another common type of game disturbance is throwing missiles at or toward the pitch – fans often throw fireworks, bottles of water, stones and smaller objects such as lighters. A total of 561 incidents of this type were reported during the season, up 86% from 302 cases in 2018/19. This included several cases where players were struck. In January, police arrested an Everton fan at Goodison Park after Aston Villa players Matty Cash and Lucas Digne were hit by a bottle. Several plastic bottles were thrown at them, and while most missed the duo, the one that hit them turned out to be full.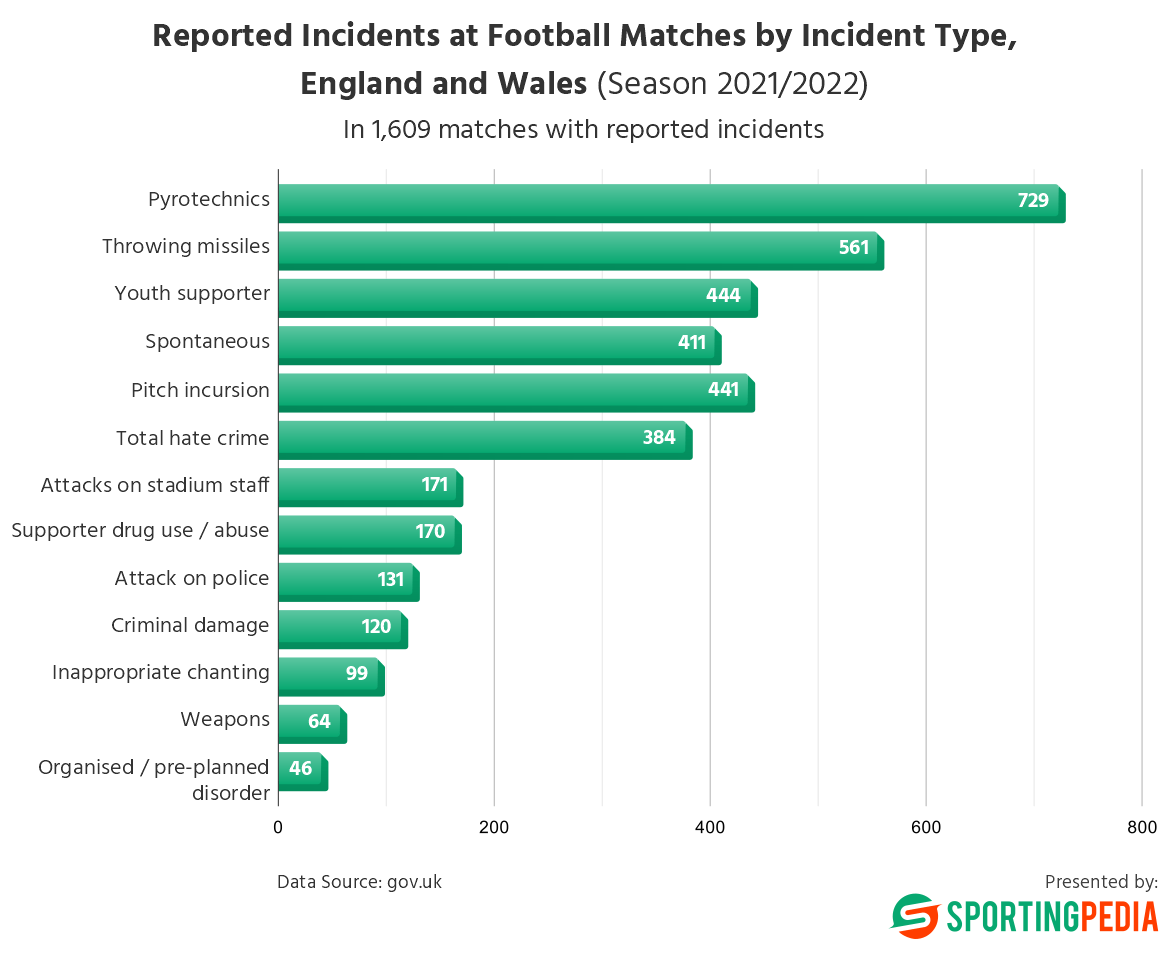 Pitch incursion is another huge issue for both the police and the football clubs, which receive hefty fines and even bans on playing before an audience. Over the past season, 441 incidents of this type were reported – up 127% from 194 cases in the 2018/19 season. In May, fans invaded the pitch – once again at Goodison Park, during a Premier League match, and Crystal Palace manager Patrick Viera even had an altercation with an Everton fan who apparently provoked him. Also in May, Aston Villa goalkeeper Robin Olsen was assaulted during the fans' celebration and pitch invasion at Etihad Stadium when Manchester City secured a 3-2 victory and a sixth Premier League title. After the final whistle went, Olsen was reportedly struck on the back of the head, an incident for which City and Pep Guardiola had to issue an official apology.
Hate crime incidents also nearly doubled (99%) from that period to 384 during the last season. The most common type of hate crime is targeting someone's race – 283 cases were reported compared to 152 in 2018/19. The steepest jump is in those hate crime incidents involving attacking someone based on their sexual orientation – from 37 in 2018/19 to 106 cases in 2021/22, an increase of 187%.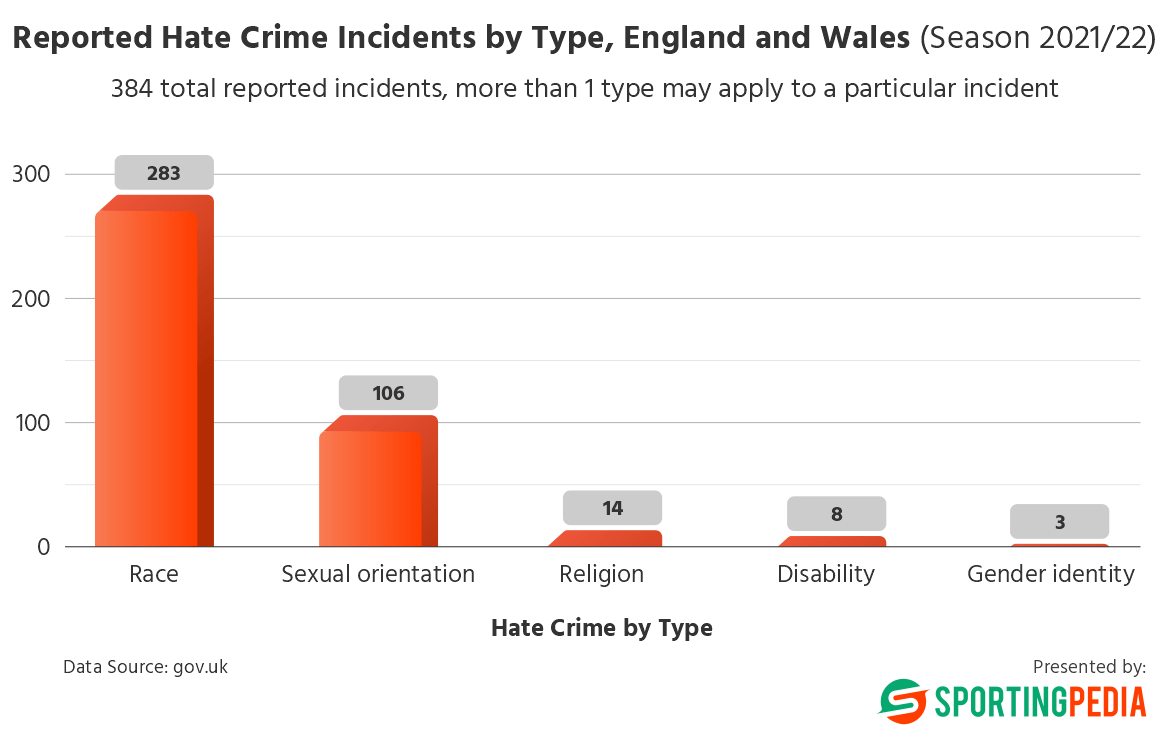 There were also 171 attacks on stadium staff during the 2021/22 football season, up 37% from pre-pandemic times. Attacks on police, however, jumped 130% compared to the same period – from 57 incidents back in 2018/19 to 131 cases this season. Cases of criminal damage increased from 49 incidents to 120 incidents (up 145%), while supporter drug abuse incidents rose by 34% to 170 cases in 2021/22. Segregation lines between opposing fans were breached 282 times, up 194% from the 96 cases in the 2018/19 season. The use of weapons has also increased from before the pandemic – 44 incidents were reported in 2018/19 compared to 64 incidents over the past football season.
A total of 444 incidents during the past season included the so-called youth supporters (individuals aged 25 or under), which is an increase of 52% from 2018/19. Interestingly, 411 of all reported incidents were described by authorities as "spontaneous", while only 46 cases were said to be organised or pre-planned incidents of disorder. This is a 40% decline in the number of organised attacks and disorder compared to matches before the pandemic.