The most expensive sports shoes sold at auction
In light of the most recent Michael Jordan's 'Last Dance' sneakers sale for a record $2.2 million at auction last week, the team at SportingPedia decided to compile a list of the most valuable sports footwear sold at auction. Our data includes the original price, taken from StockX, and the auction price of each pair.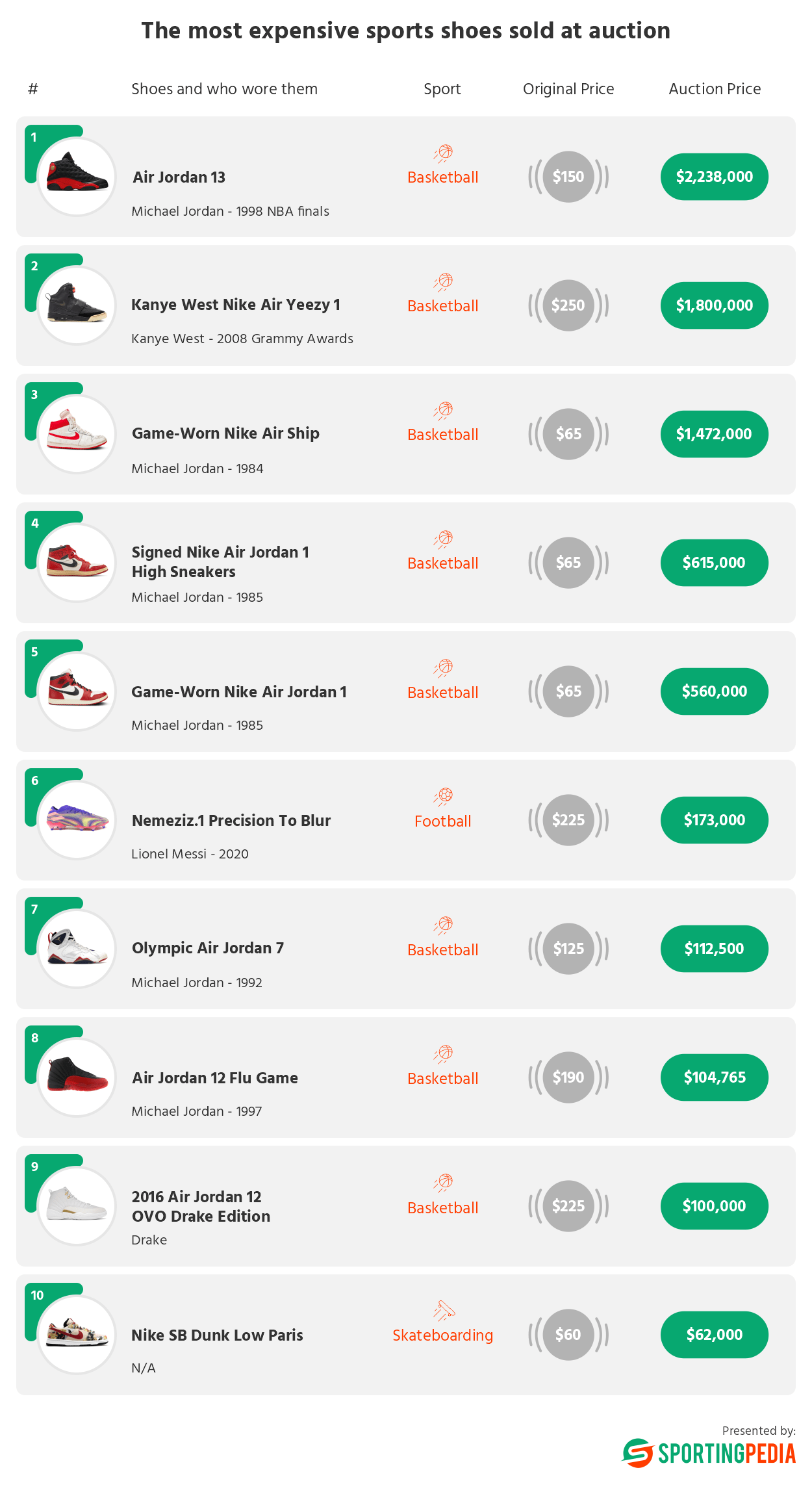 Here are our key takeaways:
9 of the 10 most expensive sports shoes ever sold at auction were manufactured by Nike
8 of the 10 most expensive sports shoes ever sold at auction are basketball shoes
6 out of those 8 are game-worn Michael Jordan sneakers. His shoes take up six spots in our ranking, despite 3 of the models initially cost just $65
Just one pair of football boots managed to rank in the top ten. Originally priced at $225, Nemeziz.1 Precision To Blur was worn by Lionel Messi when he scored his 664th goal since joining Barcelona. The pair was sold for $173,000 at auction
The Air Jordan 13 model used to cost $150 when it was new. However, the 'Last Dance' pair Michael Jordan wore during the 1998 NBA finals sold for a monumental $2,238,000 at auction, which places these shoes in the first spot
The Most Expensive Sports Shoes Sold At Auction
Air Jordan 13
The year 1998 saw Michael Jordan's last NBA championship victory. He wore a pair of Air Jordan 13s during his 'Last Dance,' and more than two decades later, in 2023, the very same pair would become the world's most expensive sports shoes to date. The signed Air Jordan 13s sold for over 2 million dollars at auction, an exceptional feat, especially when we consider their original price of $150. It should also be noted that apart from these shoes, no other pair of sneakers worn by Jordan in an NBA final have been authenticated by the NBA's MeiGray Group.
Kanye West Nike Air Yeezy 1
During the 2008 Grammy Awards, Kanye West baffled sneaker enthusiasts by performing in a never-before-seen pair of Nike shoes, and a collaboration between the famous rapper and Nike was revealed after the fact. The Nike Air Yeezy 1s were released to the public in 2009 for $250. While far from cheap, the price was still a far cry from how much Kanye West's Grammy-worn prototypes would sell for a mere twelve years later—$1,800,000. As a result, the shoes went down in history as the first pair of sneakers to sell for more than a million dollars at auction.
Game-Worn Nike Air Ship
The collaboration between Michael Jordan and Nike began in 1984 when the player made his debut in the NBA. His own line of sneakers was scheduled for release the following year, but before the Air Jordan 1s were officially ready, the then rookie would play wearing different pairs of Nike Air Ships. In 2021, one of the said pairs was auctioned off for $1,472,000.
What makes these particular Nike Air Ships unique is the fact that 'Air' is printed on the heels, as opposed to 'Nike Jordan'' or 'Nike Air.' The fact that the Air Ships are the first shoes worn by Michael Jordan in the early days of his NBA career is also of importance. These factors, along with the authentic Michael Jordan signature, are what resulted in the final bid of nearly 1.5M.
Signed Nike Air Jordan 1 High Sneakers
It is a well-known fact that basketball games can be pretty intense, but shattering the backboard is a feat achieved by a relatively small number of exceptionally strong players. Michael Jordan is one of them. During a 1985 exhibition game in Italy, the basketball legend performed a slam dunk with a level of force that would prove to be too much for the tempered glass of the backboard. Fast forward to today, a piece of that glass remains embedded into the sole of one of the Air Jordan 1 High sneakers he wore at the time of the event. This iconic piece of Michael Jordan memorabilia fetched a monumental $615,000 at an auction that took place in the year 2020, far more than the $160 the model sold for originally.
Game-Worn Nike Air Jordan 1
The Air Jordan 1s were launched in 1985 to great commercial success. The initial ad campaign for these shoes was famously centered around the black and red version of the model. This was Nike's clever attempt at capitalizing on the fact that, in the year prior, the NBA had banned Nike Air Ships of the same colors due to dress code violations. The Air Jordan 1 sneakers mark a pivotal era of Michael Jordan's career, which is one of the many reasons a signed, game-worn pair from 1985 sold for $560,000 in 2020. The color scheme of these shoes is also of note, seeing as it features red, white, and black, the signature colors of the Chicago Bulls.
Nemeziz.1 Precision To Blur
On December 20, 2022, Lionel Messi scored his 664th goal for Barcelona. The boots he wore during the event were the Adidas Nemeziz.1, and this model originally cost $225. Messi's own pair, however, managed to fetch a staggering $173,000 at a charity auction held in 2021. No other pair of football boots have broken this record to date. The funds were raised for a hospital in Barcelona.
Olympic Air Jordan 7
Basketball has been a discipline in the Olympics since 1936, and the USA's basketball teams have managed to snag the Olympic gold medal a grand total of sixteen times. The 1992 Olympics were no exception. The USA's 'Dream Team' was made up of absolute legends, including but not limited to Magic Johnson, Larry Bird, and, of course, Michael Jordan, who was decked out in the Air Jordan 7s. This model used to cost a modest $125 in 1992, but Jordan's own game-worn pair was sold for $112,500 in 2020. This is all thanks to the basketball star's legacy, as well as the sneakers' connection to the 'Dream Team,' which is considered to be one of the greatest basketball teams of all time.
Air Jordan 12 Flu Game
Michael Jordan memorabilia continue to dominate our ranking. A pair of Air Jordan 12s, worn by Michael Jordan in Game 5 of the 1997 NBA Finals, fetched $104,765 in 2013. Buying a new pair would have set you back $190 in the 1990s, which makes the final auction bid all the more impressive. As for why Michael Jordan's own Air Jordan 12s commanded such a high price, the basketball star appeared to be ill during the so-called 'Flu Game.' The event thus came to be seen as a testament to Jordan's resilience and passion for basketball.
2016 Air Jordan 12 OVO Drake Edition
Released in October 2016, the OVO Air Jordan 12 White's original retail price was set at $225. The model seems to be among the most exceptional collaborations between hip-hop artist Drake and Jordan Brand, and the white leather sneakers with metallic gold accents sold for $100,000 at auction. A black version of the pair was released one year later. The Grammy Award winner is an avid basketball fan, and his Toronto-based 50,000 sq ft mansion features a basketball court, called 'The Sanctuary'.
Nike SB Dunk Low Paris
Released in August 2003, Nike SB Dunk Low Paris shoes are a notable exception in our top ten ranking, populated by footwear worn by either sports legends or music stars. With an original retail price of $60, a pair of these unique SB Dunk Lows was sold at auction for $62,000. What makes the model so special is the fact that only 202 pairs were released in 2003, each one featuring a one-of-a-kind design, representing part of the artwork of French painter Bernard Buffet.
Conclusion
Although most of the sports footwear we examined used to cost less than $200 when new, there are pairs of shoes that have been auctioned off for thousands and even millions of dollars. All in all, collectors have shown that they are willing to pay a pretty penny for sports shoes that once belonged to famous athletes or musicians, with scarcity also influencing the bids at auctions.