Survey Reveals the 2023 Kentucky Derby Racegoers' Expenses For Accommodation, Food, And Merchandise
Inaugurated on May 17, 1875, the Kentucky Derby is the oldest and most prestigious horse racing event in the United States, garnering the attention of thousands of spectators. Held annually in Louisville, Kentucky, and starting on the first Saturday of May, "The Run for the Roses" is part of the three Triple Crown races. Infused with history and tradition, "The Most Exciting Two Minutes Of Sports" is a social event of great prominence.
The venue, Churchill Downs, offers a spectacular experience that many look forward to. But what are the actual costs of attending? SportingPedia surveyed a total of 930 Kentucky Derby fans on how much they would pay for their accommodation, food, and merchandise. We also asked them when they had booked their stays, and what type of accommodation they had gone for. Overall, the purpose of this survey is to collect reliable data and provide information on the Kentucky Derby budget plans of a representative sample of racegoers.

The Benefits of Planning Ahead
Last year, the Kentucky Derby enjoyed an audience of nearly 150,000 spectators. It is one of the largest and most popular sporting events in the US, after all. This can make it a challenge to find accommodation, even for the most meticulous planners. However, booking well in advance is usually a sure-fire way of securing a place to stay. With this in mind, we asked racegoers when they had booked their stays.
It seems that most of them had done their homework, as over 60% had reserved accommodation between six to twelve months before the event. Around 23% of those polled had decided to wait until the derby was between three and five months away, while 10% answered that they had booked their stay around a month or two in advance. Curiously, we found that a small number of daredevils had participated in our survey as well, since 1.9% of racegoers had the confidence to book accommodation in the week of the Kentucky Derby.
Planning ahead also tends to have the benefit of providing derby fans with opportunities to take advantage of cheaper offers. This is exactly what happened for 15.6% of our respondents, who will pay either nothing (if they stay with friends or family) or no more than $100 per night during their stay. In addition, 26.5% of racegoers will pay up to $300 per night, which is also quite the bargain. On the slightly costlier side of things, 36.2% of those polled have found accommodation that will amount to $600 or less. Finally, 21.7% answered that their accommodation would cost them over $600 per night.
In our last accommodation-related question, we asked derby fans where they would stay. The vast majority of racegoers – nearly 70% – answered that they would stay at a hotel. In addition, 17.1% had opted for Airbnb, according to our results. Around 10% of racegoers are lucky enough to have friends or family in Louisville or the surrounding area who will house them for the event. Last but not least, 5.1% will enjoy their stay at one of the area's many RV campgrounds.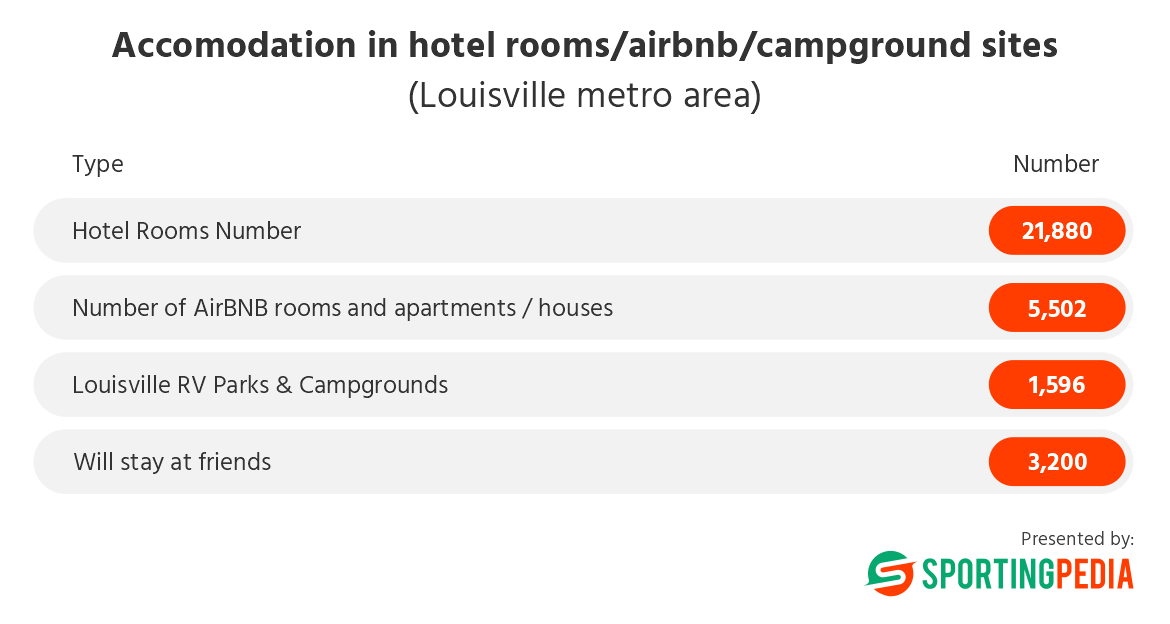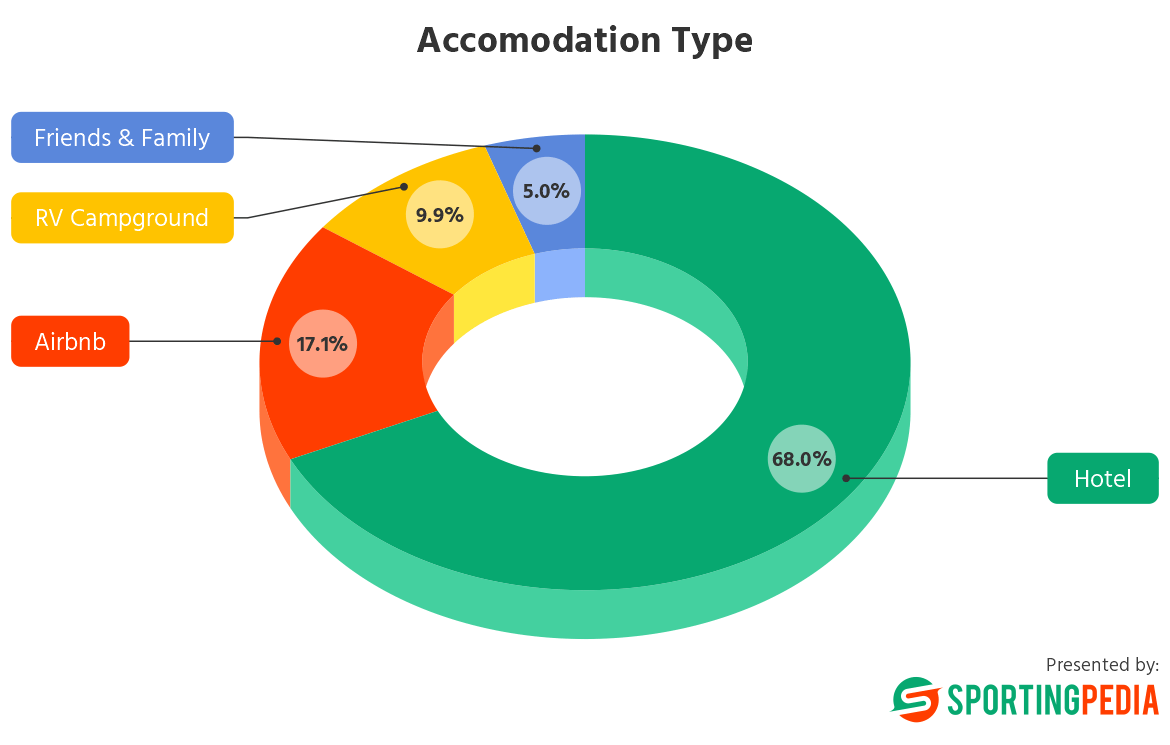 A Taste of the Kentucky Derby
With funds spent on food taking up a substantial portion of spectators' budgets during the Kentucky Derby, we examined in closer detail their plans in this regard.
Around 32% of the respondents shared they intend to spend up to $50 per day on food. A slightly bigger portion of them, approximately 37%, plan to stay within the $50 to $80 range. Over 20% of the surveyed racegoers claimed they would try to abide by a budget of $80 to $100 for food per day. The smallest portion of Kentucky Derby spectators (just over 9%) believed they would spend over $100 for food per day.
Racegoers who plan on spending up to $50 on food per day will likely dine at cost-efficient eateries. Moreover, Airbnb homes often come with kitchen appliances guests can use to prepare their food, which might have played a role in our results as well. Another possible factor is that, at the event itself, many derby fans will bring their own packed lunches. Of course, those looking forward to appreciating the cuisine of Louisville restaurants will also be able to enjoy inexpensive yet tasty meals. With average prices for appetizers standing at around $15 and main courses at $25, the Kentucky Derby racegoers will surely find a nice place that meets their budget.
The Cost of Taking the Derby Memories Home
As far as their expenses on merchandise are considered, the biggest portion of our respondents (approximately 39%) plan to spend between $100 and $200. Around 26% of the survey participants claimed they have set a budget between $50 and $100. The third largest group of spenders (around 20%) shared they would distribute from $10 to $50 of their budget to various merchandise items. Spending more than $200 on Kentucky Derby merch items coincides with the intention of some 14% of the surveyed racegoers. The official website of the Kentucky Derby offers an excellent online store, complete with various items, including hats, accessories, backpacks, collectables, footwear, polos, and t-shirts, among others. Currently, the average prices of the top-selling items stand at around $49, so most of our respondents are more than well-prepared to treat themselves and those back at home with unique Kentucky Derby memorabilia.
Conclusion
From mint julep cocktails and the exquisite parade of wide-brim hats to the garland of 554 red roses draped over the race winner, the Kentucky Derby is a spectacular event, infused with tradition and style. Ranking among the greatest sports events held on US soil, it is deserving of careful planning well ahead of time.
Methodology
In April 2023, we surveyed 930 Kentucky Derby racegoers using Facebook poll ads and inquired about several important aspects of their schedule during the great sporting event. We compiled information about the funds they plan to spend on accommodation, food, and merchandise.