Football players with the largest market value increase over the past year
The summer transfer window in European football is heating up. This led SportingPedia to identify the players who have experienced the most significant market value increases over the past 12 months. By analysing data provided by Transfermarkt, we gained insights into the players who saw a substantial rise in their market price during this period. According to the data, Khvicha Kvaratskhelia is the footballer with the largest market value increase since last July. Another curious finding is that one Portuguese player saw a colossal increase in value of 14,900%.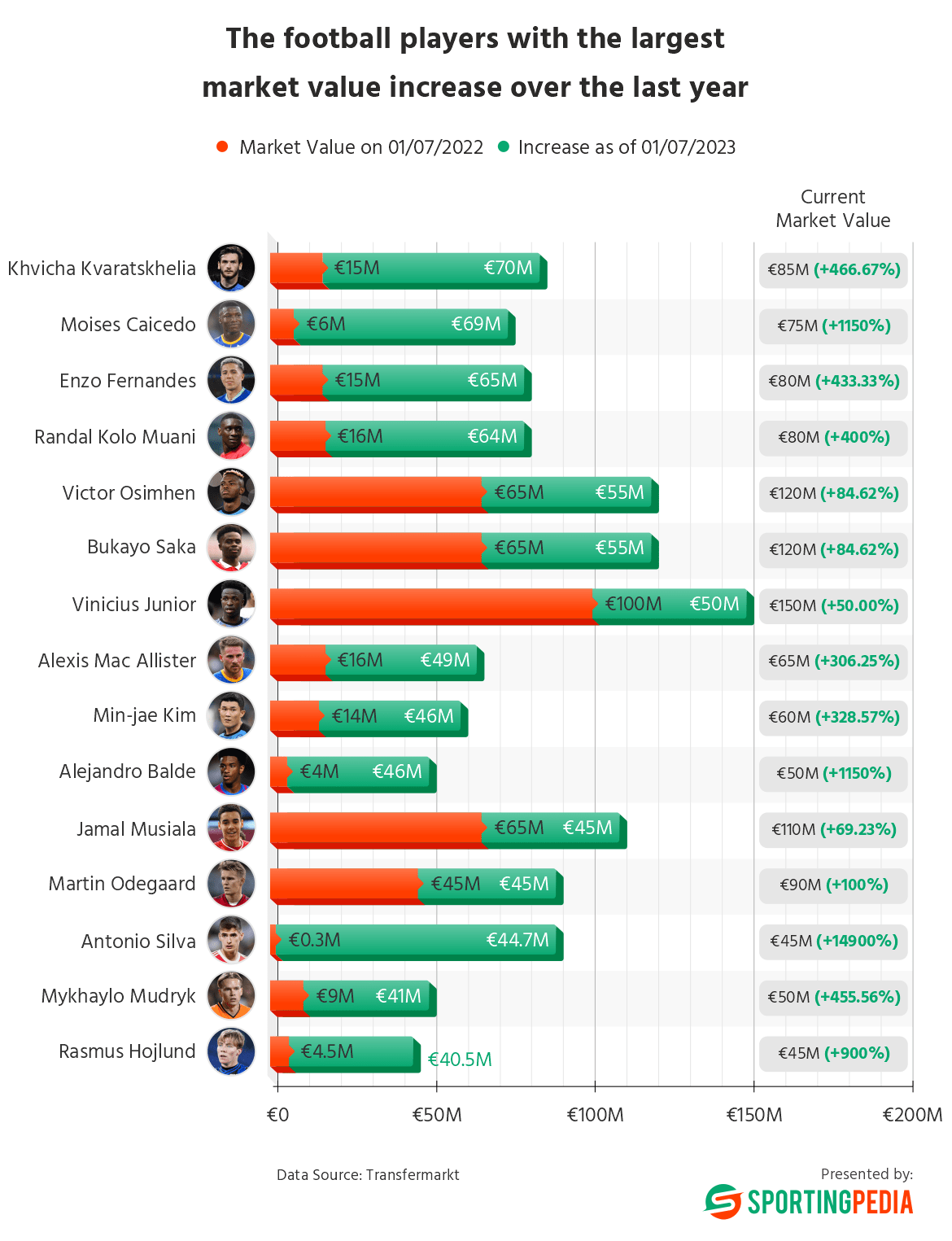 Key Takeaways
Khvicha Kvaratskhelia added a massive €70,000,000 on top of his market value from a year ago
Antonio Silva from Benfica has the biggest increase in terms of percentage at 14,900%
Real Madrid and Selecao star Vinicius Junior has the lowest percentage increase, but there is a solid reason behind that, discussed below
10 of the 15 players on the list took part in the 2022 World Cup
2 of the 15 are still teenagers, while only 1 is older than 25
The only 2 nations who have more than one representative on the list are Argentina and Norway
When looking at the market value increases in terms of relative values, then the percentage varies from 50% to the astounding 14,900%
Khvicha Kvaratskhelia, the Georgian sensation representing Napoli in Serie A, tops the list with an astounding surge of €70,000,000. His instrumental role in Napoli's Serie A title win played a significant part in driving up his market value. The Italian champions are the team who has the most representatives on the list with 3 players. Victor Osimhen and Kim-jae Min also saw a significant increase in their valuations.
At 26 years of age the South Korean Kim-jae Min is the oldest player in the ranking, with all the others being below 25. There are also two teenagers, Alejandro Balde from Barcelona and Antonio Silva from Benfica. Making the list showcases their exceptional talent and next to unlimited potential for future growth. Silva, a promising Portuguese defender, boasts the highest percentage increase in market value, with a staggering rise of 14,900%.
Vinicius Junior, Real Madrid's Brazilian starlet, has seen the lowest percentage increase among the players on the list. But there is a solid reason for that. 12 months back, Vini had a market value of €100,000,000 and now the rise to €150,000,000 highlights his consistent climb to the top of the game.
Argentina and Norway stand out as the only nations with multiple representatives on the list. This only showcases the abundance of talent and the impact the players from these countries are having. Alexis Mac Allister – one of the Argentinians, is the sole player on the list who has already been involved in a summer transfer, moving from Brighton to Liverpool.