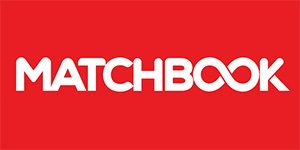 Matchbook is a virtual betting platform, which started to carve a niche for itself almost immediately after it roared into life back in 2004. It is a go-to betting platform for gambling enthusiasts who are not only taken with sports betting but also with casino games, including live-dealer such.
Matchbook is a sports betting exchange community with a customer base, which continues to grow with every passing day. Yet, the biggest benefit of joining the community of the bookie is that punters will be treated with a rich variety of betting options as, along with all major sports, users of Matchbook can wager on virtual sports and opt for live betting.
Registering for an account at Matchbook is punters' best choice if they want to get better value for their wagers and have lots of different promotional offers within their grasp.

Betting on sports at Matchbook is possible anytime and anywhere,
and the operator has solved this issue with the introduction of dedicated apps for iOS and Android-based devices
. Gambling aficionados can wager on their favorite sports or events whenever they feel like it also through a fast-performing browser-based app, which is accessible without downloads and installations.
Matchbook Betting App Features
Matchbook is a virtual bookie, which is looking to stay relevant, and in this day and time, this does not go without satisfying the demands of punters who are heavily into betting while they are out and about.
Gambling aficionados do not need to jump through hoops in order to wager on sports through their tablet or smartphone, and the first thing they need to do is get the respective app on their device. The operator has dedicated a separate section for mobile play where punters will find more details about each of the downloadable apps.
Betting from iOS
Gambling enthusiasts who have an iOS-run tablet or smartphone can get the app straight from the website of the bookie or after they land at the App Store. All markets and special features will be one touch away, given that the portable device of punters is based on iOS or later. To get the most out of their betting session, owners of such devices are advised to use the app on Mac, iPhone, or iPod Touch.
Betting from Android
Sports bettors who are using an Android-based device to access the bookie can get the dedicated app straight from the website of Matchbook, and what is important to note is that there are separate apps for punters from the UK and Ireland, and those who live elsewhere.
Betting from browser
There are other fish in the sea when betting on the go is what gambling enthusiasts have on their mind as they can simply land at Matchbook through their browser so that the website of the bookie could adjust to the screen of their device.
As for the layout of the dedicated apps, their general characteristics are roughly the same as everything on the website of the bookie is arranged in an identical manner. The main menu button, search engine, and log in buttons are pinned above the fold, and further down than them, users of the bookie will see the banners that promote the available bonus incentives.
The landing page holds information about today's race, and punters can view the available options based on the time. As they scroll down, bettors will see the highlights from a number of sports, including tennis, soccer, cricket, snooker, and rugby, among others.
On the right-hand side of their screen, users of the bookie will spot a sidebar, which gives them instant access to their bet slip, multiples, settings, and podcasts.
Punters can hop between the different sports the bookie covers in the blink of an eye as once they tab on the hamburger button, they will see the top five sports, games, and the complete list of options.
Below the fold, users of the dedicated apps will see the tabs for the exchange, casino, live casino, and promotions. All essential information, together with the licensing details of the bookie, and the live chat functionality are positioned at the bottom of the landing page.
Matchbook deserves plus points because punters can select from the US odds format, decimal, Hong Kong odds, and Malaysian odds.
Matchbook App Features
Available on
Android/iOS/Browser
Market limitations
No
Banking limitations
No
Languages
English
Supported devices
Apple iPhone 12, Apple iPhone 11, Apple iPhone XS, Apple iPhone XR, Apple iPhone X, Apple iPhone 8, Apple iPhone 7, Apple iPad, Huawei Y5, Huawei Y6, Huawei Y7, Huawei nova, Huawei P10, Huawei P20, Huawei P30, Infinix S4, Infinix Smart 5, Infinix Smart 6, Infinix Hot 7, Infinix Hot 8, itel A16, itel A33, itel A56, Nokia 2.1, Nokia 2.2, Nokia C1, OPPO A3s, OPPO A5s, OPPO A1K, Safaricom NEON RAY, Samsung Galaxy A01, Samsung Galaxy A10, Samsung Galaxy A10s, Samsung Galaxy A11, Samsung Galaxy A20, Samsung Galaxy A21s, Samsung Galaxy A30, Samsung Galaxy A40, Samsung Galaxy A50, Samsung Galaxy A51, Samsung Galaxy A70, Samsung Galaxy A71, Samsung Galaxy Grand, Samsung Galaxy J5, Samsung Galaxy J7, Samsung Galaxy S7, Samsung Galaxy S8, Samsung Galaxy S9, Samsung Galaxy S10, Samsung Galaxy S20, Samsung Galaxy J2, Samsung Galaxy J4, Samsung Galaxy Note8, Samsung Galaxy Note9, Samsung Galaxy Note10+, Tecno Pop 2, Tecno Pop 3, Tecno Camon 11, Tecno Camon 12, Tecno Camon 13, Tecno Camon 14, Tecno Camon 15, Tecno F1, Tecno K7, Tecno Spark 2, Tecno Spark 3, Tecno Spark 4, Tecno Spark 5, Tecno Pouvoir 2, Tecno Pouvoir 3, Vodafone 100, Vodafone Smart Kicka 4, Xiaomi Redmi Note 7, Xiaomi Redmi Note 8, Xiaomi Redmi Note 9
Matchbook Betting App Markets
The way the downloadable apps look and feel will undoubtedly have an impact on the experience of gambling enthusiasts, but the variety of the covered sports and events is what truly makes the difference. Obviously, the operator wants to surpass its rivals as registering for an account at Matchbook means that punters will be treated with more than enough betting options.
The operator has introduced a list of the sports that get the biggest volume of betting action from its customers, and the options that have made it to this roster include soccer, basketball, horse racing, and greyhound racing. In-play betting is a fan-favorite option as well, and as members of the bookie switch to this section, they will be presented with lines for soccer, tennis, cricket, and snooker.
The operator keeps basketball fans covered, and if this is the sport, which ranks highest on their agenda, they might be pleased to see that lines are offered for the NBA and EuroCup.
Betting from portable devices
Things are made exceptionally easy for punters who are placing their wagers through a portable device as they can if multiples are available and sort the available bet options based on the odds, handicaps, and totals, no matter the preferred sport.
There are no two ways about it that soccer attracts huge attention and this is why it makes sense that Matchbook covers so diverse markets. Gambling enthusiasts who are caught up in betting on soccer will see odds for a number of domestic competitions, as well all major events that attract staggering viewership, including the World Cup, UEFA Europa League, and UEFA Champions League, among others. Additionally, soccer fans can lay their stakes on competitions that take place in England, Australia, and Colombia.
The operator has made sure that it will be exceptionally easy for soccer fans to keep up with all events, as once they head over to this tab, they can switch to the Now and Next sub-category, which will unveil the events that will take place today and tomorrow.
Range of options
While betting on the go through the dedicated apps, gambling enthusiasts will have an ample range of options to go for if virtual sports pique their interest. They can bet on football, horses, speedway, greyhounds, trotting, and velodrome.
Punters should not frown upon the bookie if virtual sports are not their thing as there are tons of other markets to go for, including baseball, MMA, boxing, rugby, snooker, and ice hockey. Rugby fans can wager on events from the League and the Union, and once again, they will have the chance to change the way the available events are displayed.
Punters who wish to diversify their betting session might be keen on the idea to bet on politics, and odds are currently provided for the USA and the UK.
Matchbook App Markets
Australian Rules
Baseball
Basketball
Golf
Cricket
Boxing
Greyhound Racing
Horse Racing
Ice Hockey
Snooker
Virtual Sports
MMA
Rugby Union
Rugby League
Politics
Tennis
Soccer
Matchbook Betting App Bonuses
Punters who have decided to engage in wagering on sports at Matchbook might be thrilled to find out that the extensive roster of markets they will have within reach is not the only benefit registering for an account there will result in.
Gambling aficionados are promised a superb experience also when bonus incentives are concerned. What customers-to-be of the bookie should bear in mind is that if no special deals are currently available under the promotional tab, this should not leave them thinking that such will not be gettable at all as the operator prefers to introduce limited-time bonus incentives.
As they complete the registration from their hand-held device, newcomers can redeem a nice welcome offer, thanks to which they can kick off their gambling adventures on the right foot. Punters who register for an account at this point will get to enjoy a 0% commission, no matter the sport they will settle on. To take part in the promotional offer, recruits of the bookie will be required to enter the COMMFREE coupon code while creating their account.
This special deal will be within reach for gambling enthusiasts who are betting in the exchange through one of the dedicated apps or their desktop device. Naturally, punters will be prevented from using this special offer against their own account, and if they attempt to do so, this will be considered a breach of the bonus policy of the bookie.
Newcomers
Previous account users will not be allowed to participate in this bonus offer either. Newcomers who are just about to claim this bonus offer are recommended to avoid using baking solutions like Paysafecard, Neteller, and Skrill before that as this will render them ineligible for the promotion.
Another essential term newcomers at Matchbook should pay attention to is that the welcome offer cannot be used together with any of the other special incentives the bookie has introduced.
Regular users of the bookie are advised to check if new deals are added under the tab for promotions as the operator updates the list on a regular basis. In addition to this, members of Matchbook should expect to receive custom-made bonus offers that are designed to match their activity and preferences for sports via email.
Matchbook App Bonuses
Bonus
Key terms
0% Commission on all sports
Deposits via Paysafecard, Neteller, and Skrill are ineligible; Not available to previous account users; Available only under the exchange; Cannot be combined with other bonus offers; The COMMFREE coupon code is required
Matchbook Betting App Banking
Funding your account while being out and about and taking your winnings off Matchbook is certainly not one of the things you should be troubled by as the cashier of the bookie is user-friendly and convenient-to-use even on devices with smaller screens.
Punters need to be aware that the roster of the accepted banking solutions might change based on the jurisdiction from which they are accessing the bookie, but they will still get access to some of the most widely-used payment processors.
Making a deposit through the dedicated Matchbook apps takes no time at all, and some of the means of payment punters can opt for are digital wallets and prepaid vouchers. If these are exactly the payment solutions sports bettors have on their minds, they can select from Paysafecard, Neteller, and Skrill.
Credit/Debit cards
Depositing funds into their accounts is possible also using credit and debit cards, and this payment solution is a great alternative for punters who want to see their funds in their balance on the spot. Top-ins can be executed exclusively through Mastercard and Visa-branded credit and debit cards.
With all accepted deposit methods, sports bettors will be allowed to transfer a minimum of $10, while no upper limit will be imposed on the amount they can move to their balance. Naturally, this does not apply to account holders who have set up deposit limits.
Cashout
As for the supported cashout methods, users of the dedicated Matchbook apps can take their winnings off the betting platform through a rather limited number of banking solutions. Although the supported cashout methods might vary based on the country where punters live, the payment processors that are normally available include Neteller, Skrill, Visa, and Mastercard-branded debit cards.
Paysafecard does not double as a withdrawal solution, but wire transfer is instead added on the cashout page.
While placing their bets on the move, users of the bookie should remember that their cashout requests will be authorized only if their account is already verified. Another thing to remember about cashouts is that Matchbook abides by the "closed loop policy", which means that when they are about to pull their winnings out of their account, they will be allowed to do so through the payment method they have used when moving funds to their balance.
Users of the bookie who prefer to use wire transfer when withdrawing their funds should take into account that the bare minimum for such transactions stands at $500. Besides, some fees might be charged, which is something to inquire into in advance.
With the rest of the supported withdrawal methods, members of Matchbook will be allowed to retrieve a minimum of $10 from their balance. Once again, there is no limit on the amount punters are permitted to retrieve on a single transaction.
Fees
Payments to and from Matchbook are commission-free, but punters are advised to check if the usage of the preferred payment processor does not result in some extra charges.
Matchbook App Banking
Method
Deposit
Withdrawal
Mastercard
$10; Instant
$10; Up to three days
Visa
$10; Instant
$10; Up to three days
Paysafecard
$10; Instant
N/A
Neteller
$10; Instant
$10; A couple of hours
Skrill
$10; Instant
$10; A couple of hours
Wire transfer
$10; Instant
$500; Up to seven days
Matchbook Betting App Security
Matchbook is a brand name, which has become synonymous with quality gambling experience for punters and fans of casino games alike, and there is a pretty good reason why.
The operator upholds the highest industry standards when customer protection is concerned, and along with the SSL encryption, which is used to safeguard their funds and sensitive data, the operator has brought into play two-factor authentication to further fortify the safety of its users.
As for the track record of the bookie, Matchbook is owned and managed by Triplebet Limited, which is a company with extensive experience in the industry. The operator is permitted to operate in a number of markets, thanks to its two seals of approval granted by the Gambling Commission of the United Kingdom and the Alderney Gambling Control Commission.
Age restrictions
To register with Matchbook and use its services while they are out and about, prospective users of the bookie need to be at least 18 years old or any other legal age. Of course, before they go for filling in the registration form, gambling enthusiasts are recommended to check the list of the restricted jurisdictions with a fine-toothed comb.
As it seems, most gambling aficionados who have registered for an account at the bookie are satisfied with the services the bookie offers as we did not come across that many negative comments from existing customers. Matchbook is celebrated for its fair practices and quick withdrawals, which are all departments that should be given more attention prior to joining the community of the chosen bookie.
Matchbook App Security
Passcode
No
FaceID
No
Two-factor authentication
Yes
Matchbook Betting App Customer Support
To stand out in the competitive market, the operator has given its best to offer high-level customer service. The support hosts are friendly and knowledgeable, and we got all our questions answered when we reached them through the live chat facility. It is a plus point that using the live chat does not take registering for an account before that, which will work to the advantage of users-to-be of the bookie.
Yet, one of the biggest shortcomings of the help desk of Matchbook is that it does not operate around the clock, which might turn out to be stressful for punters, especially when the situation calls for getting assistance right away.
The work hours of the live chat from Monday to Thursday are from 9:00 am to 10:00 pm, while from Friday to Saturday, punters can reach the agents between 9:00 am to midnight.
It seems that by the time of writing the review, the phone support was offline, but sports bettors can still forward their questions via email at support@matchbook.com.
Matchbook App Support
Phone
Currently Offline
Live chat
Yes
Email
support@matchbook.com
Matchbook Betting App Verdict
Matchbook is an online betting platform, which has managed to make a name for itself with its extensive sports coverage, competitive odds, and betting exchanges.
The needs and preferences of punters who enjoy betting on the go are of paramount importance as the operator has come up with fully-functional and user-oriented dedicated apps. They impress with their premium performance and, above all, with the plethora of betting options that will be just a few taps away.
The operator has done a good job also with its cashier, as although the supported banking solutions are not that profuse, deposits and cashouts are executed without any hassle.
What some punters might point as a shortcoming is that the live chat functionality does not work around the clock, but on the positive side of things, there are other channels of communication to rely on.