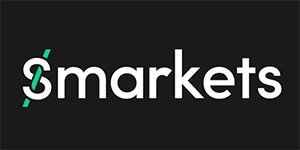 Smarkets is one of the most recognizable brand names when it comes to peer-to-peer trading on politics and sports. The work on the betting exchange began back in 2008, and its invite-only version saw the light of the day the next year. The platform continued to work in full swing, and a year later, it opened for public trading.
The operator is set to offer transparent trading services, and since 2010 onwards, Smarkets has handled trades that are worth well over £15 billion. Since its launch, the services of the betting platform were greatly improved, and currently, it can process thousands of trades per second.

Gradually, Smarkets started to expand its operations, and currently, it has offices in London, Los Angeles, and Malta, but what it prides itself most is the low commission the operator takes.
Sports coverage is where the betting platform truly shines as the operator went out of its way to respond to punters' needs and preferences, offering them a plethora of markets to choose between.
To stay relevant, the operator offers enjoyable and innovative online betting to its users anytime and anywhere. To this end, punters who prefer wagering anywhere and any time can go on with their betting session through the high-caliber downloadable apps.
Another way to achieve this is to keep punters engaged by offering them several promotional incentives, no matter how long their patronage is, which is also a department Smarkets delivers in.
Smarkets Betting App Features
Smarkets is a sports betting platform, which strives for perfection, and achieving this is not possible if the operator falls short to respond to punters' needs and preferences for wagering on the move.
Users of the bookie should not worry that they will need to interrupt their betting session when they leave the comfort of their homes or that they will miss the time to place their bet at the best odds as they can carry all the thrill Smarkets offers in their pocket at all times.
For this purpose, gambling enthusiasts should go for the in-browser app, which will not use any of the storage space of their device or one of the dedicated apps that work on devices based on Android or iOS. When gambling enthusiasts power up the website of the bookie, they will be asked if they prefer to start betting there through their device browser or will use one of the apps.
Sports bettors that own an iPhone, iPad, or iPod Touch can take advantage of the dedicated app, provided that the OS of their device is 9.00 or higher.
Downloadable apps
The downloadable apps introduced by Smarkets are neither unresponsive nor slow, which is of crucial importance when wrapping up your wagers through a device with a smaller screen. Pages load in the blink of an eye, while the response times are quick-enough to ensure that punters will not feel like giving up on their betting session.
The operator has paid close attention to the mobile experience of punters, and picking the dedicated apps means that they can choose between light and dark mode, go for the cash-out feature, or keep their wagers through the in-play feature.
While being on the go, punters will still be able to benefit from the full exchange functionality or find trades and markets in the blink of an eye through the search engine.
Right next to the search bar, gambling enthusiasts will spot the button, which allows them to adjust the setting of their account. As they tap there, they will be able to switch between decimal, fractional, and American odds or switch to dark or light modes. As they navigate there, users of the bookie will also view the other supported languages, and along with English, they will see Swedish and Portuguese.
Smarkets' landing page contains information about the current top markets, most attention-grabbing live markets, and the available bonus offers. Besides, they will view the most popular categories, including soccer, politics, horse racing, current affairs and entertainment, and so on.
Smarkets App Features
Available on
Android/iOS/Browser
Market limitations
No
Banking limitations
No
Languages
English, Portuguese, and Swedish
Supported devices
Apple iPhone 12, Apple iPhone 11, Apple iPhone XS, Apple iPhone XR, Apple iPhone X, Apple iPhone 8, Apple iPhone 7, Apple iPad, Huawei Y5, Huawei Y6, Huawei Y7, Huawei nova, Huawei P10, Huawei P20, Huawei P30, Infinix S4, Infinix Smart 5, Infinix Smart 6, Infinix Hot 7, Infinix Hot 8, itel A16, itel A33, itel A56, Nokia 2.1, Nokia 2.2, Nokia C1, OPPO A3s, OPPO A5s, OPPO A1K, Safaricom NEON RAY, Samsung Galaxy A01, Samsung Galaxy A10, Samsung Galaxy A10s, Samsung Galaxy A11, Samsung Galaxy A20, Samsung Galaxy A21s, Samsung Galaxy A30, Samsung Galaxy A40, Samsung Galaxy A50, Samsung Galaxy A51, Samsung Galaxy A70, Samsung Galaxy A71, Samsung Galaxy Grand, Samsung Galaxy J5, Samsung Galaxy J7, Samsung Galaxy S7, Samsung Galaxy S8, Samsung Galaxy S9, Samsung Galaxy S10, Samsung Galaxy S20, Samsung Galaxy J2, Samsung Galaxy J4, Samsung Galaxy Note8, Samsung Galaxy Note9, Samsung Galaxy Note10+, Tecno Pop 2, Tecno Pop 3, Tecno Camon 11, Tecno Camon 12, Tecno Camon 13, Tecno Camon 14, Tecno Camon 15, Tecno F1, Tecno K7, Tecno Spark 2, Tecno Spark 3, Tecno Spark 4, Tecno Spark 5, Tecno Pouvoir 2, Tecno Pouvoir 3, Vodafone 100, Vodafone Smart Kicka 4, Xiaomi Redmi Note 7, Xiaomi Redmi Note 8, Xiaomi Redmi Note 9
Smarkets Betting App Bonuses
The primary reason why Smarkets has grown tremendously in popularity is that the bookie offers all core elements for a to-notch experience on the go. The operator cuts the mustard also when promotional incentives are concerned, and first-timers will almost certainly be pleased with the special deal, which is designed exclusively for them.
Gambling enthusiasts who have just started their betting session at Smarkets can check if the services the bookie offers measure up to their requirements after they claim the welcome bonus, which awards £/€10 or the equivalent of this amount in another currency.
To receive the bonus funds, first-timers will be required to sign up for an account and top it up with at least £/€20. Recruits of the bookie will be ineligible for the welcome offer if their initial cash-in is executed through Paysafecard, PayPal, Neteller, or Skrill. So, in practice, punters who intend on claiming the bonus can only opt for a bank transfer or use their debit card to handle their first payment.
When newcomers have received their bonus, the bonus amount will automatically be used as a refund for the first losing bet they place. Punters will only be permitted to cash out the rebated funds, provided that during the promotional period, they have placed bets that are equal to or higher than the deposit amount. If they fail to fulfill this requirement, gambling aficionados will need to part with the remaining bonus funds.
New users bonus
Once new users of the bookie have claimed the sign-up offer, they will only be allowed to use the bonus amount during the next week, and after this period, the offer will expire. Another thing participating users should be mindful of is that the welcome bonus cannot be claimed together with any other special deals Smarkets has on its roster.
Regular customers of the bookie should keep up with the bonus incentives the operator introduces as well. As for the list of the ongoing promotional deals, gambling enthusiasts will be able to view it after they register for an account. What we noticed, however, is that the operator tends to provide its existing customers with bonus offers that give 0% commission for profit accumulators, oddsmonkey, or profit maximizer.
Smarkets App Bonuses
Bonus
Key terms
£10 Welcome Bonus
Minimum deposit of £/€20 is required; Deposits via PayPal, Neteller, and Skrill are excluded; Bonus funds are valid for 7 days; The sign-up deal cannot be combined with any other bonus offer
Smarkets Betting App Markets

Smarkets claims to offer the most competitive odds and the lowest commission, but it is safe to say that its primary advantage is the rich market offering.
As they power the in-browser or dedicated app on their tablet or smartphone, punters will see a couple of quick links on the left-hand side of their screens. There, they will see their watch list, along with the live betting options that are currently available. Right below the live betting tab, gambling enthusiasts will spot the tabs for the sports users of the bookie tend to gravitate towards.
Presently, the crowd-pleasers are soccer, tennis, horse racing, and politics. To make things easy for punters, the operator allows them to view the events based on the continent where they are held or the time, for example. When it comes to politics, gambling enthusiasts will be provided lines for events that take place in the USA, Europe, the UK, or in other parts of the globe.
As likely as not, tennis fans will be content with the event coverage, and while they are out and about, punters will get to select from lines for the Wimbledon, WTA, Challenger, US Open, and the ATP, among others.
Football
Punters who are enthusiastic about wagering on football will have a lot on their plate as the operator offers sufficient coverage of events that are held all over the globe. There is a variety of football betting markets for gambling aficionados to select from, and some of the most well-liked options include Premier League, Bundesliga, La Liga, Champions League, and the MLS.
The greatest event coverage is offered for competitions that are held in the UK and Europe, and gambling aficionados will find lines for the Scottish League Two, RFL League Two, English FA Trophy, and Welsh Premier League, to name a few.
Other categories that draw much attention from punters include basketball, baseball, American Football, ice hockey, handball, and the Rugby League. Australian Football also turns heads, and gambling aficionados can bet on all events from the AFL.
Greyhound racing
Greyhound Racing, together with Horse Racing are well accounted for as well. Fans of greyhound racing can wager on events that take place in the UK and Australia, while gambling enthusiasts who prefer horse racing will be presented with lines for events in the UK, Ireland, New Zealand, Japan, and Australia, among others.
The operator promises to deliver a variety of bet types, and members of the bookie can opt for special bets, outrights, spread betting, totals, and accumulator bets, among others.
Smarkets App Markets
American Football
Australian Rules
Baseball
Football
Tennis
Horse Racing
Cricket
Boxing
Basketball
Cycling
Current Affairs
Darts
eSports
Golf
Greyhound Racing
Ice Hockey
Handball
MMA
Motorsports
Rugby League
Rugby Union
Snooker
Table Tennis
TV and Entertainment
Volleyball
Politics
Smarkets Betting App Banking
It is not unreasonable that Smarkets is one of the most frequented virtual bookies that are currently available out there as the operator has given its best to ensure that punters will not jump through hoops while betting there. Punters who are yet to register for an account can rest assured that payments will be up to scratch, and there will be an extensive-enough range of currencies and payment processors so that they can easily settle on one of them.
Multiple currencies are added to the banking page of the bookie, and members of Smarkets will be allowed to handle their payments in GBP, EUR, SEK, NOK, and DKK.
The operator facilitates payments through a plethora of means of payment to ensure that its customers will find the method, which perfectly meets their preferences.
Digital wallets
Digital wallets are one of the options many lovers of sports betting prefer using, and the increasing popularity of the payment method can easily be justified with its reliability, promptness, and cost-effectiveness. If this is the banking method punters have on their minds, they should decide if they prefer to wrap up their payments through PayPal, Neteller, or Skrill.
Credit/Debit cards
Many gambling enthusiasts prefer to carry out their top-ins or withdrawals through their credit or debit card because of the time-efficiency of this payment solution. When placing their wagers on the go, users of the bookie will be allowed to use their Visa, Maestro, or Mastercard-branded debit card. Users of the bookie can add funds to their balance also through their Eurocard.
Trustly and Bank transfers
If none of these payment solutions meets your preferences, you will not be left without any options as open banking, Trustly, and bank transfer are also supported. What punters might be pleased to hear is that all these payment processors are suitable for deposits and cashouts, which will indeed facilitate the transfer of funds.
Deposits
With almost all of the above-mentioned banking solutions, the least deposit amount is £/€10. Yet, PayPal and bank transfer depositors will be allowed to top up their accounts with at least £/€20. Those who settle on Trustly, on the other hand, cannot upload less than £/€40 on a single transaction. The upper limit for top-ins handled through Neteller and Skrill runs into £/€5,000 per day.
Cashout
The least amount punters are allowed to pull out of their balance is usually £/€10. Still, this will not be the case if they plump for Trustly or bank transfer that allow for withdrawing a minimum of £/€40 and £/€20, respectively.
While betting on the go, punters will benefit from commission-free transactions to and from Smarkets. While top-ins will be cleared on the spot, withdrawals might take up to 6 days to clear if they are requested through debit cards and up to 2 days if they are initiated through a digital wallet.
Smarkets App Banking
Method
Deposit
Withdrawal
Mastercard
£/€10; Instant
£/€10; Up to 6 business days
Maestro
£/€10; Instant
£/€10; Up to 6 business days
Visa
£/€10; Instant
£/€10; Up to 6 business days
PayPal
£/€20; Instant
£/€10; Up to 2 business days
Neteller
£/€10; Instant
£/€10; Up to 2 business days
Skrill
£/€10; Instant
£/€10; Up to 2 business days
Bank Transfer
£/€10; Instant
£/€20; Up to 10 business days
Open Banking
£/€10; Instant
£/€10; Up to 12 hours
Trustly
£/€40; Instant
£/€40; Up to 2 business days
Smarkets Betting App Security
The dedicated apps Smarkets has introduced impress with the user experience they offer as the mobile version is easy-to-navigate, smooth, and there will not be any distractions for users of portable devices. The operator is indeed committed to offering its customers a top-notch experience at all times, and to achieve this, has focused on transparency and the fair treatment of its users.
The betting platform is owned and managed by Smarkets Malta Limited, and for its customers that live in the UK, the operator has earned a stamp of approval from the Gambling Commission of the UK. It also accommodates customers from other jurisdictions, which is possible through a license obtained from the Maltese Gaming Authority.
The operator wants to be open-hearted to its users, and all these details are within easy reach on the website of Smarkets, to ensure that even first-timers will be able to inspect them right off.
Age restrictions
The operator attaches great significance to the protection of minors, and registering for an account will be possible only if individuals are 18 years old. It is vital to remember that to complete the registration process, prospective users of the bookie will be required to provide age verification.
The operator provides a high level of protection of punters' funds, and transactions to and from Smarkets are safeguarded through an SSL encryption technology. The operator also deserves plus points for its feature-laden section dedicated to responsible gambling.
All these things go to demonstrate that Smarkets is a sports betting platform, which is reliable, transparent, and secure.
Smarkets App Security
Passcode
No
FaceID
No
Two-factor authentication
No
Smarkets Betting App Customer Support
While using the Smarkets' apps, gambling enthusiasts can get assistance in English, Portuguese, and Swedish using several quick and convenient contact venues. If punters are facing issues while using any of the various website features or they need assistance with their bets, they can address their queries through the live chat facility as this is the best way to get serviced on the spot.
It is essential to remember, however, that the live chat functionality can be used by logged-in users only. On the positive side of things, users of the bookie can reach the agents through the live chat around the clock and even on weekends.
To reach the support hosts, gambling enthusiasts can also use the phone line, and to speak to one of the agents, they need to dial +44 207 617 7413. Gambling enthusiasts will only be allowed to use the phone line if they have already completed the registration. In addition to this, punters can only speak with the support hosts between 9:00 and 00:00.
The support agents will be more than happy to answer all questions of gambling enthusiasts via email at support@smarkets.com.
Smarkets App Support
Phone
44 207 617 7413
Live chat
Yes
Email
support@smarkets.com
Smarkets Betting App Verdict
Boasting fast and efficient dedicated and browser-based apps, Smarkets is a go-to betting platform for punters who want to enjoy seamless access to all major leagues and competitions they might be intrigued by.
Registering for an account at Smarkets goes together with a number of perks as punters can benefit from in-play betting, cash-out feature, and a relatively low commission.
Punters' personal information and their funds will be kept safe even when they are placing their wagers on the move. The platform is an excellent choice also because of the offered bonus incentives and the ease with which payments to and from it are wrapped up.