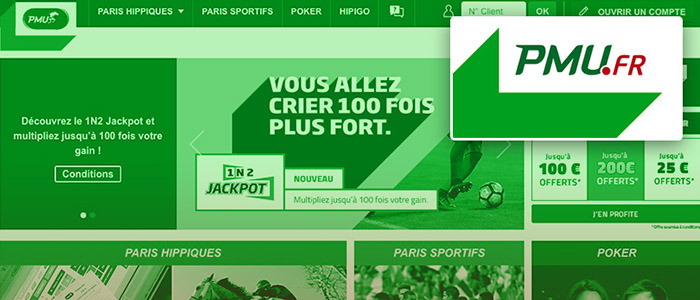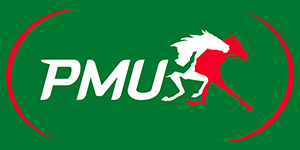 When it comes to French gambling, PMU is one of the most well-known operations in history. Having held a monopoly on horse racing for decades, every French punter is familiar with PMU. A government-owned operation, the PMU offers multiple forms of top-tier online gambling. The website includes a racebook, sportsbook and poker room. For the purposes of this review, we will focus on the sports betting aspect of the service and cover all of the important features. Below, you will find information about the betting markets, promotions, customer support, banking options and more.
PMU In Brief
Launched In
June, 2010
Operated By
France Gallop and Le Trot
Headquartered In
Paris, France
Licensed By
Autorité Nationale des Jeux (ANJ)
Country Restrictions
Intended for punters from France
Products on Offer
Pre-match sports betting, live betting, racebook with horse racing
Supported Currencies
EUR
Supported Languages
French
Betting Markets
When it comes to the betting markets featured at PMU, you will find that there is a wide array of sports and their respective leagues up on offer. The sportsbook supports a wide range of events from all over the world and you will have the opportunity to wager your money on the best of them.
Arguably
Arguably, the most popular betting market at PMU has to be soccer. As one of the most watched sports in France and the world, in general, there is a lot of interest in soccer matches. At PMU, you will be able to place bets on matches from the UEFA Supercup, Scotland Premiership, Copa America, Major League, Premier League, World Cup Female, African Cup of Nations and more.
Tennis
Tennis is always a crowd pleaser and matches take place all over the world. With multiple leagues running at any given time, it is not difficult to imagine that this is one of the most popular sports when it comes to betting. PMU gives you the chance to bet on a variety of different leagues, including, Davis Cup, ATP, Wimbledon, US Open Male and Female, WTA, Australian Open and many more.
Basketball
Basketball also enjoys a lot of popularity in the world of sports betting. It is one of the most watched sports and there are millions of fans from all over the globe willing to stake their money on their favorite teams. The same is true for customers of PMU. The sportsbook supports several basketball leagues, separating them under US and Euro categories. The former includes the NBA, WNBA and NCAA, whereas the supported Euro leagues are the FIBA World Cup, Australia NBL and EuroBasket Female.
Where American sports are concerned, there are plenty of options to choose from, with American Football and Baseball at the forefront. There are multiple matches that you can bet on at any given time. The football leagues include the NFC, NFL, AFC, Divisions and more. As for baseball, you will be able to put down bets on the National League, the World Series, MLB Divisions and the American League.
Rugby
Rugby is also a point of interest for PMU punters, with support for various leagues all over the globe. These include 6 Nations Tournament, Pro 14, Challenge Cup, Champions Cup, 2019 World Cup, Gallagher Premiership, Super League and NRL, among others.
Of course, there are other betting markets features at PMU, but can hardly mention them all at once. If you are interested, you will find that the sportsbook also offers wagers on volleyball, sail, motorsports, snooker, petanque, hockey, handball, golf, boxing, cycling, badminton, athletics, billiards and more. Be sure to check out the different markets for yourself to gain a better idea of what awaits you at PMU.
Outside of the betting options, the sportsbook also offers a variety of different features that you will no doubt appreciate. For one, live stream a wide array of different events, in order to watch them live as they take place. Additionally, one also has access to a calendar, listing the different events set to unfold in the near future. Of course, you also have the option to view past results and take a look at the statistics of the finished events. As they say, the past is the best way to predict the future and you should certainly make use of the tools at your disposal.
PMU Features
Sports Coverage
Soccer, tennis, basketball, rugby, boxing, baseball, US football, cycling, Aussie rules, golf, ice hockey, handball, snooker, motorsports, volleyball, trotting, horse racing
Minimum Bet
€0.50
Supported Bet Types
Handicaps, double chance, correct score, halves, goals, over/under, proposition bets, spread betting, outrights
Early Cashout Option
Yes
Live Streaming
Yes
Live Statistics and Scores
Yes
In-Play Betting
Yes
Available Odds Styles
Decimal
Bet Slip Features
Supports straight, combination, and system bets; calculates potential earnings based on quoted odds and bet size
Promotions and Bonuses
Promotions are always something good and PMU gives you the opportunity to make the best of your time with the sportsbook. There are many different types of bonuses that you can benefit from, including cashback offers, winnings boosts, and more.
Regardless of what you choose, you will gain some form of value from the available promotions. Best of all, both new customers and returning punters can take advantage of them. Below, we talk about some of the worthwhile offers you can utilize at the sportsbook.
Welcome Bonus of up to €100
One of the initial offers at PMU involves you receiving up to €100 in cashback if you happen to have bad luck at the start of your stay at this sportsbook. To benefit from this promotion, you must enter the bonus code SPORT in the cashier while making your first deposit of €5 or more. Of course, you also have to cover the minimum age requirement of 18 years old.
Your first sports bet at PMU has two possible outcomes – a win or a loss. If you win, great for you – you just made a profit. However, if you lose your initial wager, you will get to benefit from this promotion.
You will initially receive 25% of the bet value and the other 75% within the following 10 days. The added money has to be wagered within the set timeframe. If your bets are successful, only the profit may be withdrawn while the original bet is taken away.
Use Code HIPPIQUE for a Horse Racing Welcome Bonus
New customers who prefer horse racing over sports betting can also take advantage of the cashback offered to newcomers. To qualify, they must initiate a minimum deposit of €5 and use the promo code HIPPIQUE.
The welcome bonus itself cannot be withdrawn but you can cash out the profits resulting from it. You must replay the bonus value before you can request a withdrawal. The general terms and conditions of the sportsbook disqualify free, refunded, and canceled wagers from the sign-up incentive. The welcome offer is valid only once per new customer. You cannot receive it in conjunction with other promotional incentives at PMU.
CombiMax Bonus
The CombiMax Bonus promotion gives you the opportunity to make the best out of your parlay bets. There are betting options specifically selected for this promotion which you can use for the legs of your parlays and gain a bonus if the bet is successful. According to the rules of the promotion, the bonus is applied for successful 4-leg parlays or greater. The minimum bonus is 5% for a winning 4-leg parlay, while the maximum boost goes up to 75% for a 15-leg parlay.
Existing customers can benefit from the profit boost on both pre-match and in-play markets. Different competitions are eligible across multiple sports, including major leagues like the Champions League, the NBA, and the French Ligue 1. The same goes for the qualifying markets. You can incorporate different bets into your parlay such as handicaps, exact score, goal scorer, and more.
€50 Friend Referral Bonus
Do you belong to a community of enthusiastic sports bettors? If so, you can capitalize on this fact by referring up to five friends per month to PMU. The sportsbook will reward you with €10 per referral for a monthly referral bonus totaling €50. As for the referred punters, each of them is eligible for a €5 bonus on top of the currently available welcome offer we wrote about earlier.
Referees must deposit €5 or more
Each referred friend must sign up, make a deposit of at least €5, and verify their account within 30 days of registration. You will receive a €10 bonus per referee within 10 days after their account's validation.
The referees, on the other hand, are eligible for a €5 bonus, which they will get within 10 business days after verification. Neither the referrers nor the referees can withdraw the free funds. The bonuses are usable for betting purposes only.
Promotional Incentives at PMU
Bonus
Minimum Deposit Required
Rollover
Minimum Odds Requirement
Eligible Markets & Bets
Country Restrictions
Expires After
Welcome Bonus of up to €100
€5
Not specified
Not specified
Refunded, free, and canceled bets do not qualify
Available to punters from France
Eligible punters must verify their accounts within 30 days of registration
Up to 75% CombiMax Bonus
€5
Not specified
Not specified
Eligible wagers include handicaps, goal scorer, exact score, and more
Available to punters from France
Not specified
Up to €50 Monthly Friend Referral Bonus
€5 per friend
Not specified
Not specified
Not specified
Available to punters from France
Bonus credited within 10 days after the referees verify their accounts
Banking
When it comes to managing your bankroll, PMU gives you several options to go about doing this. Obviously, you cannot deposit with physical cash, so you will have to use one of the supported online payment solutions. These come in various forms and each type offers its own set of benefits and drawbacks.
Deposits with Mastercard and Visa
Credit cards are one of your best options when it comes to funding your PMU balance. You will have the opportunity to use the two most popular brands out there – Visa and MasterCard. Using a credit card is easy to do and convenient.
Deposits go through instantly and you only need to enter a few digits. Furthermore, they are almost universally accepted, meaning that you can also use them at different gambling websites should you wish for a change of scenery. The minimum amount you can transfer to your PMU balance is €15 while the ceiling is €750 per card transaction. The maximum transferable deposit amount per month stands at €6,000.
E-Wallet Deposits
Alternatively, you can also resort to one of the e-wallet services supported by PMU. These online payment solutions allow you to maintain a balance, separate from your bank account and your sportsbook bankroll. They facilitate instant transactions, enabling you to immediately start placing bets once you open an account.
Some setup may be required when creating your e-wallet account but after that, you will be set. One of their biggest advantages is the inherent anonymity they offer, giving you the opportunity to maintain your privacy on the internet.
In the case of PMU, you will be able to utilize PayPal and Skrill, two highly popular payment methods that allow you to transfer anywhere between €15 and €750 at a time. Skrill users should note PMU will cover the cost of their first three Skrill payments only. Subsequent payments may incur additional charges.
Deposits with Prepaid Methods
As for prepaid solutions, PMU supports a few though nothing excessive. Moreover, they also provide you with instant deposits and grant you high degrees of privacy when compared to other payment methods. More specifically, you will be able to fund your balance with Paysafecard, Neosurf, and Ticket Premium.
The deposit limits coincide across all three methods – the minimum is just €5 whereas the maximum stands at €750 per transfer. With that said, Paysafecard users should bear in mind they must create myPaysafecard accounts and verify them if they are looking to make payments in excess of €250.
Withdrawals from PMU Balance
Withdrawals from your PMU balance are possible via conventional bank transfers. The minimum amount you can cash out is only €1, with each customer being entitled to a maximum of five requests per day. Bank transfer withdrawals require between 1 and 3 business days to process provided you have verified your PMU account beforehand.
Banking at PMU
Payment Method
Deposit Limit and Timeframe
Withdrawal Limit and Timeframe
Deposit & Withdrawal Fees
Bonus Restrictions
Visa, Mastercard
€15 to €750 per transaction (€6,000 per month); instant
N/A
Free
No
PayPal
€15 to €750 per transaction (€6,000 per month); instant
N/A
Free
No
Paysafecard
€5 to €750 per transaction (€6,000 per month); instant
N/A
First 3 deposits are free
No
Ticket Premium
€5 to €750 per transaction (€6,000 per month); instant
N/A
First 3 deposits are free (a 5% fee applies to subsequent payments)
No
Neosurf
€5 to €750 per transaction (€6,000 per month); instant
N/A
First 3 deposits are free (a 5% fee applies to subsequent payments)
No
Skrill
€15 to €750 per transaction (€6,000 per month); instant
N/A
First 3 deposits are free
No
Bank Transfer
No minimum and maximum requirements
€1 minimum (up to 5 requests per day); 1 to 3 business days
Free
No
Licensing and Regulations
When it comes to licensing, you should never take any chances. Knowing that a gambling operation is legitimate and within the realm of the law is something that you need to be sure of before you commit with any real money.
In the case of PMU, however, things are not how you would expect them. PMU is a government-run operation, meaning that it abides by all the regulations set out by the French gambling law. As such, there is no other company that can be trusted more than PMU, and you have nothing to worry about in this case.
The reputable sportsbook offers its services to local punters thanks to the license it has received from the French regulator Autorité Nationale des Jeux (ANJ, or France's National Gaming Authority).
ANJ is the successor of ARJEL, which dissolved following the passage of a new legislative amendment in February 2020. PMU runs its sports betting operations in compliance with Law No 2010-476. It accepts punters from France who meet the local lawful gambling age requirement of 18 years old.
Player Protection & Security at PMU
Encryption
128-bit SSL encryption
Custom Deposit Limits
Yes, weekly limits available
Cooling-Off Period
Yes, 24 hours to 12 months
Self-Exclusion
Yes
Minimum Age Requirement
18 years old
Mobile Support
Placing bets while on the go was once the dream of many gamblers, but in today's day and age, it is a reality. You have the opportunity to access the sportsbook from just about any mobile device with a reliable Internet connection. Whenever you have a free moment, you will be able to log in and put down a bet on your favorite sports matches. The sportsbook gives you two different ways of accessing the mobile version.
One method at your disposal is to make use of the dedicated mobile application for iOS and Android. Available for both smartphones and tablets, it gives you the opportunity to have the sportsbook directly at your fingertips on your home screen. The iOS version can be downloaded on the App Store for free with only a few clicks. Android users, on the other hand, will not have such an easy time. This is because there are no real-money gambling apps allowed on the Play Store platform and any such will have to be downloaded and installed manually. The same is true for the PMU one, as well. The sportsbook will give you a link where you can download the appropriate files and then install the app on your phone. There is a guide as to how to do this, which you can follow if you are not familiar with the process.
The alternative way to access the sportsbook is to simply load the website in the browser of your device. The in-browser version will also provide you with a functional interface which you can use to access any part of the sportsbook. In fact, both methods are rather similar. You will be able to utilize the same features and make use of anything that the sportsbook has to offer. This includes the full extent of the betting markets, all promotions, banking solutions, customer support and more.
Mobile Support of PMU
Dedicated iOS App
Yes, requires iOS 11.0 or higher
Dedicated Android App
Yes, requires Android 4.4 or higher
Browser Compatibility
Google Play, Firefox Focus, Opera Mini, Safari, Microsoft Edge, Vivaldi, Dolphin Browser, Puffin Browser
Supported Languages
French
Supported Devices
Apple iPhone 12, Apple iPhone 11, Apple iPhone XS, Apple iPhone XR, Apple iPhone X, Apple iPhone 8, Apple iPhone 7, Apple iPad, Huawei Y5, Huawei Y6, Huawei Y7, Huawei nova, Huawei P10, Huawei P20, Huawei P30, Infinix S4, Infinix Smart 5, Infinix Smart 6, Infinix Hot 7, Infinix Hot 8, itel A16, itel A33, itel A56, Nokia 2.1, Nokia 2.2, Nokia C1, OPPO A3s, OPPO A5s, OPPO A1K, Safaricom NEON RAY, Samsung Galaxy A01, Samsung Galaxy A10, Samsung Galaxy A10s, Samsung Galaxy A11, Samsung Galaxy A20, Samsung Galaxy A21s, Samsung Galaxy A30, Samsung Galaxy A40, Samsung Galaxy A50, Samsung Galaxy A51, Samsung Galaxy A70, Samsung Galaxy A71, Samsung Galaxy Grand, Samsung Galaxy J5, Samsung Galaxy J7, Samsung Galaxy S7, Samsung Galaxy S8, Samsung Galaxy S9, Samsung Galaxy S10, Samsung Galaxy S20, Samsung Galaxy J2, Samsung Galaxy J4, Samsung Galaxy Note8, Samsung Galaxy Note9, Samsung Galaxy Note10+, Tecno Pop 2, Tecno Pop 3, Tecno Camon 11, Tecno Camon 12, Tecno Camon 13, Tecno Camon 14, Tecno Camon 15, Tecno F1, Tecno K7, Tecno Spark 2, Tecno Spark 3, Tecno Spark 4, Tecno Spark 5, Tecno Pouvoir 2, Tecno Pouvoir 3, Vodafone 100, Vodafone Smart Kicka 4, Xiaomi Redmi Note 7, Xiaomi Redmi Note 8, Xiaomi Redmi Note 9
Customer Support
When it comes to customer service, this is one bet that you do not wish to take a risk on. If something should go wrong, you need to be sure that there is someone out there to help you out. Luckily, with PMU you have nothing to worry about. The sportsbook likes to take care of its customers and to this end, provides top-notch customer service.
Those who wish to contact the support have several means at their disposal. The most efficient method comes in the form of live chawThis system allows for communication in real time with a PMU agent. A connection can be established in less than a minute and you will get to discuss your issues at length. Live chat is available for most of the day and you can receive top-quality assistance with this method.
Good old email communication
Alternatively, you can also resort to good old email communication. You can simply utilize the form found on the Contact page to reach the support staff. Email communication is the slowest method at your disposal. Responses usually come in a few hours, though it can take up to 24 hours for the staff to get back to you.
Finally, you can also simply pick up the phone and call the PMU staff. While this sounds good and it is for the most part, you will have to pay €0.09 per minute in order to talk to the agents. Phone support is available for the better part of the day and you can call 3971 to get assistance. Additionally, PMU also has special support for those who are deaf or with impaired hearing, allowing them to receive the same quality of help as everyone else.
Customer Care at PMU
Service Hours
8:30 am to 10 pm for telephone line; 12 pm to 10 pm for live chat
Telephone
09 77 40 39 71
Live Chat
Yes
Email
serviceclient.bo@pmu.fr; contact form
Conclusion
Overall, PMU is an excellent sports betting website for any French punter. It covers a wide range of sports events and their respective leagues. You will have the opportunity to benefit from several top-tier promotions, which will certainly grant you a boost to your bankroll and lead to increased profits, if your predictions are correct, of course. These can be claimed by just about anyone and they are available on many different events. As far as safety is concerned, PMU is a government operation and it is the standard that other gambling websites are held to. If there was ever a gambling website that would treat you fairly, this is it. Among other things, the payment methods are quite diverse and the customer support is more than satisfying. When all is said and done, PMU is a great choice for a sportsbook and we are sure that you will have a positive experience.
| PMU Strong Points | PMU Pitfalls |
| --- | --- |
| Carries a license by ANJ | Odds are not as sharp for some markets |
| One of the biggest legal sportsbooks in France | Only punters from France can join |
| Great markets for fans of horse racing | The sports selection is not very broad |
| Nice welcome bonus | Customer support is not available 24/7 |
| Loyalty program for regular customers | Limited banking options |